Sen. Baldwin, Sen. Cantwell tour Prolitec in Milwaukee, call for reauthorization of Export-Import Bank
MILWAUKEE -- U.S. Senators Tammy Baldwin (D-WI) and Maria Cantwell (D-WA) toured Prolitec, Inc. in Milwaukee on Monday, June 15th. The innovative Wisconsin small business has created jobs and economic growth with the support of Export-Import Bank investments.

Unless Congress takes action, the Export-Import Bank is set to expire on June 30, which will stop its investments in the thousands of U.S. exporters that benefit from this self-supported export credit agency that U.S. exporters across the country depend on to access the 95% of customers that are outside the United States. The Export-Import Bank is not only a vital export tool for small businesses, but an important tool for deficit reduction that returned $675 million to the U.S. Treasury last year. Senator Baldwin has joined Senator Cantwell, who has led the fight in the Senate for a long-term reauthorization of the Export-Import Bank, in calling for Congressional action before funding expires at the end of the month.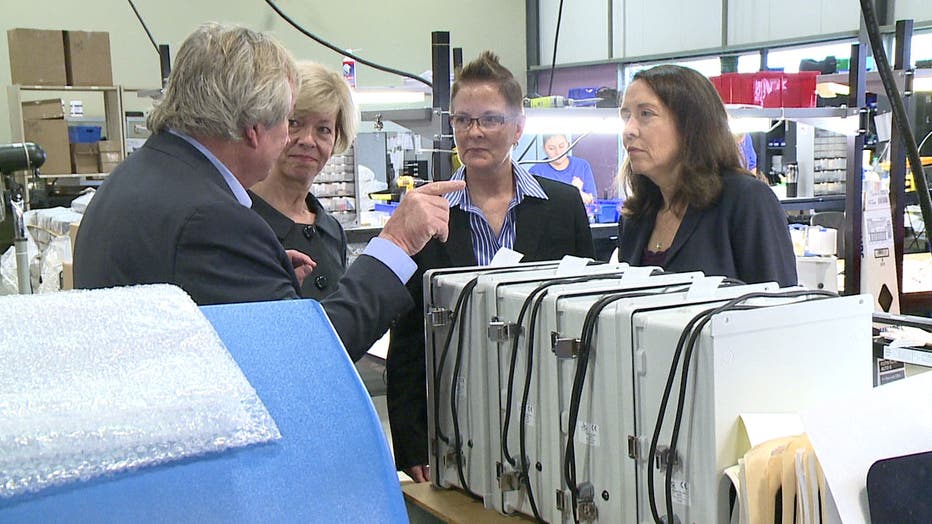 "When American businesses have a level playing field, they can compete against anyone. The Export-Import Bank is an important tool that helps us create that level playing field, bringing fairness to global trade and supporting American businesses so they can create jobs and grow," said Senator Baldwin. "Prolitec is a great example of a Made in Wisconsin businesses here in Milwaukee, that has exported goods across the world with help from the Bank. Reauthorizing the Export-Import Bank is a commonsense way to strengthen our Wisconsin economy and ensure American competiveness."

"Small  businesses across our country are relying on Congress to reauthorize Ex-Im Bank before its charter expires on June 30," Cantwell said. "Congress must act and not let this important credit agency expire. American small business jobs in Washington, Wisconsin and indeed every state, depend on Ex-Im Bank."

"Five years ago, our company Prolitec was doing business in five countries. Today, with the support of the Export-Import Bank, we export and provide services to 73 countries," said Richard Weening, CEO of Prolitec Inc. "The Export-Import Bank has given us credibility with our bankers and our customers.  I am grateful to Senators Baldwin and Cantwell for stepping up to support the Export-Import Bank."    

Since 2007, the Export-Import Bank has supported 27,131 Wisconsin jobs by helping 218 Wisconsin businesses, including 128 small businesses, export $5 billion worth of goods and products made in Wisconsin. In 2014 alone, the Export-Import Bank supported $210.2 million of Wisconsin exports, 46% of which were from small businesses.

Prolitec, a technology company specializing in environmental and ambient scenting services, is an Export-Import Bank "Success Story". This company was purchased from a French company, after which they expanded and advanced their technologies. This has allowed Prolitec to export to 73 countries around the world with 60% of their sales being export related. Prolitec learned about Export-Import Bank at a seminar three years prior to them being approved for a Working Capital Lender Loan Guarantee in the amount of $1,250,000. With Export-Import Bank's involvement, they were able to create 20 new engineering and director level positions in Wisconsin and Washington state and have become the leader in their sector.

Prolitec is joined by 28 other Milwaukee-area businesses that have exported a total of $413 million worth of goods around the world since 2007 with support of the Export-Import Bank. In 2014 alone, Milwaukee manufacturers such as Rockwell Automation, P&H Mining Equipment, Oilgear Company, Maxon Industries, Marking Services, Grover Corporation, Federal Marine Terminals, and Ampco Pumps Company have received support from the Export-Import Bank.

In 2014, the Export-Import Bank supported 3,340 small-business transactions, $27 billion in total U.S. export sales and 164,000 jobs. Congress has until June 30th to extend the agency charter to avoid its expiration.