Sen. Baldwin opens up about mother's opioid addiction: 'Silence doesn't help solve problems'


MILWAUKEE — Democratic U.S. Sen. Tammy Baldwin opened up for the first time on Tuesday, May 1 about her mother's mental illness and prescription drug addiction. Baldwin, who is up for re-election this fall, said her mother's death in 2017 and a belief that her story could help others is why she decided to come forward.

Baldwin and Milwaukee resident Morgan Thomas, 29, shared personal stories about their parents' addictions during a conversation on the city's north side Tuesday.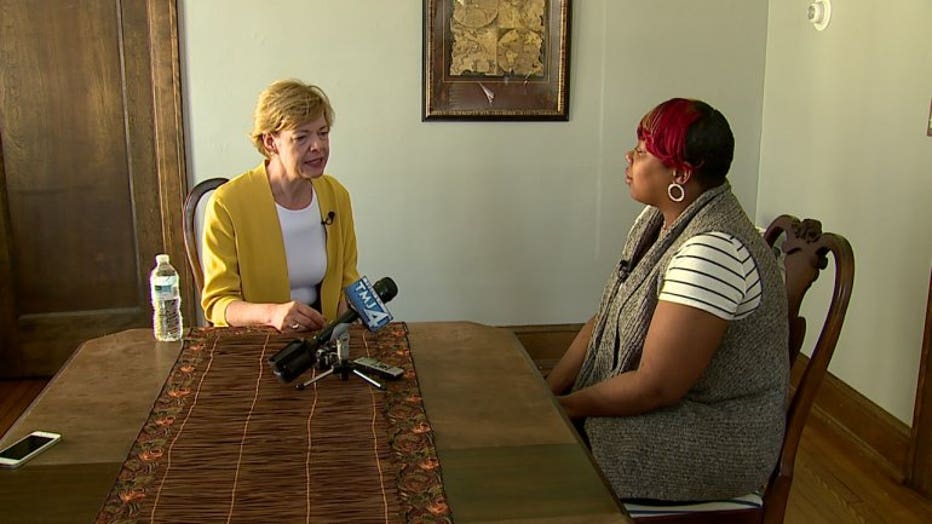 Sen. Tammy Baldwin with Morgan Thomas


"What good does it do if everyone just keeps their little secrets?" Baldwin told Thomas. "How are we gonna really understand that this affects all of us?"

Baldwin, who was raised by her grandparents but has never said why, revealed that her mother was mentally ill and dependent on painkillers throughout her life.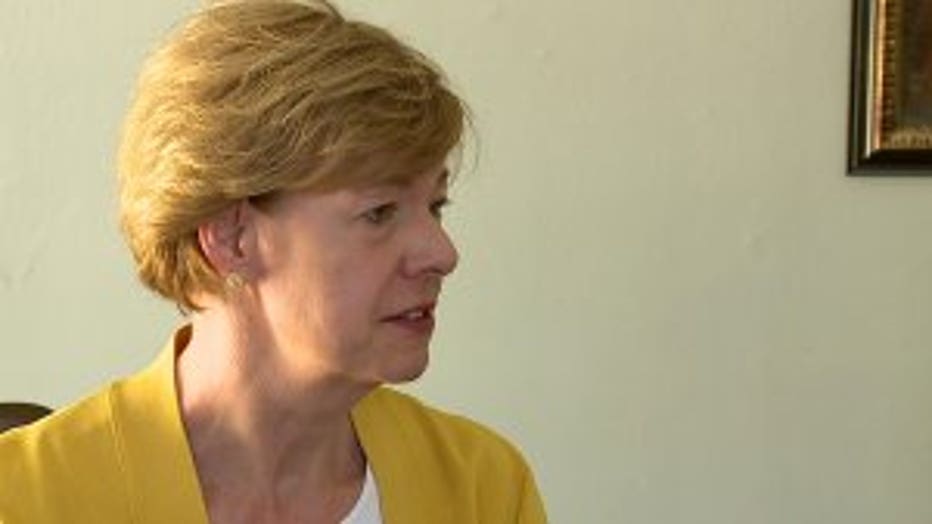 She said she would spend Saturdays with her mother growing up, but said her mom was often sleeping. Baldwin said she'd clean the house and wait for her grandparents to pick her up.

"What do you wish you would've done?" asked Thomas, who referred to Baldwin as "Miss Tammy" during their conversation. "Do you regret anything?"

"You know, I remember a lot of times when I thought I was the one who could fix things," Baldwin answered.

Thomas said her father has been addicted to drugs. Her mother died when she was 16 years old.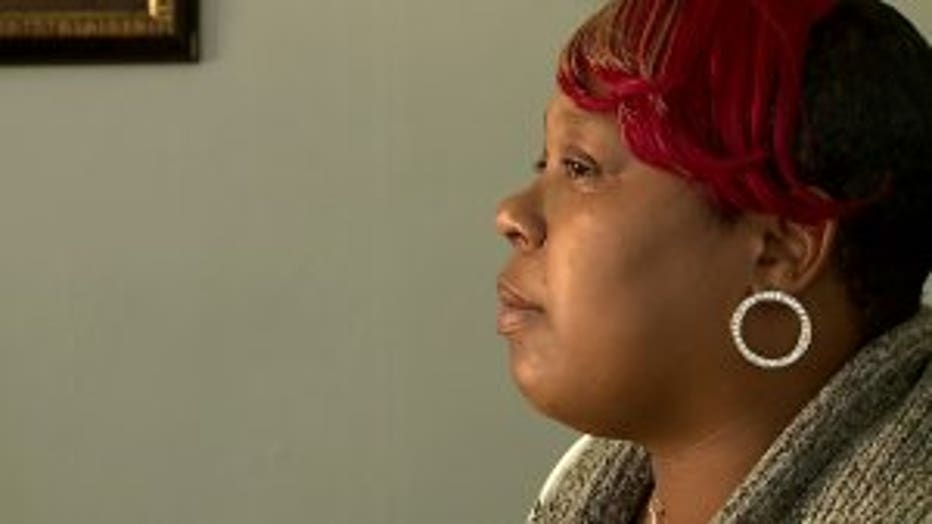 "I would've never guessed that you actually went through the stories that we went through. And like, we share things that we went through and our situations are similar," Thomas said.

Baldwin denied that she was opening up about her own story for political gain. Instead, she said it was the right time because her mom, Pamela Bin-Rella, died last August at age 75.

"I think she felt that sense of stigma in terms of, why wasn't she able to raise her own daughter?" Baldwin said. "I wanted to respect her privacy."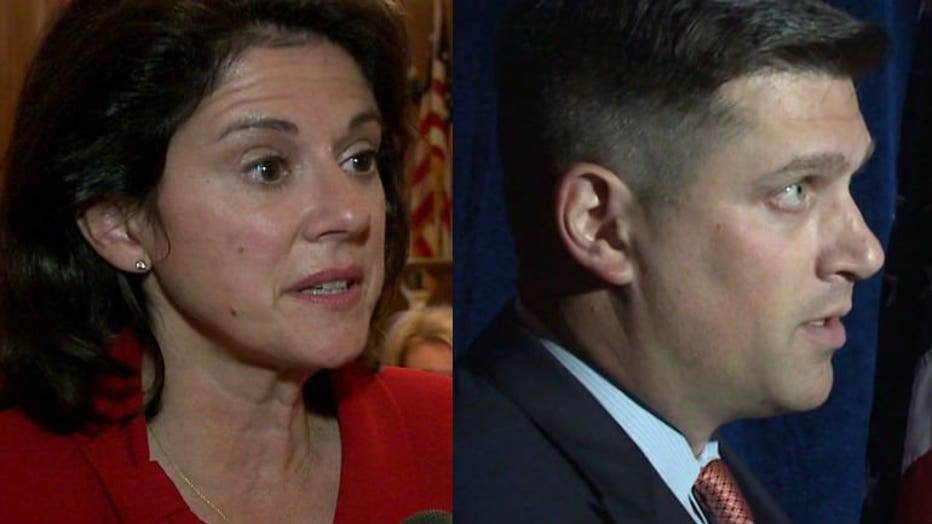 Leah Vukmir, Kevin Nicholson


Baldwin is a major target by Republicans in the November election, with outside groups spending twice as much against her than in any other race in the country. Two Republicans — state Sen. Leah Vukmir and Delafield businessman Kevin Nicholson — are running for a chance to take her on.

Nicholson's spokesman Brandon Moody said the campaign sent its best wishes to Baldwin.

"Politics aside, the opioid epidemic is affecting far too many families in Wisconsin, and we applaud any and all efforts to take immediate action on this health crisis," Moody said in an email.

Vukmir's campaign spokesman, Mattias Gugel, did not immediately return a message.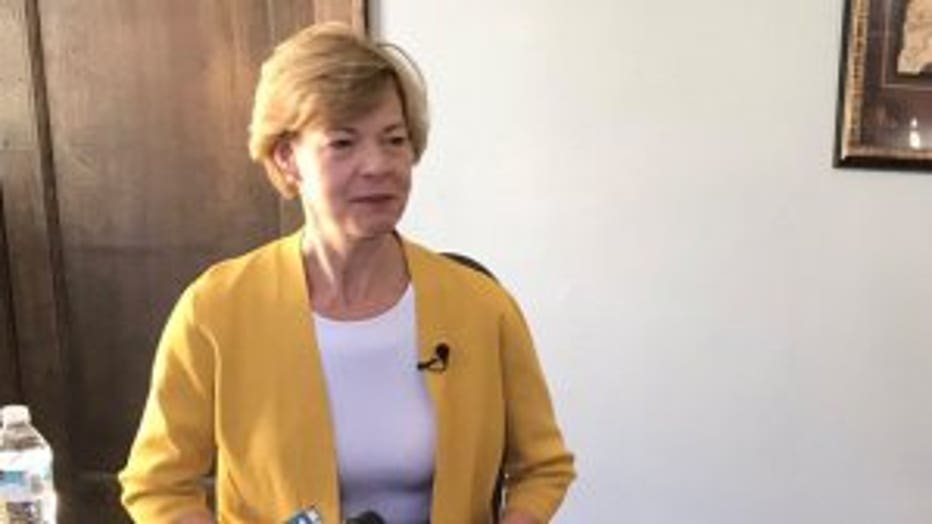 Baldwin's Republican critics have hammered her for not responding quickly to reports of over-prescription of opioids and other drugs at the veterans hospital in Tomah that led to three deaths. Baldwin sponsored a bill signed into law to change the way opioids are handed out at facilities for veterans.

She's also been holding discussions with people including law enforcement officials and families torn apart by deaths caused by opioid abuse. But Tuesday marked the first time Baldwin told so much of her family's story.