Semi strikes school bus, injuring 20 Milwaukee-area students; 'Keep our scholars in your prayers'


COLUMBIA COUNTY -- Twenty people were injured on Wednesday morning, May 23 after a semi struck a bus loaded with students from HOPE Christian School: Semper -- located in Milwaukee -- while it was parked on the shoulder of northbound I-39 in Columbia County. Two of the injured were flown from the scene for treatment.

Many of the children involved made it home to Milwaukee Wednesday evening after their harrowing ordeal, where they reunited with their families.

"I just seen the pictures. It's crazy," said Victor Williams, parent. "She had to get stitches under her chin, and a couple of scrapes on her arm. I'm just happy she's OK. Hopefully, her friends...oh man it's crazy."

A news release from the Wisconsin Department of Transportation indicates 33 people were on the bus. Of the 20 hurt, four of them sustained serious injuries.

HOPE Semper students were en route to a field trip at the Dells when the accident happened.  HOPE Christian Schools posted the following statement on Facebook:






Preliminary information indicates the school bus was headed northbound when the driver pulled onto the shoulder of the interstate near Exit 123 due to a mechanical issue. The bus was then rear-ended by a semi-trailer unit around 10:15 a.m. Another bus was sent from Milwaukee to pick up the remaining passengers.

"A lot of accidents that involve two vehicles have three or four occupants total, and this one, just one vehicle alone had 33 in it. So it kind of elevates the response," said Sgt. Greg Jenswold, Wisconsin State Patrol.

Officials said prior to the crash, the semi-truck driver was already on their radar for reports of erratic driving.

"The semi was reported as an erratic driver prior to the crash. The attempt to locate was put out, but the crash happened first," said Sgt. Jenswold.




The Wisconsin State Patrol is investigating. The driver worked for Dahl Trucking Company, based out of North Dakota. A company representative said he had only been on the road for an hour before the crash.

"It might turn out that it's a tired driver. Might find out that it was a mechanical error. Might find out that there was something wrong with the driver himself as far as a substance, so that's why we do the full investigation. We'll find out from there," said Sgt. Jenswold.

Dahl Trucking has a satisfactory safety rating. The company has 60 drivers and 56 vehicles. The drivers have been cited for 27 moving violations over the past two years -- mostly low-level speeding tickets.




Assisting agencies included Marshall Rescue, Waunakee Rescue, Divine Savior E.M.S., Med Flight, Flight For Life, Lodi Rescue, Poynette Rescue, City of Madison Rescue, Middleton E.M.S., Columbia County Sheriff Office, Dane County Sheriff Office, and Deforest Police Dept.

As of about 1:25 p.m. Wednesday, the Wisconsin Department of Transportation indicated the crash scene was cleared -- and all lanes were open to traffic.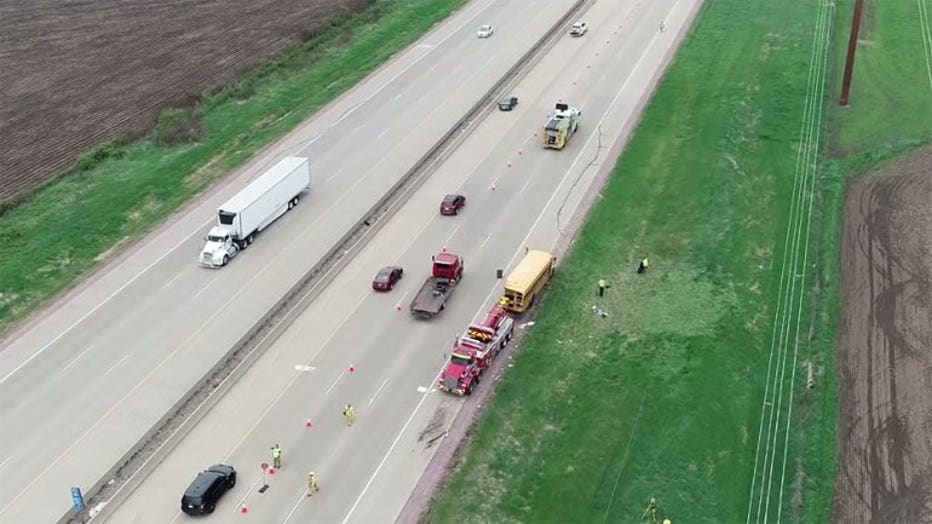 Wreck involving semi, school bus