Semi crashes on I-43 at North Avenue after tire blowout, bursts into flames


MILWAUKEE -- A massive semi fire temporarily closed I-43 in both directions at North Avenue in Milwaukee Sunday night, July 14. It happened just before 9 p.m. At 1:33 a.m. Monday, July 15 all southbound and northbound lanes on I-43 at North Avenue reopened.

According to the Milwaukee County Sheriff's Office, a front tire blew out on the semi -- causing the truck to strike a median wall and become engulfed in flames. After striking the median, the semi began to slide against the wall, causing debris in the northbound and southbound lanes.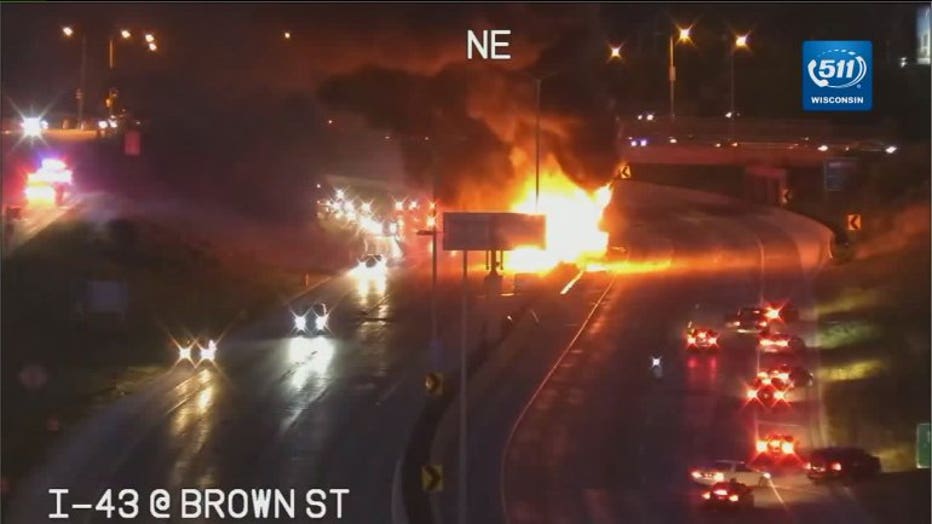 Johnsonville semi fire on I-43 NB/SB at North Avenue


Official say the semi also struck a light pole and another vehicle. The light pole fell in two lanes on northbound I-43. The semi did not contain any cargo.

Johnsonville indicated to FOX6 News that the driver was able to bring the truck to a stop and exited the vehicle prior to becoming engulfed in flames.

The driver escaped with minor injuries and was transported to the hospital. The driver of the vehicle that was struck was treated at the scene by the Milwaukee Fire Department and released.