Runner crosses finish line of "Rock 'n Sole Run" weeks later


MILWAUKEE (WITI) -- The last runner of Milwaukee's "2013 Rock 'n Sole Run" crossed the finish line on Friday, July 5th -- nearly a month after it began.

It took 54-year-old Annita Phillips 483 hours to finish the race. But Friday morning, she did it. Phillips crossed the finish line and received her medal and well-deserved applause for her accomplishment.

So why did it take so long for Phillips to finish the race? She started the race on Summerfest grounds just like everyone else last month, but as she was crossing the Hoan Bridge, she collapsed.

Hours later, doctors told her she had a brain aneurysm and they needed to operate. 20 days later she is out of the hospital and ready to live her life.

"I just feel so blessed. The outcome could have been so different. My family could have been at a funeral," said Phillips.

Her daughter, Andiea West, was in Georgia where Phillips also lives -- and says she will never forget that moment.

"Her friend called from her phone so I thought it was her and I said wow you finished already and her friend was like no, it's about your mom. I just lost it. Because when you hear aneurysm you think fatal," said West.

But that wasn't the case for Phillips; in fact, it turned out to be just the opposite.

"Every day I get up I have to do something. I just feel honored that God has blessed me to finish and be able to tell my story," said Phillips.

"I've always called her super mom so I was like now it really is true. You really are a super mom now," said West.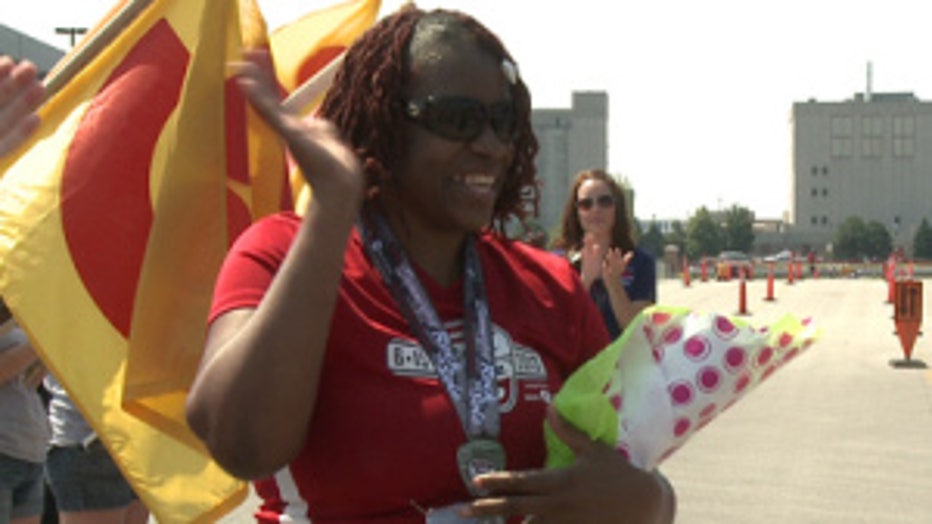 Phillips was just released from St. Luke's Medical Center on Tuesday, July 2nd. She has to stay in Milwaukee until the 17th of this month, and then she can go home to Georgia. But Phillips says it hasn't been that bad having to stay in Milwaukee; she used to live here and considers this "home" as well.

Phillips says she plans on competing in her ninth half marathon in April. She says she has no side effects or noticeable differences of any kind from the aneurysm.