Ripoff Romeo targets unsuspecting women online
FRANKLIN -- Don't tell Jill Mohr that men are like dogs.  She just might think it's an insult to Morgan, her chocolate lab. Afterall, dog is far too nice of a word to describe the man she fell in love with last fall.

"If you look up sociopath, that is what he is," Mohr said.

Mohr met Tim through an online dating site, where he described himself as a business owner and a fitness buff with a degree in Culinary Arts.

It didn't hurt that he's 6'2".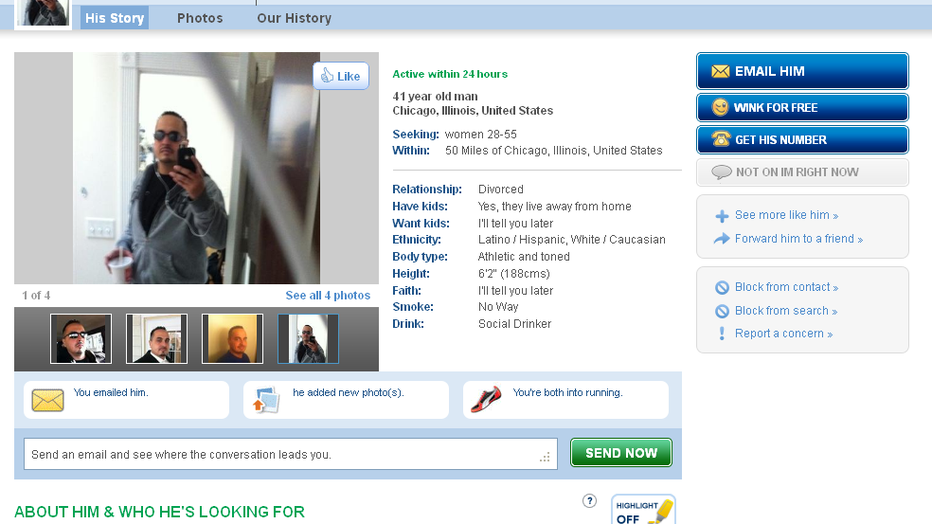 "He likes to go to movies. He likes to cook at home. He doesn't like the bar scene.  That is everything that a woman would be looking for," Mohr said.

Tim swept Mohr off her feet, and six weeks later, she gave him a key to her apartment. "I called all my girlfriends.  'Oh my gosh, this guy is the one!'" Mohr said.

Looking back now, Mohr admits there were red flags. For instance, she says Tim claimed to own a cleaning company, but rarely left the house.

"He made phone calls.  He'd be like, 'Oh, Russell I don`t really feel like cleaning today. I'm not coming into work. I'll pay whatever, whoever... I'll pay him an extra $100 just because I want to be with my girl tonight.'  Then you are sitting there feeling like 'Oh, he would rather hang out with me than go to work,'" Mohr said.

Mohr's dream came crashing down shortly after she crashed her car. Tim convinced Jill to hand over a $3,100 dollar insurance check and to sell her diamond earrings so she could buy a new car. Just before Christmas, she gave him all the money she had -- more than $6,800.

That was the last time she ever saw him.

"Came back on Friday and every single thing of his that was at my apartment was gone," Mohr said.

At first, Mohr was in denial. She thought she had been careful. "He told me his name was Tim Jensen, so of course, after we met that night, I went home and Googled Tim Jensen and Jensen worked out just fine," Mohr said.

After Tim left, Mohr discovered that Tim Jensen is really Timothy L. Olson, and she was not his first victim.

Heather asked FOX6 News not to use her last name, but she recalls meeting Tim at a social event for singles last summer.

"You know, I think I was caught up in the romance of it," Heather said.

Heather says Tim quickly moved from their first date to talk of the future. "It was just nice to have someone to dream with and someone who felt that way about me," Heather said.

Things changed after Heather loaned Tim $2,300 dollars. "He started acting very distant, like, `Don`t bother me, don`t harass me, don`t text me. I`ll mail it to you," Heather said.

He never did. "To find out that it was just all a lie, it just really hurts," Heather said.

Like Mohr, Heather dated Tim for a couple of months before he asked for any money, and like Mohr, Heather noticed something unusual. "He didn`t spend very much time doing the business that he talked about at first. I never heard him going to work or dealing with clients or having to do any of that business."

Both women say Tim preferred to sit away from others at the movies or just stay home. "Always drove the speed limit too and I questioned that," Mohr said.

Why?  Perhaps because Timothy Luther Olson is a wanted man. Olson has warrants in Wisconsin for skipping out on his parole. In fact, he's been in and out of prison since 1994.  He's been convicted of theft, forgery, possession of cocaine and escape from criminal arrest.

In 2006, Olson stole more than $22,000 dollars from another woman he met on Match.com. "Now I realize what he does is con women," Heather said.

Both Heather and Mohr had trouble getting police to treat what happened to them as a crime. Heather sent a two page letter to a Kenosha Police Detective, but she hasn't heard back.

Mohr has had plenty of contact with Franklin Police, but was told that it's a civil matter. The Franklin Police Chief told Fox 6 News that's because Mohr and Tim were involved in a relationship.

"It was basically like you screwed up, you gave him the money so it is your fault," Mohr said, through tears. "I know I gave him the money, but I gave him the money with the intent of getting a vehicle. I didn't give him the money to take off and never see me again."

For Mohr, the worst wasn't over yet. Soon after Tim left, she says he started harassing her with videos he'd secretly recorded. He sent sexual videos of the two of them directly to Mohr, she says, and sent other videos to her boss.  In those videos, she is venting about coworkers.

The stress was overwhelming.  At one point, Mohr started texting her friends to say 'goodbye.'

All the while, Timothy Olson was still out there trolling for women online.

"I told myself, 'He may have completely wrecked my life, but I will not let him wreck somebody else's,'" Mohr said.

As Mohr was trying to get Franklin Police to do something about Olson, he found a new victim in suburban Chicago.  Another woman named Heather, who bought his stories hook, line and sinker.

"He was a very charming man. It was very, very believable and elaborate," Heather said.

This time it wasn't just money Olson is accused of taking, but $3,000 dollars worth of medication.

"I went to the refrigerator," Heather recalls.  "I looked in the spot where it was and my heart sank down to my toes.  I just got a lump in my stomach and I knew right at that second that he had taken it."

Heather says Olson stole at least four vials of human growth hormone, which she needs for ongoing treatments from a car accident.  Without it, she suffers severe muscle spasms.

In desperation, Heather sent a text message pleading for mercy. "Please leave me two vials.  I beg you."

Olson showed no mercy. This time, neither did police. Detectives in Batavia, Illinois, traced his cell phone location and arrested him. Olson now sits in jail facing charges of theft.

"That`s what he deserves. That`s where he needs to be - in jail," says the first Heather, from Kenosha.

Olson is in custody in Kane County, Illinois.  He is also on a probation hold from Wisconsin for violating his parole.

Franklin Police did open a criminal investigation on behalf of Jill Mohr.  On Thursday (April 26), she met with an assistant Milwaukee District Attorney to discuss possible criminal charges.  However, Mohr told FOX 6 that no decision was made and she is not optimistic that charges are forthcoming.  Franklin Police Chief Frank Oliva says that is probably a "fair assessment."  He says Mohr is definitely a victim.  The question is whether she is a victim of a civil or criminal offense.