REWARD: $5,000 offered for information in Bouchards attempted robbery, shooting


MILWAUKEE (WITI) -- A $5,000 reward has been offered in connection with an attempted robbery and shooting that occurred at the Bouchards store on N. Martin Luther King Drive on November 18th.

Police say shortly after noon on November 18th two armed and masked suspects entered the store with the intent to rob it. During the attempted robbery, one of the suspects shot a store owner.

"The one individual that had me turned and shot towards me -- like trying to shoot at me and just barely missed. It hit the floor board right there I was laying," Alain Atra said.

Atra says he and a woman were inside the store when the suspects entered. He says his boss was in another room, and walked in to see the crime unfolding.

"The other individual had the young lady -- holding her by the hair and the gun pointed at her. My boss reacted to that and tried to snag her from the guy and the guy shot him point blank to the chest and exited in the back," Atra said.

The suspects obtained nothing from the store, and fled the scene as Atra alerted police and tended to his boss. THe 36-year-old store manager was taken to the hospital. He is now recovering at home.




"Thank God. Right now he is doing very well. He's back on his feet with his family. We're looking for for him to be back. We should not come to work and have to worry about our lives when we come to work," Atra said.

"We have good surveillance footage of the vehicle that the suspects fled in. We believe it to be a 2007 to 2011 Toyota Camry," Milwaukee Police Lt. Johnny Sgrignuoli said.

Police have issued photos of the suspect vehicle: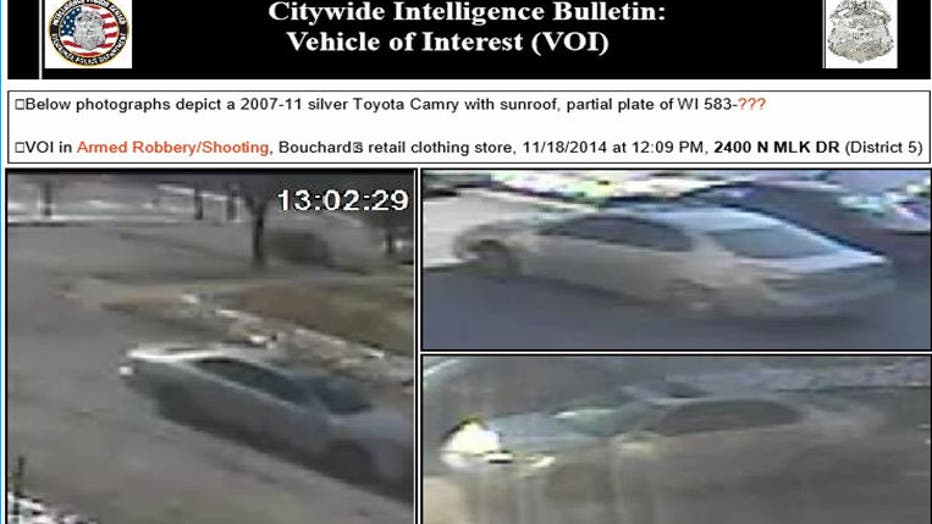 Bouchards attempted robbery/shooting suspect vehicle


Anyone with information in this case is asked to contact Milwaukee police at (414) 935-7360.

Monitor FOX6 News and FOX6Now.com for updates on this story.