Restaurant owners back Bucks arena funding proposal: "Letting the team go would be a huge mistake"


MILWAUKEE -- Restaurant owners in Milwaukee say if the Milwaukee Bucks leave, they'll get burned. A group of them got together to pass on an impassioned plea, as lawmakers work to pass a funding proposal for the new arena in downtown Milwaukee.

Milwaukee Bucks president Peter Feigin told Wisconsin lawmakers Monday, July 6th during a hearing in Madison that time is of the essence in approving $250 million in public funding for the proposed arena in downtown Milwaukee -- or the NBA will move the team to another city.


Bucks arena funding proposal


Gino Fazzari owns the Calderone Club on N. Old World 3rd Street in Milwaukee. He says if the Bucks leave town, his business will be impacted. Fazzari hosted a luncheon with the Wisconsin Restaurant Association on Tuesday, July 7th, to push for approval of the arena funding plan.

"Strongly in favor or supporting a new Bucks arena. When there's action downtown, restaurants are full," Ed Lump, president and CEO of the Wisconsin Restaurant Association said.



MillerCoors officials and eatery owners from across the state say if a new arena does not come to downtown Milwaukee, and the Bucks leave, it would be a raw deal for the city, for Milwaukee County, and for the state of Wisconsin.

"An easy 10% to 20% boost in our early dinner hours and another boost after the game is over," Danielle Baerwald, owner of Erv's Mug said.

"It would be a shame if we allowed this opportunity to pass," Paul Cunningham with Schreiner's Restaurant in Fond du Lac said.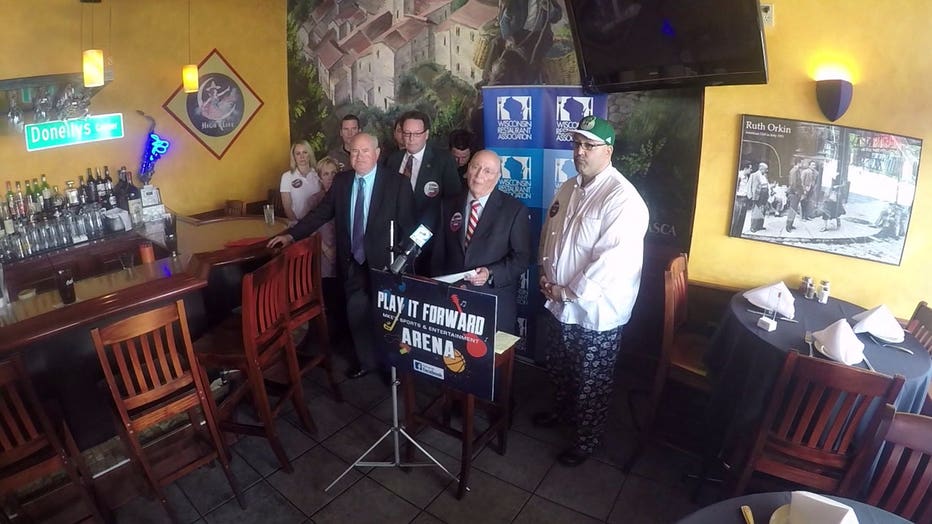 Wisconsin Restaurant Association news conference on Bucks arena


Fazzari is a second-generation restaurateur. He says the loss would have an immediate effect, and feels people don't fully appreciate how damaging the long-term impact could be.

"The real quantifiable hurt that it puts on -- not only financially, economically but socially. It would be a downer to have that facility gone," Fazzari said.

He says the pieces are there to get a deal done, but if lawmakers are the last ones to act, everyone else will be the first to feel the sting.

"Letting the team go would be a huge mistake," Fazzari said.

The arena funding proposal will now be voted on as a standalone measure -- separate from the state budget.

Lawmakers are considering whether to devote $250 million in taxes over the next 20 years to help fund the $500 million arena. The remaining funding would come from the Bucks' owners and former owner Herb Kohl.

The full Senate is expected to take up the arena financing proposal later this week.