Racine officials seize 19 pounds of marijuana during traffic stop


RACINE (WITI) -- Deputies with the Racine County Sheriff's office seized 19 pounds of marijuana during a traffic stop on Monday, March 17th.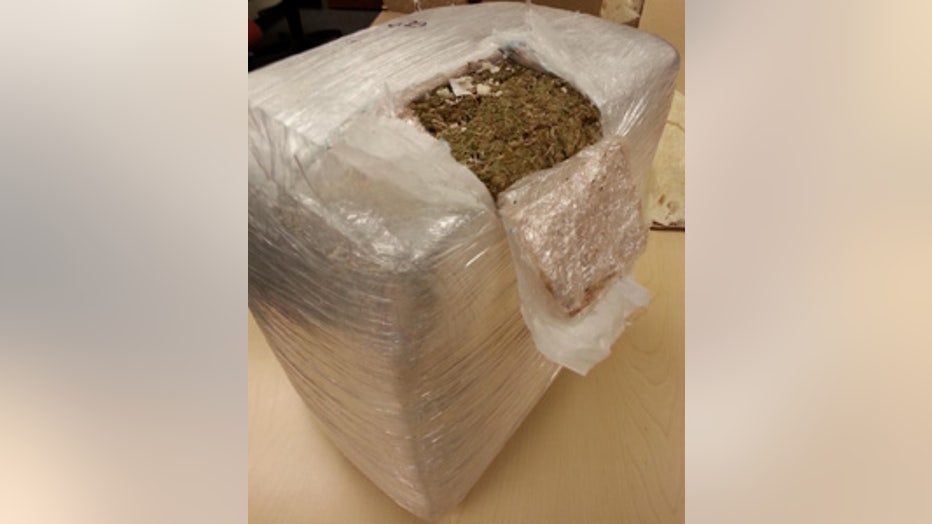 Marijuana recovered during traffic stop in Racine


Authorities say deputies with the Racine County Sheriff's Office initiated a traffic stop on a vehicle that was northbound on I-94 around 4:39 p.m for speeding.

"This particular traffic stop, the individual was acting very suspicious which prompted our deputy to summon our K9 unit," Racine County Sheriff Christopher Schmaling said.

During the stop, a Sheriff's K-9 unit "Nitro" alerted on the vehicle and a subsequent search of the vehicle revealed 19 pounds of marijuana.

"He alerted on one of the doors, and he actually tried to jump through the window," Schmaling said.

The street value of the marijuana is approximately $19,000.

Sheriff's Investigators learned the marijuana was being transported from Illinois to Milwaukee.

Authorities say painstaking steps were taken to hide the marijuana.

"At least seven to eight layers of plastic -- including it looks like a fabric softener to mask the odor. It was placed inside a box, and then this is a spray foam that sprays in as a liquid, and then once it dries, it sort of expands," Schmaling said.

Sheriff's officials say the marijuana was hidden in the back cargo area of the vehicle.

A Milwaukee man was taken into custody for possession with intent to deliver marijuana. His identity is being withheld pending further investigation.

This is the second time in less than a week that Racine County Sheriff's officials have made a drug bust during a traffic stop.

Last Wednesday, March 12th -- Racine Sheriff's officials initiated a traffic stop and seized 210.3 grams of heroin with a street value of approximately $31,500.

"There is a drug problem in the state of Wisconsin and more specifically, more locally here in Racine County. This does not surprise me. This is just a sign of our times that we're experiencing right now," Schmaling said.

Schmaling says these drug busts send a message.

"If you're going to distribute drugs through Racine County, transport drugs of this size through Racine County, we are going to seek you out and we're going to arrest you and you're going to end up in my jail," Schmaling said.