Racine County ice rescue, man, 2 dogs went into pond
TOWN OF RAYMOND, Wis. - A man and dog were rescued in Racine County Sunday, March 5 after going through the ice in the Town of Raymond.
It happened on 3 Mile Road around 2:30 p.m.
Sheriff's officials said two dogs belonging to a homeowner were chasing geese and ran out onto a pond. The dogs, Bo and Stormy, then fell through the ice. Stormy was able to escape, but the heavier Bo was trapped. The woman told FOX6 she called a neighbor who co-owns the dogs. She said he tried crawling out onto the ice to pull the dogs to safety. He, too, fell through the ice.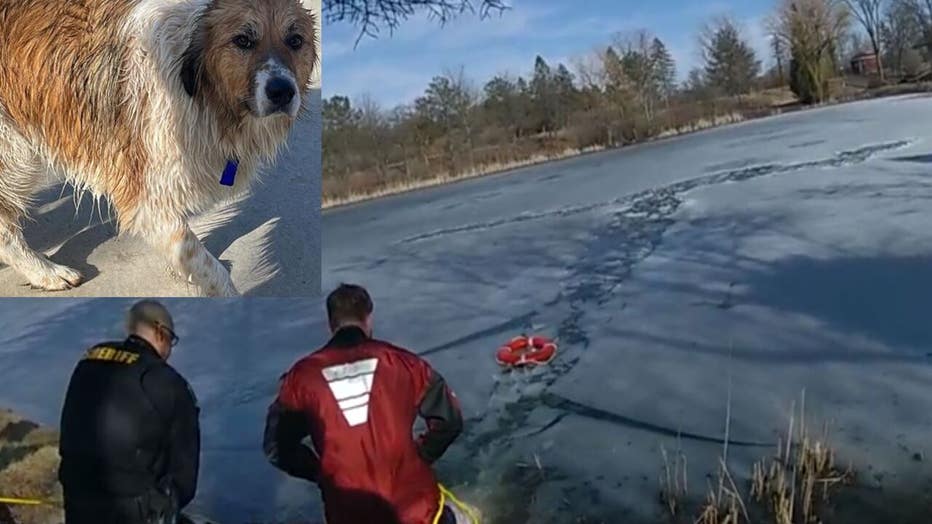 SIGN UP TODAY: Get daily headlines, breaking news emails from FOX6 News
First responders used a rope to try to pull the 58-year-old man to shore, along with the dog. Sheriff's officials said the man was barely able to grasp the rope, as his strength was fading. They said he was "within minutes of going underwater." Two sheriff's investigators ended up going into the water to pull the man to shore.
The man was taken to the hospital with hypothermia and lacerations.
The dog, Bo, appeared uninjured after he was warmed up in a vehicle and was running around as FOX6 visited.
Sheriff's officials said the man and two dogs are expected to be OK.