Prosecutors: Pursuit, crash suspect let into home in Racine after telling residents he was hurt


RACINE -- A Racine man is facing charges, accused in connection with a crash that occurred in a front lawn near Melvin and Erie on Memorial Day, May 29th. It happened during a pursuit.

20-year-old Demond Seay of Racine faces one count of operator flee/elude officer - bodily harm or property damage, repeater and one count of resisting or obstructing an officer, repeater.

A criminal complaint notes convictions dating back to 2014 for disorderly conduct, attempted burglary and theft.

Prosecutor say on May 29th, Seay crashed a borrowed vehicle near Geneva and Albert in Racine. This, after an officer attempted to initiate a traffic stop on the vehicle after witnessing two traffic violations. According to the complaint, Seay pulled the vehicle out into traffic in front of the officer, causing him to suddenly brake. Seay looked at the officer and pulled towards the side of the road like he was going to stop, but he continued to drive, increasing his speed to approximately 50 miles-per-hour -- failing to stop at stop signs.

Near Yout and Erie, Seay's passenger bailed from the vehicle.

When the crash happened, the complaint says the vehicle was traveling in excess of 70 miles-per-hour.

The complaint says Seay lost control where the roadway takes a slight zig-zag, and the vehicle left the road, became airborne and flipped several times before taking down a tree and coming to rest in a front yard near Melvin and Erie.

Several residents told investigators the driver fled on foot. Investigators eventually learned Seay had been let into a home after telling residents he'd been hurt in a crash. He was found in a back bedroom -- sweaty, and with a ripped shirt. He appeared scraped and dirty.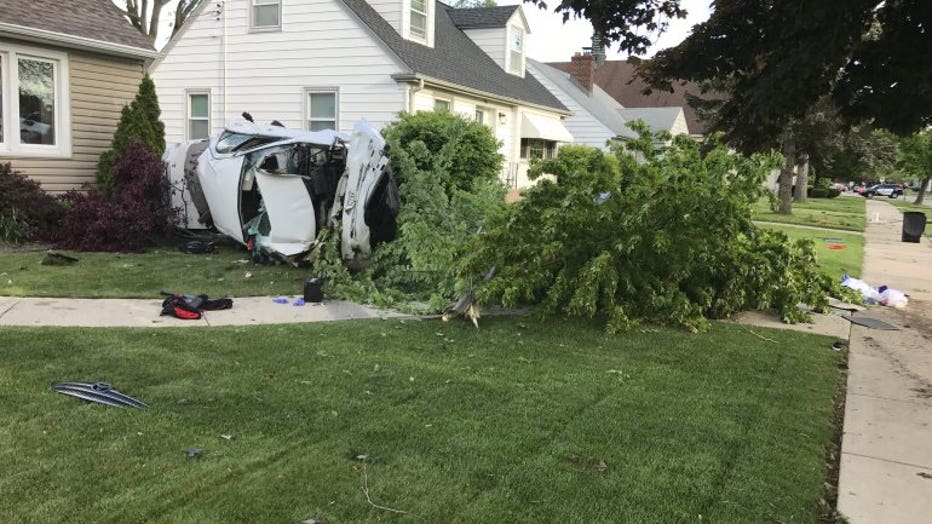 Car crashes in front yard during pursuit in Racine


The complaint says he denied being in any vehicle that crashed, and provided false identifying information. He later said he was a backseat passenger, the complaint says.

Investigators spoke with Seay's mother and the vehicle's owner. Both said he had borrowed the vehicle, which he regularly drives.

Seay made his initial appearance in court in this case on May 31st. Cash bond was set at $10,000. A preliminary hearing was set for June 8th.