President Obama to visit Milwaukee to celebrate health care signups as state sues over ACA


MILWAUKEE -- President Barack Obama will be in Milwaukee on Thursday, March 3rd -- and this visit has nothing to do with the presidential race. The presidential visit to Milwaukee is essentially a reward following a challenge to see which community could get the most people signed up for health insurance during a five-month period. Milwaukee won the challenge.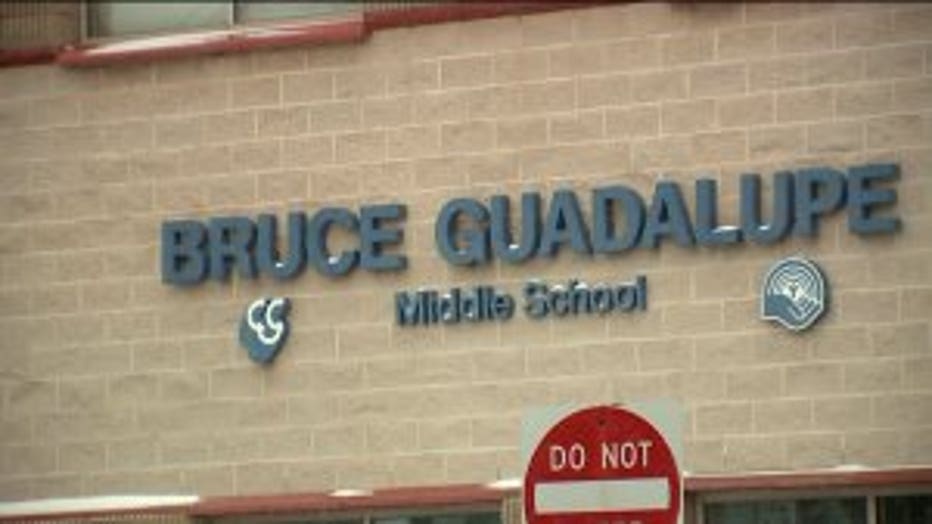 Bruce-Guadalupe Middle School


Along with the celebration over the increased health care enrollments here in Milwaukee, there's also some criticism.

On Wednesday, March 2nd, one day before President Obama's visit, there was excitement on the campus of the Bruce-Guadalupe School near 9th and National on Milwaukee's south side.

President Obama will deliver remarks at the United Community Center on campus.

"It should be a fun day," Milwaukee Mayor Tom Barrett said.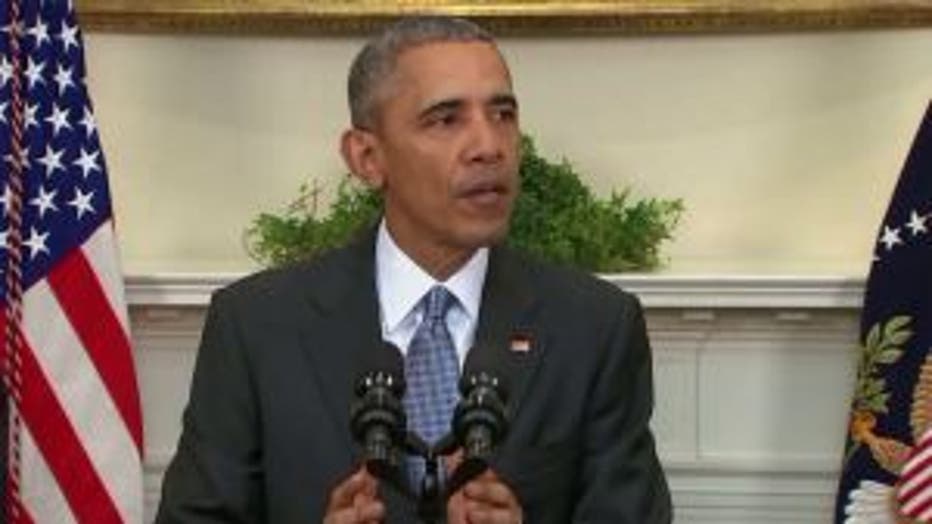 Milwaukee beat out 20 other communities nationwide by enrolling the most people in health care, starting last October.

"This is a celebration because Milwaukee did well -- but the issue we are dealing with is such a serious issue," Mayor Barrett said.

Wisconsin is one of six states suing over the Affordable Care Act.

"We hear routinely from small business owners and farmers across the state is that it's anything but affordable," Governor Scott Walker said.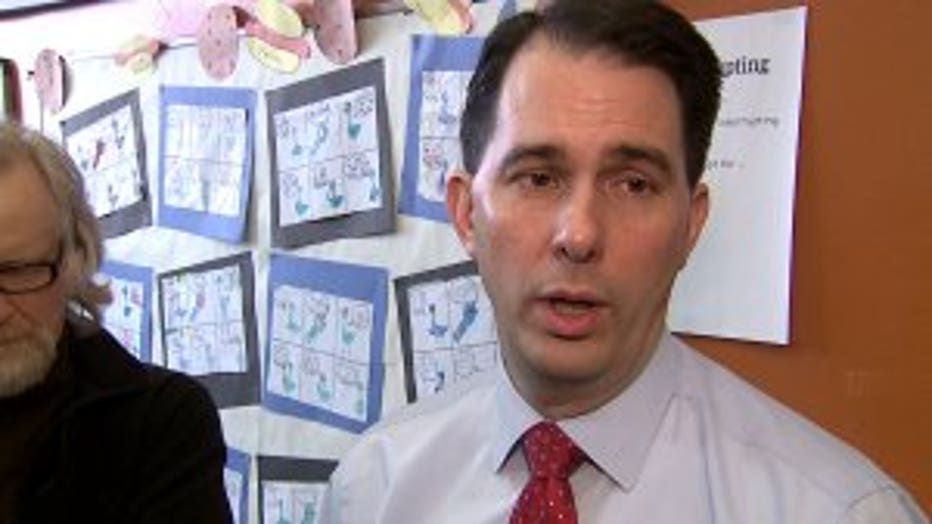 "I, for the life of me, don`t understand why politicians would want to take the position that`s contrary to people having health care," Barrett said.

Walker said he is not opposed to people having health care coverage.

"Access is a good thing," Walker said.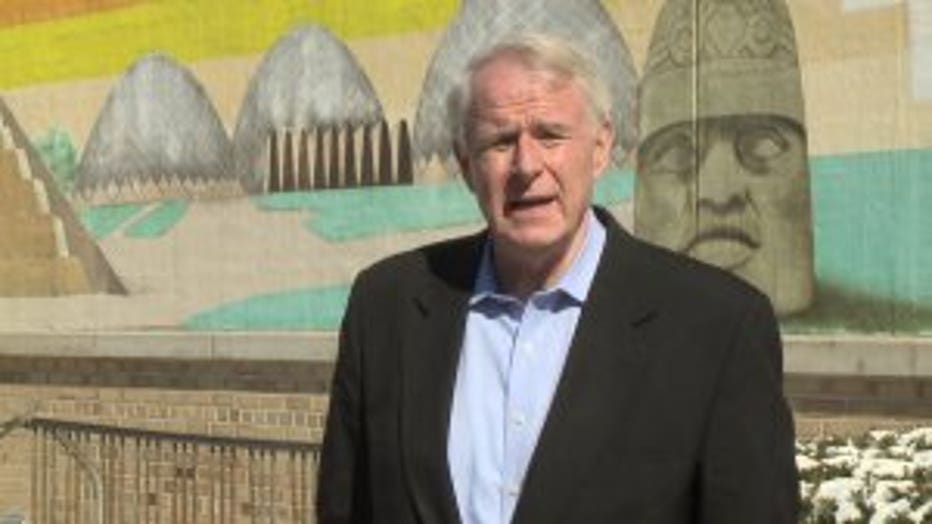 Milwaukee Mayor Tom Barrett


But Walker believes there's a different way.

"We believe the federal government that continues to build up debt and deficient problems regardless of the party is not going to be in a position in the next several years to meet their commitments even before the Affordable Care Act -- even more so going forward," Walker said.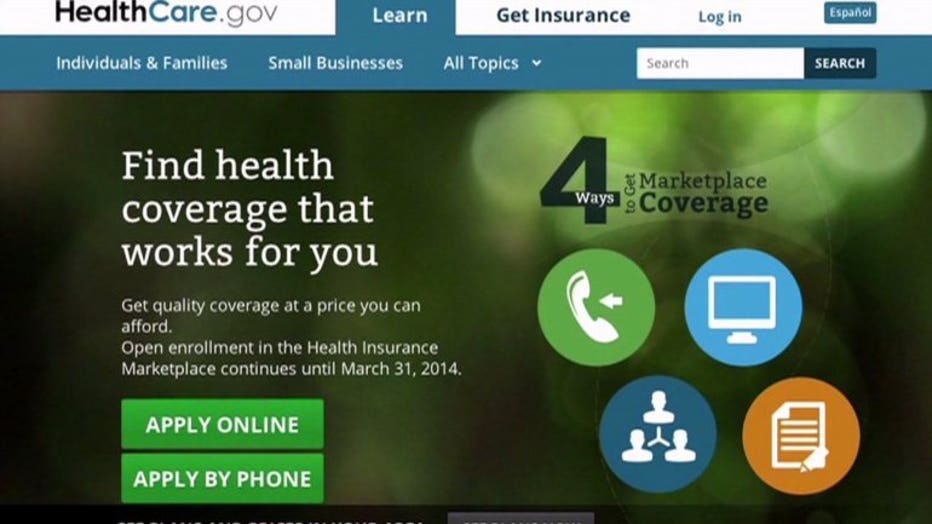 Affordable Care Act -- Health Insurance Marketplace


"If you`re going to use that argument, you would never take a penny from anybody," Barrett said.

The president is expected to speak at 2:00 p.m. Thursday in Milwaukee.

Milwaukee Mayor Tom Barrett issued this statement on the presidential visit:

Mayor Tom Barrett will welcome President Barack Obama to the City of Milwaukee on Thursday, March 3, at the Bruce-Guadalupe Community School. President Obama will deliver remarks and congratulate Mayor Barrett and the City of Milwaukee on winning the "Healthy Communities Challenge."

In November, Mayor Barrett accepted the "Healthy Communities Challenge," a competition among 20 communities across the U.S. that have high numbers or percentages of Marketplace-eligible uninsured, and have community collaborations willing to make a meaningful impact.

Under the leadership of Mayor Barrett, about 38,000 people in the Milwaukee area newly selected a plan through the Health Insurance Marketplace during this open enrollment period. Together with returning Marketplace consumers, about 89,000 people in the Milwaukee area selected a 2016 Marketplace plan.

"I am thrilled to be welcoming President Obama to Milwaukee to celebrate our success in the 'Healthy Communities Challenge.' Our victory not only shows the success that a collaborative effort can produce, but highlights a much more important message: Today, more Milwaukee-area residents have health insurance coverage than ever before," Mayor Barrett said. "I am proud of the collaborative effort that took place to increase the number of local residents enrolled in health insurance, and I look forward to showcasing the hard work of the more than 100 partners in the Milwaukee Enrollment Network during this visit."

The White House announced the "Healthy Communities Challenge" to engage key communities with large numbers or high percentages of uninsured in states across the country. Based on particularly high opportunity for impact with strong federal, state and community collaboration, the White House reached out to local officials in 20 communities to get their uninsured constituents covered.

Mayor Barrett worked extensively to provide communitywide outreach and awareness. The Mayor opened four library branches for enrollment events, partnered with Uber to provide rides to final enrollment events, delivered more than 60,000 flyers to promote enrollment assistance, and coordinated outreach to thousands of residents daily through City departments to get the message out to sign up for healthcare coverage.

Advertising outreach was extensive and was coordinated and funded jointly by the Milwaukee Enrollment Network and City of Milwaukee Health Department. This outreach included 650 traditional radio ads, internet radio ads that received more than 1.9 million impressions and outdoor ads placed on 20 billboards in targeted zip codes.

The Milwaukee Enrollment Network, a coalition of more than 100 agencies, works year-round in support of improving health insurance coverage. Convened by the Milwaukee Health Care Partnership and Covering Wisconsin, the network includes the City of Milwaukee Health Department, area health systems and health centers, community organizations and independent agents and brokers.

Through this collaborative work, outreach, education and enrollment assistance was coordinated to assist residents across the community.

Milwaukee County Executive Chris Abele issued this statement:

In advance of President Barack Obama's visit to Milwaukee this Thursday to celebrate the metro area winning the White House Healthy Communities Challenge, Milwaukee County Executive Chris Abele is highlighting the critical role the County played in providing significant staff, funding, and resources that have helped thousands of individuals get access to affordable healthcare.

Under Milwaukee County Executive Chris Abele's leadership, Hector Colon, director of Milwaukee County's Department of Health & Human Services (DHHS), led the charge for the County in ensuring that more people have coverage. The County funds Impact 2-1-1, a social service community hotline, to provide accurate information about healthcare benefit options to individuals looking for help. IMPACT 2-1-1 also provides over-the-phone screening to help make appropriate referrals to enrollment assistance. The County also ran signage advertising this information every day during the open enrollment period on all 200 County-owned and managed buses.

In addition, the County has trained nearly 70 staff members to help clients understand where to go and how to get services through ACA exchanges, including four Certified Application Counselors (CACs), an intake service manager, and two administration coordinators. This staff directly enrolled more than 1800 individuals through programs at the County. Winged Victory, a program funded by the county executive, was also developed to assist individuals with disabilities in applying for benefits and other assistance for which they are available.

"The Affordable Care Act is working, and thanks to President Obama, the Milwaukee area is getting healthier every day," County Executive Chris Abele said. "I'm thrilled to welcome the President to Milwaukee County so he can see firsthand how our broad coalition of healthcare partners has worked together to help people in our community get the coverage they need to live stronger, fuller, healthier lives. I also want to thank my partners on the County Board and the many Milwaukee County employees whose hard work helped make it possible for our community to win the White House Healthy Communities Challenge."

Recognizing that racial and ethnic minorities are statistically less likely to have access to affordable, comprehensive healthcare, the County took several steps to help ensure full minority inclusion, such as collaboration with, and funding for, community groups like the Black Health Coalition. The Black Health Coalition has done education and outreach at churches, schools, and at-risk facilities around the County, with an added focus on the City's north side. In addition, the County has partnered with Latino community organizations like Centro Hispano that enhanced outreach and took the lead on the production and dissemination of bilingual literature and educational information.

The Disability Services Division at DHHS funded the Restorative Justice Collective for ACA outreach efforts, including canvasses to thousands of households to inform them about health insurance coverage and phone calls and mailings to County households most likely to be eligible for coverage under the Affordable Care Act.

And at the Milwaukee County House of Correction, nearly 500 inmates so far have been enrolled in insurance through the Affordable Care Act, just since February of 2015. We believe the House is the first, if not only, correctional institution to take this proactive step to helping individuals enroll in healthcare. For many of these individuals it's the first time they've had health insurance. Affordable, comprehensive healthcare is a critical component in these individuals' participation in other supportive programming offered through the House of Correction, such as AODA treatment, mental health counseling, and peer counseling, that empowers them to live a better life and makes them less likely to reoffend in the future.

These investments are important to the overall health and well-being of our community. However, they have the added benefit of saving taxpayer dollars. To date, Milwaukee County has saved approximately $2 million as a result of the Affordable Care Act.

Alderman Jose Perez issued this statement:

The visit tomorrow by President Obama to recognize the City of Milwaukee for winning the "Healthy Communities Challenge," a competition to increase the number of Health Insurance Marketplace enrollments, is a high honor for our city. However, I would argue it is an even deeper and higher honor for the people of the 12th Aldermanic District, as his visit will feature a stop at one of our very best community assets – the United Community Center.

I am very proud of the effort that was put forth to win the challenge and to make the President's visit to Milwaukee a prestigious event, and I want to thank all of the people and agencies who worked so diligently to bring us the Healthy Communities Challenge win. Enrolling previously uninsured individuals for health care coverage across Milwaukee is truly positive and will help improve the overall health and quality of life in our city.

Anytime the President visits, it will cause some traffic disruptions and temporary closures – and tomorrow will be no different. Please bear with us tomorrow during the temporary traffic and parking inconvenience – it will be for a short time only.

Tomorrow will be historic for the United Community Center and the City of Milwaukee, and I will be extending a warm welcome to President Obama on behalf of the people of the 12th District.