Pres. Barack Obama visits GE's Gas Engine Plant in Waukesha


WAUKESHA (WITI) -- President Barack Obama spoke to hundreds of workers at GE's Gas Engine Plant in Waukesha on Thursday, January 30th. President Obama says Wisconsin is a model for the nation when it comes to training workers for highly skilled manufacturing jobs.

President Obama called 2014 "a year of action" in his State of the Union address this week, and on Thursday in Waukesha, he signed an executive order demanding a thorough review of the nation's worker training programs.

In his speech Thursday, President Obama said the country can take a page from the Badger State's book.

"It's good to be in Wisconsin -- good to be in Waukesha," President Obama said Thursday.

In his speech, the President said America cannot stand still and neither can he. He laid out a multi-part plan to generate more jobs in manufacturing. It includes creating more manufacturing jobs, training more Americans with the skills to fill those jobs, and making sure the hard work pays off with good wages.

"America cannot stand still and neither will I, so wherever I can take steps to expand opportunities for working families, that's what I'm going to do -- with or without Congress," President Obama said.

The President told those gathered that Vice President Joe Biden will soon lead an across-the-board review of America's training programs. He said not all of the current programs are doing what they should be doing. The President said, "We have to move away from train and pray" -- where people are trained and then we pray they get a job.

President Obama is also calling for apprenticeship opportunities. He pointed out that Waukesha's GE Engine Plant works with local high schools to get young people interested. He says while not all of today's good jobs need a college degree -- many of them require specialized training.

"We were looking at some of the equipment here. It's $5 million worth of equipment. GE's going to be a little nervous if they put you there on the first day and say 'here, run this thing' -- because if you mess up, you mess up," President Obama said.

He also said when women succeed, America succeeds.

"We need to make sure they have equal opportunity," said Pres. Obama.

The President said it's time to give America a raise -- reiterating the push he made during his State of the Union Address to bring the national minimum wage up to $10.10 an hour.

After speaking, the President signed an executive order providing federal money for job training programs.

President Obama also praised Milwaukee Mayor Tom Barrett's "Earn to Learn" program -- that puts young people in paid internship positions with the city over the summer.

"We told him, 'look, we know what you're trying to do. We're doing it right here, so use us as an example. You bring the employer in and work through the technical schools and give them the skills for that very job that they can walk into. Everybody wins when you do that,'" Mayor Barrett said.

Before he spoke, Pres. Obama first saw a large GE Waukesha engine painted orange and sitting on an extra long forklift. Two GE executives pointed out the features of the engine. A nearby a company sign said: "We create the things that make the world work better."

At another stop inside the GE Waukesha gas engines plant, Pres. Obama took off his suitcoat, donned safety glasses and was briefed by two GE workers on what appeared to be a very large crankshaft used for the GE engines.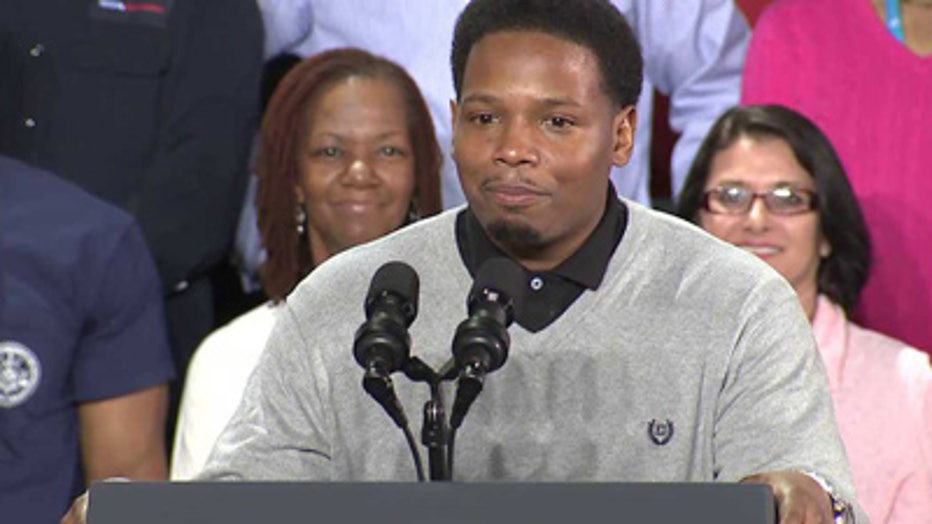 Reggie Troop introduces Pres. Obama


The gentleman who introduced Pres. Obama is Reggie Troop, a graduate of the Wisconsin Regional Training Partnership (WRTP)/BIG-STEP program. The workers standing behind the President included graduates of the WRTP/BIG-STEP program. Troop trained 40 hours a week over a three-month period to learn the job he has at GE Waukesha gas engines.

Waukesha's Republican County Executive Dan Vrakas welcomed President Obama Thursday despite their policy difference.

"There's all kinds of issues that I disagree with President on. Specifically, I think you can do some things with the earned income tax credit to help people in low income jobs get tax breaks, but that's not what today's about. We can have those debates in the future," Vrakas said.

Vrakas says he's pleased President Obama chose Waukesha to highlight programs that are working.

"This plant's a great example of that, That's why we're here -- in addition to the fact that you seem like very nice people, but we're here because you're doing some really good stuff that everybody else needs to pay attention to," President Obama said.

The President landed at the Wisconsin Air National Guard's 128th Air Refueling Wing just before 10 a.m. Thursday. Air Force One was wheels up around 2:45 Thursday afternoon.