Pope Francis attends Good Friday service recalling Jesus' suffering
VATICAN CITY — Pope Francis prostrated himself in prayer during a solemn Good Friday service in St. Peter's Basilica to recall the crucifixion of Jesus. His quiet reflection came hours before he was due at the Colosseum for the Way of the Cross procession that is being held this year under exceptionally tight security.

The 80-year-old pope lay for several minutes before the central altar at the basilica. He wore crimson-colored vestments for the day commemorating the suffering of Jesus.

Papal preacher the Rev. Raniero Cantalamessa told the faithful they were recalling the "violent death" of Jesus 2,000 years ago, even though most days now bring news if violent deaths, because the crucifixion "changed forever the very face of death."

Cantalamessa called the cross the definitive "'No' of God to violence, injustice, hate, lies."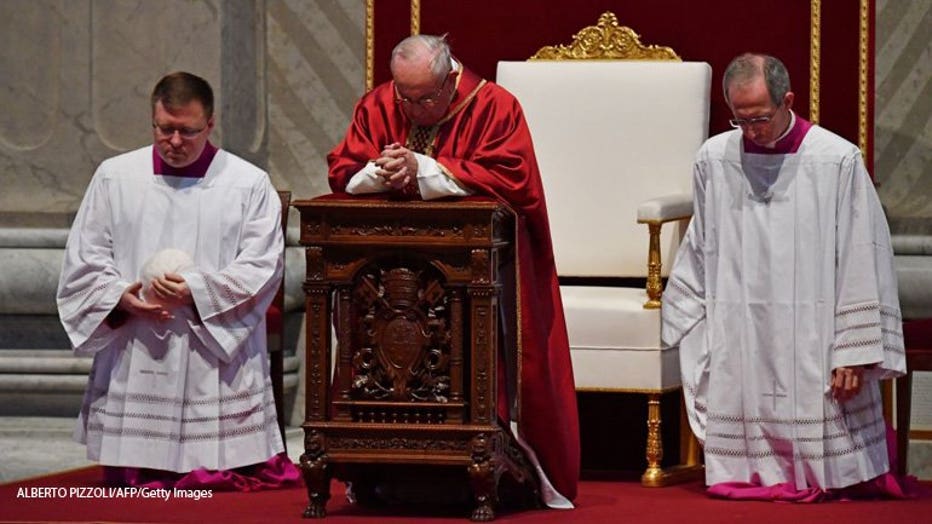 Pope Francis prays during the Celebration of the Lord's Passion on Good Friday at St Peter's basilica, on April 14, 2017 in Vatican. Christians around the world are marking the Holy Week, commemorating the crucifixion of Jesus Christ, leading up to h


Francis was scheduled to give his own homily Friday night at the traditional Way of the Cross procession in the Colosseum in Rome. Hours before the procession was scheduled to start, security was exceedingly tight around the ancient arena.

It's the first time the Good Friday tradition, in which faithful take turns carrying a cross while accompanied by crowds holding lit candles, was being held since the truck attacks targeting pedestrians in Nice, Berlin, London and Stockholm raised apprehension about big public gatherings in Europe.

Streets surrounding the Colosseum were closed to traffic, armored vehicles blocked intersections, bomb-sniffing dogs were out in force and there was a heavier-than-usual police presence to keep watch.

Accredited media faced exhaustive security checks. Police initially refused to allow ladders and tripods into the press zone. The equipment was eventually permitted after media protested to authorities.