Police recover stolen Stradivarius violin from southside home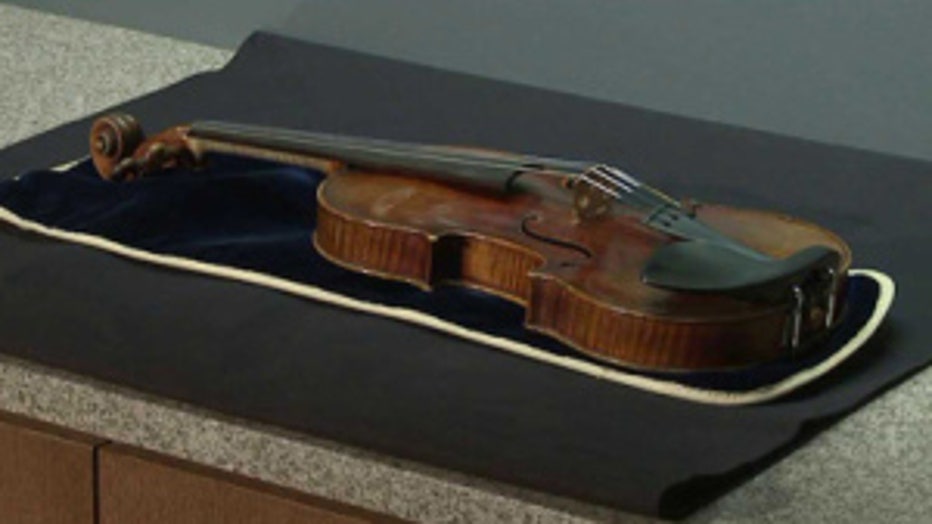 1715 Lipinski Stradivarius violin


MILWAUKEE (WITI) -- The Milwaukee Police Department recovered the stolen 1715 Lipinski Stradivarius violin from a home in the city's Bay View neighborhood. It appears to be in perfect condition -- and is expected to be returned to its owner soon.

On Monday, January 27th, two armed suspects, a man and a woman, approached concertmaster violinist Frank Almond of the Milwaukee Symphony Orchestra who had just performed at Wisconsin Lutheran College.  Almond walked to a parking lot after the concert and the suspects approached Almond. They used a taser on Almond, causing him to drop the violin and fall to the ground. The suspects then stole the violin, valued at approximately $6 million.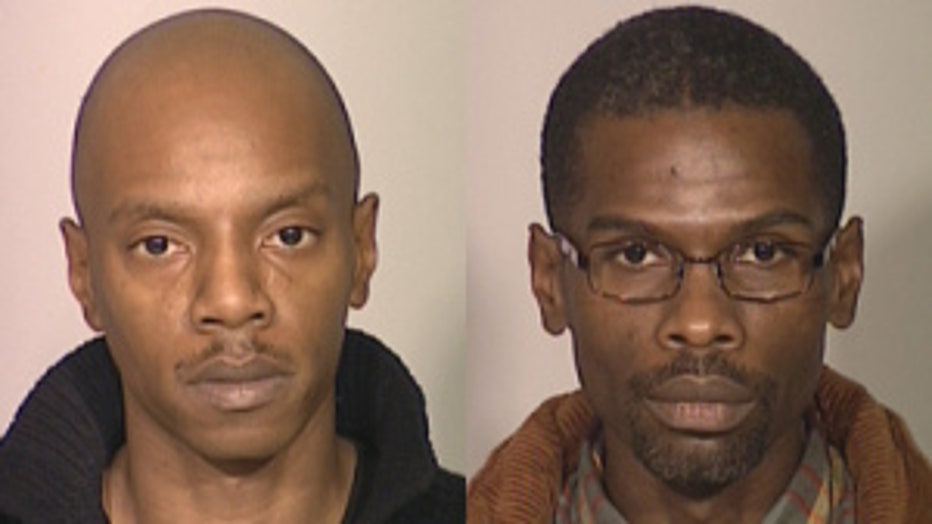 Universal Allah, Salah Salahadyn


In a news conference on Thursday, February 6th, Milwaukee Police Chief Ed Flynn said team initially reached out to the FBI's arts crimes team for advice in this case. Flynn said his officers worked closely with Taser International. Information received from the company led them to an individual in Milwaukee who had purchased the device. He was identified as 36-year-old Universal Allah. He was placed under arrest.

Chief Flynn said another anonymous tip several days into the investigation helped them identify a primary suspect in this theft. He is 41-year-old Salah Salahadyn.

The investigation led the Milwaukee Police Department to execute five separate warrants. Those resulted in the arrests of three people -- including the two suspects already named.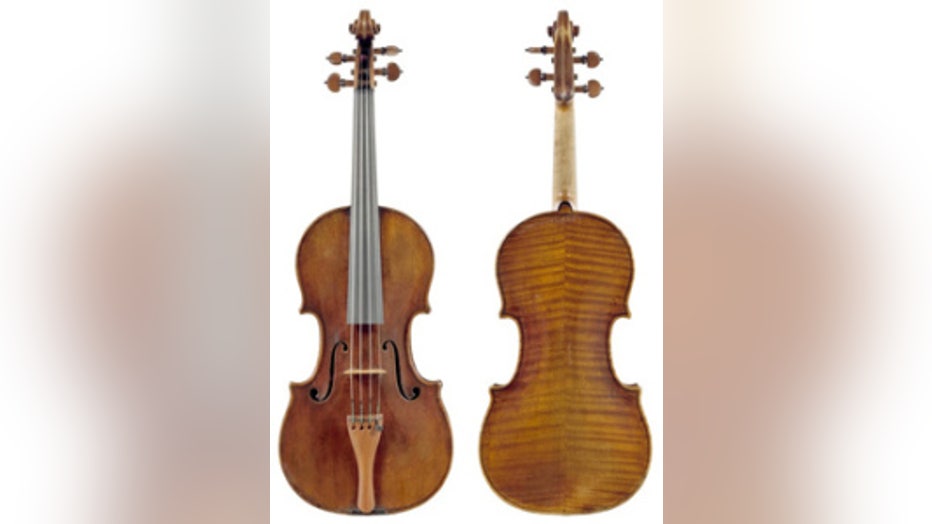 1715 Lipinski Stradivarius violin


Further information received by MPD indicated the location of the violin. Officers executed a search warrant Wednesday night, February 5th at a home on E. Smith St. on the city's south side. The Stradivarius violin was apparently stored in a suitcase and found in an attic at a home on that street. Again, it appears to be in good condition.

"It was treated very carefully by the people who stole it. Folks who stole it knew it was highly valuable. They don't want to do anything to injure the violin," said Chief Flynn.

The big question out there is why? What were the thieves going to do with the violin? Chief Flynn says that is not clear. Right now, officials say the suspects knew it was valuable -- and they allegedly took it.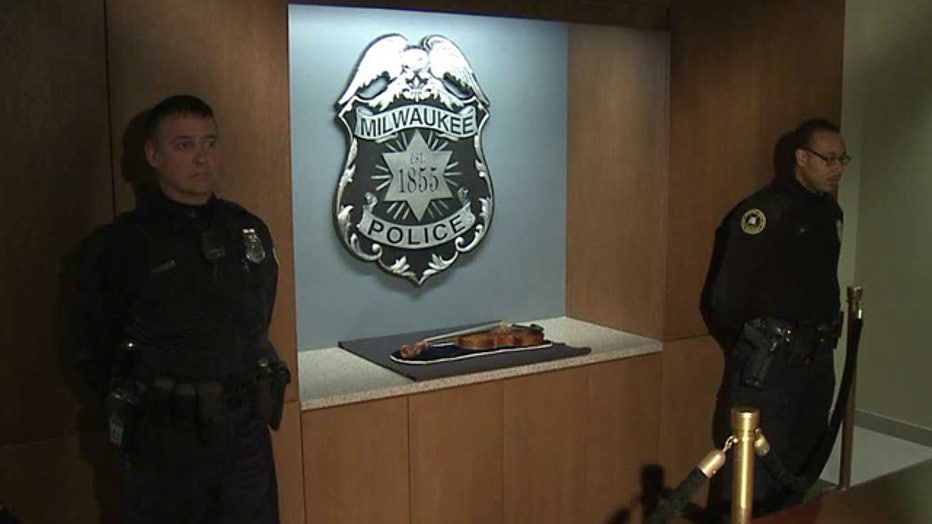 Stradivarius violin guarded by MPD


Milwaukee County District Attorney John Chisholm indicated criminal charges in this case would be filed Friday morning, February 7th. That's in part because the assistant D.A. who will be handling the case was involved closely with the investigation.

Milwaukee Mayor Tom Barrett said of the recovery, "There are good days and there are bad days. Today is a good day." Barrett said the investigation was a model of cooperation between the Milwaukee Symphony Orchestra, Milwaukee Police Department, FBI, Milwaukee County District Attorney's Office and the citizens of Milwaukee.




Mark Niehaus, President of the MSO, said he is incredibly thankful for the Milwaukee Police Department and all those who helped with the investigation.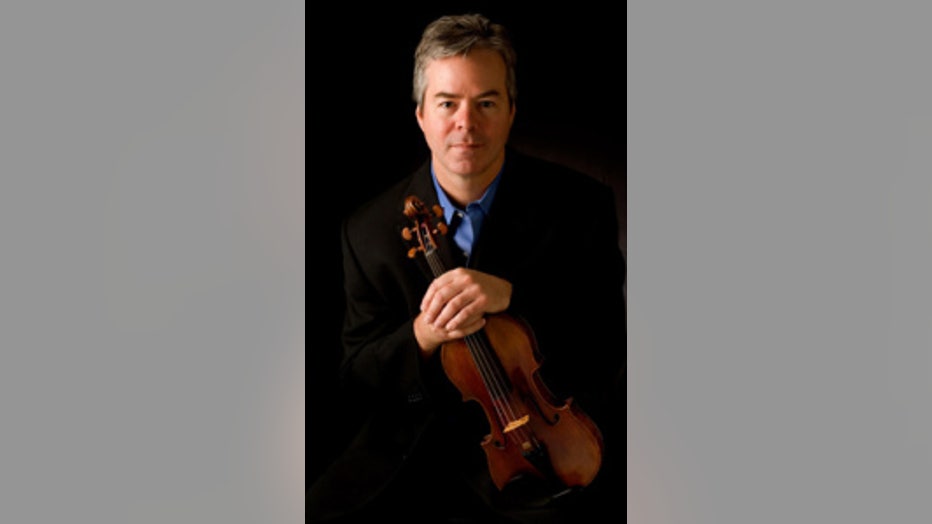 Following Thursday's news conference, concertmaster Frank Almond issued the following statement on the recovery of the Stradivarius violin:

"I'd like to express my deep gratitude to Chief Flynn, the Milwaukee Police Department, FBI, and all other law enforcement agencies for their outstanding work. Their professionalism and personal concern throughout this entire ordeal have been exemplary, and I cannot thank them enough. I'd also like to thank everyone for the colossal outpouring of support and concern over the last ten days, especially the musicians, staff, and board of the Milwaukee Symphony Orchestra. It was truly heartening during what was obviously a very difficult time. I could not have imagined a better outcome for this particular chapter in the violin's life and look forward to having it in my hands as soon as possible."

On his Facebook page Thursday, Frank Almond posted the following message:

"After this unbelievable news I'd just like to again express my deepest gratitude to Chief Edward Flynn and the Milwaukee Police Department along with all other law enforcement involved. Absolutely amazing work. And thank you all so much for the unending well-wishes and support through this entire ordeal. I hope to have the violin in my hands soon!"

Almond has received incredible support from the community since this incident occurred.

He has the following photo set as his Facebook cover photo -- seemingly sent to him by a young fan.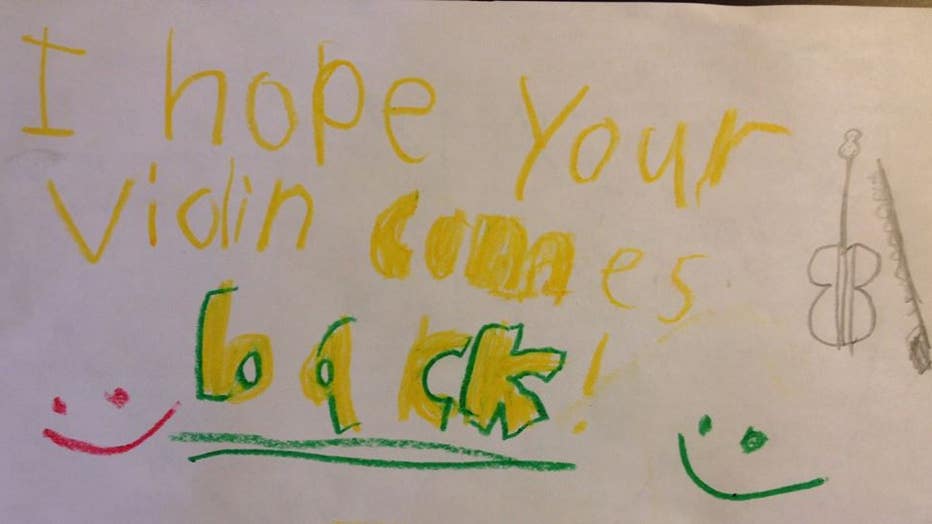 Frank Almond Facebook cover pic


It is believed the violin is now back in the hands of its anonymous owner. Almond is set to be reunited with it this weekend.

Yet to be recovered in this case is the getaway vehicle -- described as a maroon 80's or 90's Dodge or Chrysler minivan.

Related stories: