Police officers eating marijuana "edibles" during raid? That's what surveillance video appears to show


SANTA ANA -- Police officers in Santa Ana were caught on camera -- allegedly eating marijuana-laced "edibles," playing darts and displaying other questionable behavior during a raid. This, according to an attorney who says he plans to sue the city.

KTLA reports the incident occurred at "Sky High Holistic," a medical marijuana dispensary police said was operating without a permit.

Surveillance cameras and a hidden camera inside the dispensary captured the raid. The video footage shows at least eight officers bursting into the facility with their guns drawn, shouting "everybody on the ground."

The officers then removed surveillance cameras they could see -- some mounted to the ceiling.

KTLA reports it was then that the video shows the officers smelling the merchandise, and discussing the flavor of the edibles -- laughing. Multiple officers appear to break off pieces of the food and consume it. The surveillance cameras captured other officers playing darts.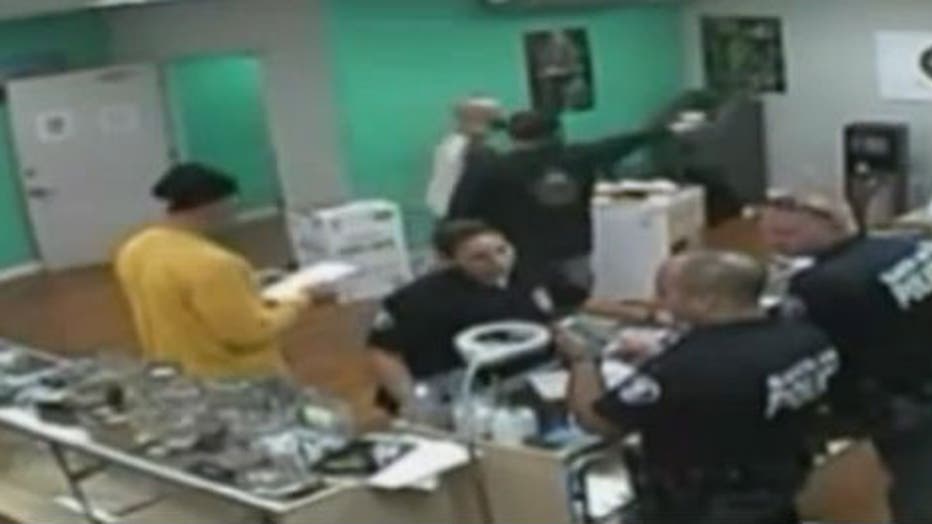 The video was edited and released to KTLA and other news media by Matthew Pappas -- an attorney who says he plans to file a lawsuit on behalf of a customer who was inside the dispensary prior to the raid -- a woman who has had her leg amputated.

The video shows one officer appearing to say: "I was about to kick her in her (expletive) nub."

"I'd like to see the police officers disciplined for the behavior that goes on here. I'd like to see the city stop engaging in illegal conduct," Pappas told KTLA.

An internal investigation into the officers' alleged behavior during the raid is underway.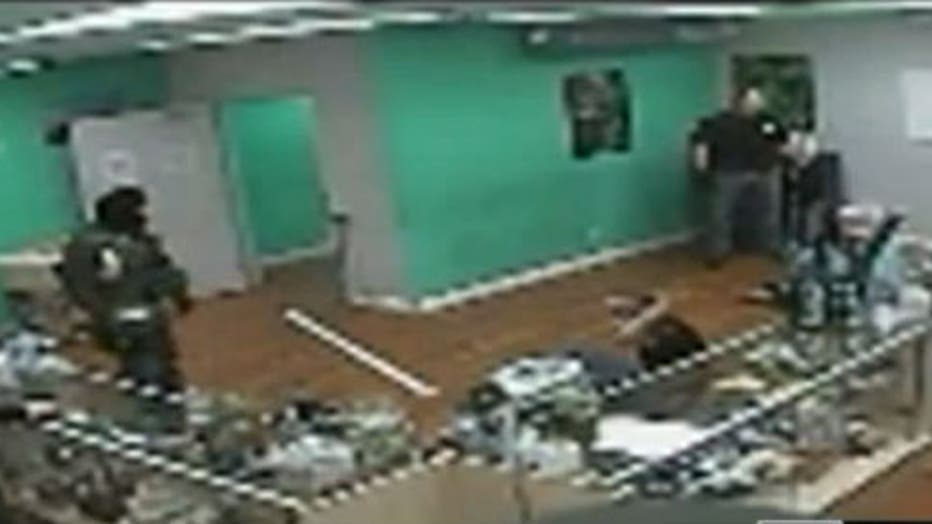 "We're obviously concerned about the conduct that we saw in the edited video. We're also concerned that the video was heavily edited. We'd like to see the original video in its unedited version," City of Santa Ana Police Commander Chris Revere told KTLA.

Pappas wants reform, and he tells KTLA he also wants to see a more fair system for allowing marijuana dispensaries in Santa Ana. A judge recently issued a temporary restraining order preventing the city from implementing a voter-approved lottery system designed to distribute 20 permits for cannabis collectives, according to the OC Weekly.

Sky High was not one of the 20 dispensaries that were granted permits to operate in February. The shop operated nonetheless, and its owners expected it to be raided.