Police, community mourn officer killed in presidential motorcade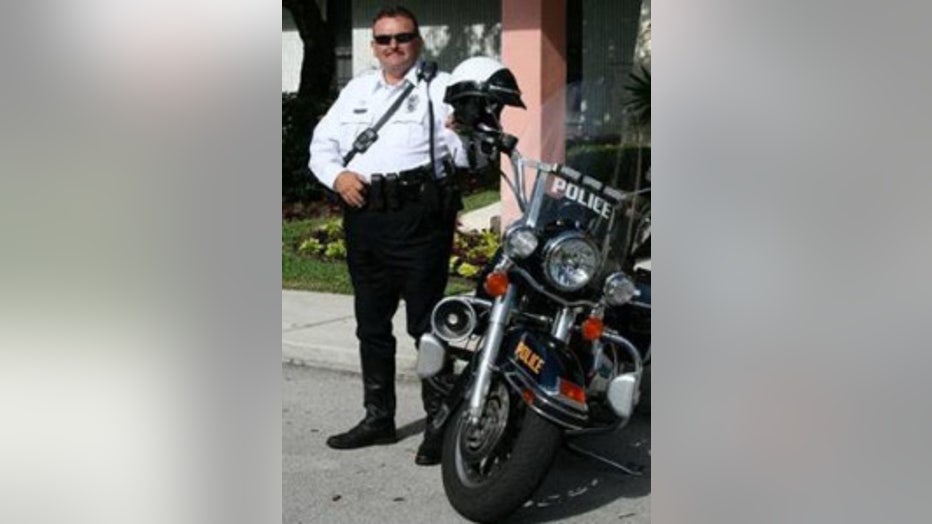 (CNN) -- A police cruiser draped in black banners and topped with a rose sat in front of the Jupiter, Florida, police department Monday morning, September 10th -- paying testament to a 20-year department veteran killed Sunday while helping escort President Barack Obama through Palm Beach County.
Officer Bruce St. Laurent, 55, was traveling with the presidential motorcade around 4:45 p.m. Sunday along Interstate 95 through West Palm Beach when a Ford 150 pickup hit his motorcycle, Palm Beach County Sheriff's Office spokeswoman Therese Barbera said. Jupiter Police Chief Frank Kitzerow said St. Laurent was transported to nearby St. Mary's Medical Center, where he died Sunday.
Kitzerow visited St. Laurent's family Monday morning to discuss funeral services, and memorial information will be made public when it is finalized, Jupiter police spokesman Sgt. Scott Pascarella said Monday.
He added that in addition to the squad car memorial in front of the Jupiter police station, radio station 103.1 WIRK Country was there, raising money for St. Laurent's family. The Jupiter Police Department was working on setting up an account at a local bank to gather money for the slain officer's family as well, Pascarella said.
Palm Beach County sheriff's spokesman Eric Davis said Monday that his office and the Florida Highway Patrol are investigating the incident. Barbera said Sunday that authorities were investigating the crash as a vehicular homicide, but she stressed it was still early in the probe.
St. Laurent was born in Fall River, Massachusetts, in 1957, but moved to Jupiter in 1973, and had lived there ever since, according to a memorial statement on the town of Jupiter's website. He began his decorated career with the Jupiter Police Department in 1992. Three times, most recently in 2008, St. Laurent was named "Officer of the Quarter," and in 1996, he was selected as "Officer of the Year," according to the memorial.
The memorial also credited St. Laurent with contributing to his community in several ways, including playing Santa Claus at local holiday events, helping high school students with physics experiments and helping Habitat for Humanity build houses for the needy.
President Obama was notified of the death, White House spokesman Jay Carney told reporters after Air Force One landed Sunday night in Washington. Carney added that the president's thoughts and prayers were with the officer's family.
The crash happened near the front of the president's motorcade, and Obama did not see it, Carney said. The White House spokesman said no other vehicles from the motorcade were involved.
St. Laurent is survived by his wife of more than 30 years, Brenda, and four children, according to the memorial statement.