Photos of moldy sippy cups go viral -- and parents are freaking out
Several photos of moldy Tommee Tippee sippy cups have gone viral on Facebook, causing outraged parents to check their children's cups and demand answers from the manufacturer.

The photos, first shared by Marie-Pier S. L'Hostie of Montreal, show an orange Tommee Tippee cup owned by her friend, Simon O'kanada.

O'kanada was apparently curious why his son was sick for an extended period of time and decided to open the top of the cup.

According to O'kanada, the mold is only visible when you crack open the cup's anti-leak spout.




L'Hostie's photos have been shared over 45,000 times. In the comments, several parents said they also found mold inside their children's cups.

Penny Powell, who is also friends with O'kanada, shared more photos of the sippy cup. She wrote (translated):

"Those of you with these cups pay special attention, he has washed it with his hands and in the dishwasher, etc., and the mildew has stayed anyway! Share it!"




While these most recent photos have gone viral and attracted a lot of attention, similar complaints can be found online dating back to last year. Here's a Facebook post from last September that apparently shows mold or mildew inside a Tommee Tippee valve:




And here's an Amazon review from October that also mentions mold inside a Tommee Tippee tumbler cup: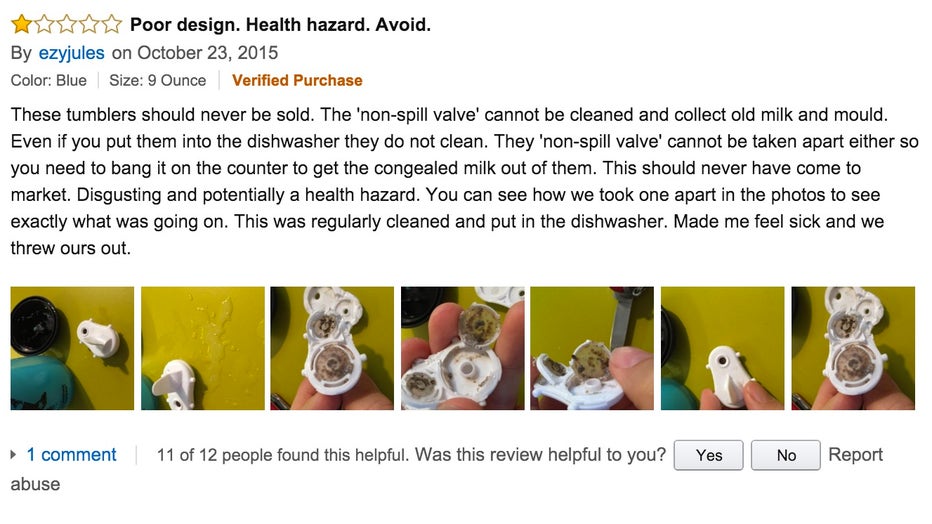 Dozens of customers have posted on the Tommee Tippee North America Facebook page about mold concerns, but the company has not publicly responded to those posts.

Tommee Tippee UK sent a statement to Tribune Broadcasting on Wednesday, explaining that the valves have been tested "extensively."

A company spokesman said the mold is likely caused by non-recommended liquids in the cups. The statement goes into more detail, including details about the company's intention to make a transparent valve available.

Here is the full statement:




"We have reviewed the Facebook pages and are now in contact with the Dad referred to in the original post. We are talking to him about his use of the cup as we always welcome parents' feedback, comments and ideas.




We are taking this extremely seriously as baby health and wellbeing is at the heart of absolutely everything we do. Nothing is more important.




We continually develop our products and look for ways to improve them, so feedback from parents is vital to us. Positive feedback tells us we're doing the right thing, but just as importantly, like all companies, we learn even more when negative experiences are brought to our attention.




We've sold millions of Sippee cups and have had some very positive feedback. However, we know from visitor posts that a few people have not had a good experience with the valve part of the cup. For this we sincerely apologise and we are actively following up on any concerns raised.




We want to reassure all parents that we have extensively tested the valves including testing them with a panel of 140 mums in the United States.




The results support that when used with recommended liquids (cold, light fluids including water and non-pulp juices) and cleaned in line with instructions, there are no problems.




However, we want everyone to share our confidence, so we will shortly be making a transparent valve available.




The testing also showed that difficulties can arise when liquids that are not recommended for use in the cups have been used, like thick formula milk, pulpy juice and warm liquids. We strongly advise against using those products. We also recommend that cups are not left for long periods before being cleaned.




Our Careline team are happy to speak directly to any parents who have concerns. This will allow us to hear their views, and replace the valve or full cup with an alternative of their choice. The toll free number to call is 1-877-248-6922




We've also prepared a range of FAQ's and videos to help parents care for their cups and valves. These can be found at http://www.tommeetippee.us/support/faqs/one-piece-valve-cup/"