Parishioners pack St. Mark AME Church in Milwaukee to pray for Charleston shooting victims


MILWAUKEE -- Dozens gathered in Milwaukee on Monday, June 22nd to remember the six women and three men shot and killed inside the Emanuel African Methodist Episcopal Church in Charleston last Wednesday night, June 17th.

Parishioners packed St. Mark AME Church in Milwaukee on Monday, as Rev. Darryl Williams delivered a special message.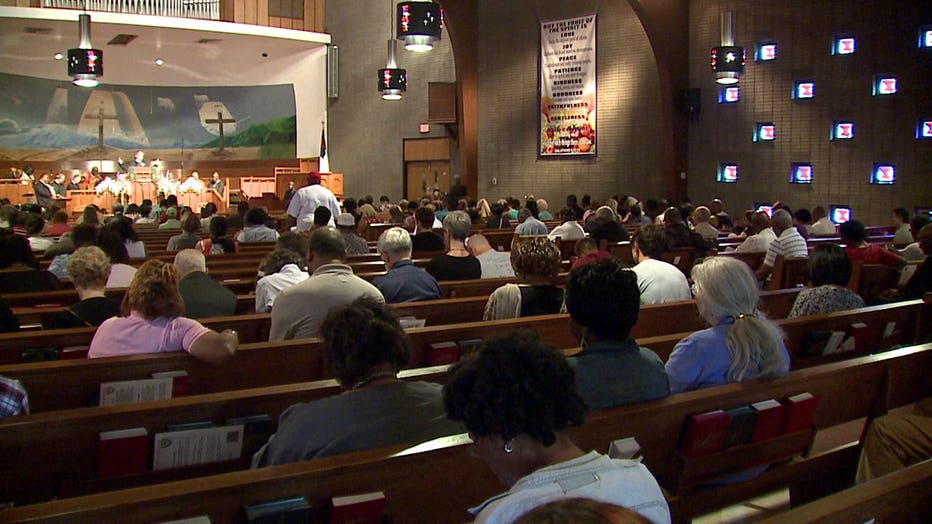 St. Mark AME Church vigil for Charleston


This vigil was not only intended to pray for those who lost their lives, but also, to pray for Milwaukee. Rev. Williams says our community is dealing with many of the same issues those in South Carolina are dealing with -- including racism and gun control.

He told the parishioners gathered that the church that faith can play an important role in bringing about change.

"The faith community, I think, needs to take the lead in bringing healing, not only to South Carolina, but bringing the healing to ourselves because a lot of us were personally affected by it," Rev. Williams said.

Rev. Williams says he visited the historic church in Charleston, South Carolina several times, and he knew two of the victims -- Rev. Daniel Simmons and the church's pastor, Rev. Clementa Pinckney.

"They died doing what God called them to do. They were welcoming. They were loving. They were studying God`s word," Rev. Williams said.

Rev. Williams says worshippers in South Carolina and Milwaukee cannot allow Dylann Roof to win.

"You have to remember who you are. We are a people of faith, and if we allow one mad man to stop us from doing what God calls us to do, that mad man wins and we are not going to allow that mad man to win," Rev. Williams said.

CLICK HERE to learn more about St. Mark AME Church in Milwaukee.