Parents: Wauwatosa native among Las Vegas shooting victims; "at least now we know"


SHOREWOOD, Minn. — The parents of a Minnesota man who had been missing after the mass shooting in Las Vegas say they have been notified he was killed in the attack.

Steven Berger, 44, a financial adviser who lived in Shorewood, Minnesota, and was a native of Wauwatosa, Wisconsin, had been attending Sunday night's concert with his roommate and other friends -- celebrating his birthday at the Route 91 Harvest Festival.

His mother Mary says Steven's roommate saw him get shot and fall, but was prevented from getting to him as people were herded out of the venue.

"He was out with Steve and they were both at the concert. Steve was shot in the back or the front, wasn't sure and he fell down," Richard Berger, Steven's father said.

Back home in Brookfield, Steven's parents said days went by with no word on Steven's whereabouts or condition. It wasn't until Tuesday afternoon that they learned the news. They received confirmation from the Las Vegas Coroner's Office that Steven Berger had died.

"He's our only son," Richard Berger said, choking up. "It's terrible. At least now we know. Now we got busy things to do with three grandchildren."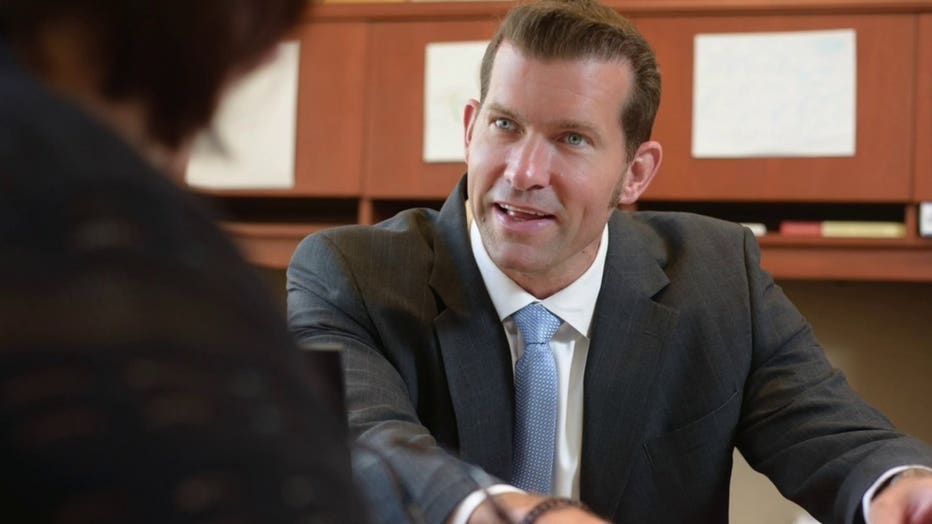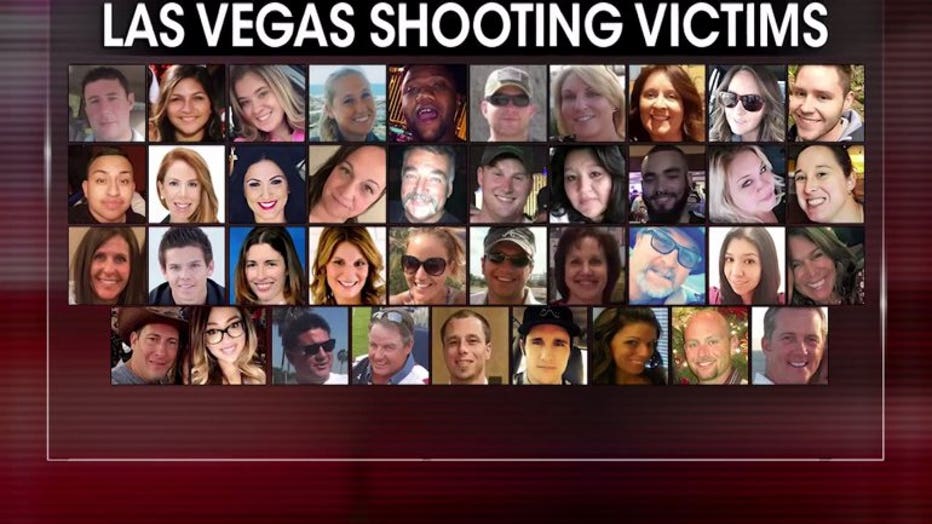 Mary Berger described her son as fun-loving with a serious side and a hard worker. He was a star basketball player when he attended Wauwatosa West High School, and he also played in college, graduating from St. Olaf College. A father of three children, ages 15, 11 and eight, Steven loved his family, his mother said.

The Bergers said they had recently visited their son and grandchildren in Minnesota where they watched the youngest child play soccer and saw Steven's older daughter in her homecoming dance dress.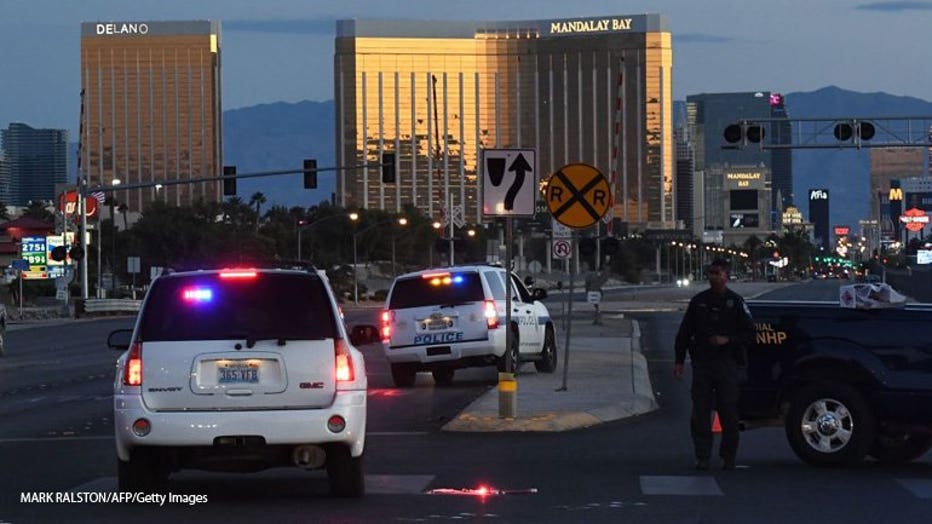 Police form a perimeter around the road leading to the Mandalay Hotel (background) after a gunman killed at least 50 people and wounded more than 400 others when he opened fire on a country music concert in Las Vegas, Nevada on October 2, 2017. The g


A fan of country music, Berger had been celebrating his 44th birthday with the Las Vegas trip.

Berger's employer said in a statement to FOX6 News: "It's a very, very, very sad day for all that knew him and had the opportunity to work with him. The world is a better place because Steve was in it."

EFS Advisors issued an additional statement Wednesday:

Steve Berger's life was tragically cut short on Sunday, October 1, as a result of being shot at the Route 91 Harvest Music Festival in Las Vegas. Steve was at the festival celebrating his 44th birthday with friends, including fellow advisor Josh Decker.

Steve joined EFS Advisors in 2007 and would have celebrated his 10 year anniversary with us in December. He was brought to the EFS family by his long-time friend, Josh Decker, and the two worked together to help build each other's practices.

Steve was passionate about his work as a Financial Advisor, and was beloved by his clients. He cared so much for others and was always willing to take time to listen to clients, friends, and co-workers to offer a helping hand.

Steve has built a very successful practice and has been recognized for the past five consecutive years as a Five Star Wealth Manager by Mpls-St. Paul Magazine & Twin Cities Business. He not only did a great job in taking care of his clients and their portfolios, but added tremendous value to our firm by always contributing ideas and sharing his knowledge at company meetings.

Steve was able to touch thousands of lives, enhancing the ability of his clients to retire earlier and/or in a better financial position. There are no words to express how much we have appreciated the opportunity to work with him, and how much he will be missed.

Steve was also a loving and devoted father, survived by his three children, Hannah, age 15, Harrison, age 12, and Harlow, age 9, along with his parents Dick and Mary Berger, and sister, Christine.

EFS has created a memorial fund for Steve's family. Donations can be made to the "Steve Berger Memorial Fund" and can be sent to the EFS corporate office at 440 Emerson St N, Suite 2, Cambridge MN 55008.

You may donate online by CLICKING HERE.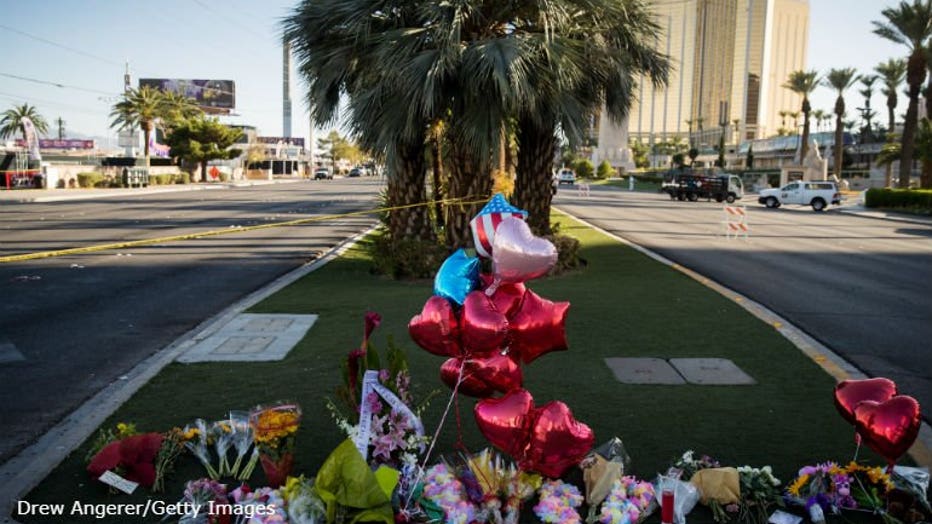 LAS VEGAS, NV - OCTOBER 3: A small makeshift memorial sits on the median on Las Vegas Blvd. outside the Route 91 Harvest Festival grounds, October 3, 2017 in Las Vegas, Nevada. Late Sunday night, a lone gunman killed over 50 people and injured over 5


Berger's sister, Christine Moore said "our family is deeply saddened by this horrific event. Steve was a larger-than-life man who was a great dad to his three kids."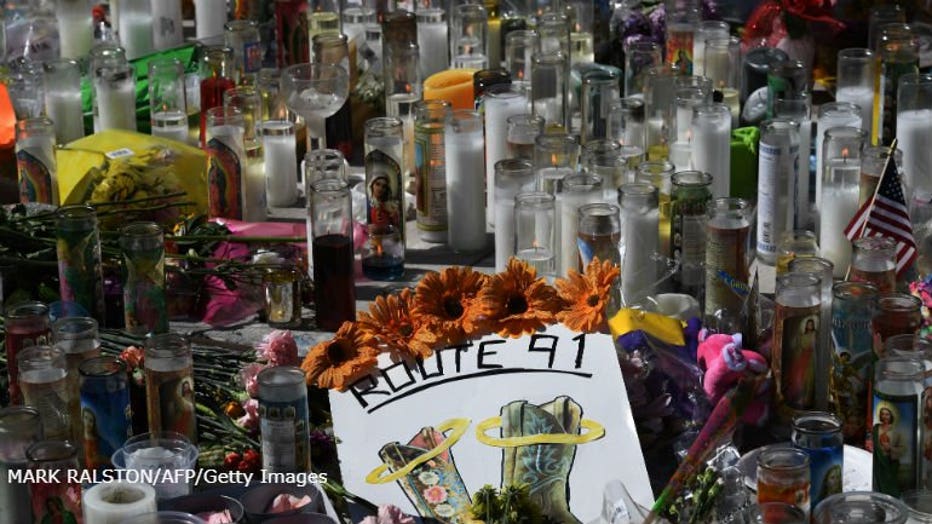 Candles are placed at a makeshift memorial on the Las Vegas Strip in Las Vegas, Nevada on October 3, 2017, after a gunman killed 59 people and wounded more than 500 others when he opened fire from the Mandalay Hotel on a country music festival. Polic