One dead, one seriously hurt after four-vehicle wreck on US 41/45 near Holy Hill Rd.


WASHINGTON COUNTY (WITI) -- One person is dead and another is very seriously injured after a four-vehicle wreck on US 41/45 near Holy Hill Rd. in Washington County.

Officials say they started receiving 911 calls about the wreck around 11:45 a.m. on Monday, December 1st. The accident forced officials to shut down the northbound and southbound lanes of US 41/45. All southbound lanes reopened around 1:30 p.m. But the northbound lanes were not expected to reopen until around 6 p.m.

Investigators said during a news conference that a utility-style truck was traveling southbound on US 41/45. Traffic in the southbound lanes was coming to a stop because of construction ahead. That's when the driver in the utility truck apparently took evasive maneuvers and crossed into traffic in the northbound lanes. The utility truck struck a semi with a fully-loaded trailer. A northbound pickup truck drove into the median cables to avoid the collision and a northbound dump truck drove into the right shoulder. Both of those vehicles were damaged.




Again, there's one fatality as a result of this wreck -- and one person who is listed in very serious condition. There were no passengers in any of the four vehicles. The names of those involved haven't yet been released.

Officials also say about 150 gallons of diesel fuel and 50 gallons of motor oil was spilled as a result of the wreck.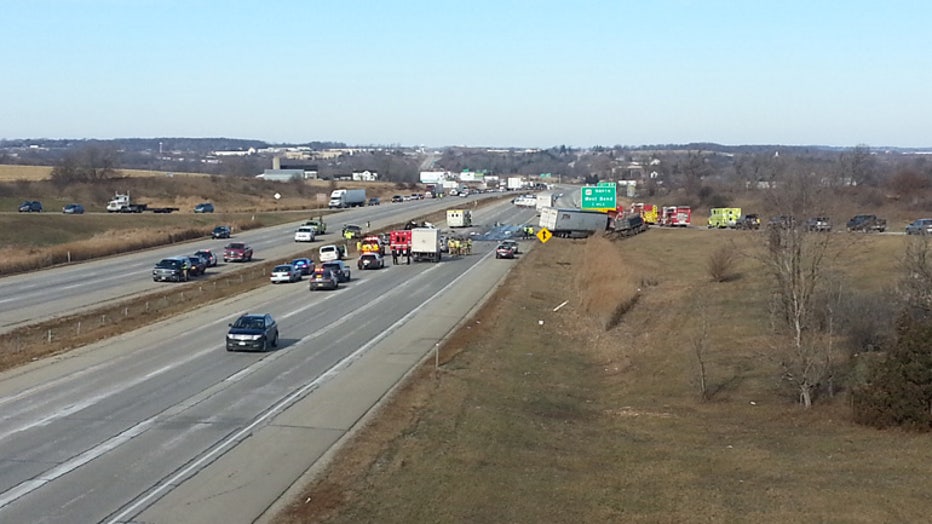 Wreck on Hwy. 41/45 near Hwy. 167