"No more shootings, no more killings:" Community marches in an effort to end Milwaukee's violence


MILWAUKEE -- On the heels of Milwaukee's 90th murder, people march in the streets asking for an end. The homicide rate has already surpassed last year's total, and those affected by violence stood up and asked others to take a stand.

Saturday's march was made up of several people from across the community, including friends and family of people who've lost loved ones to violence. They say, they are just fed up.

"We have to get active. This is about being vocal. This is about stepping up," said Tory Lowe, community organizer.

At the corner of 27th and Center, a community comes together in the midst of a violent summer. The group marches along Center Street holding photos of loved ones lost to violence.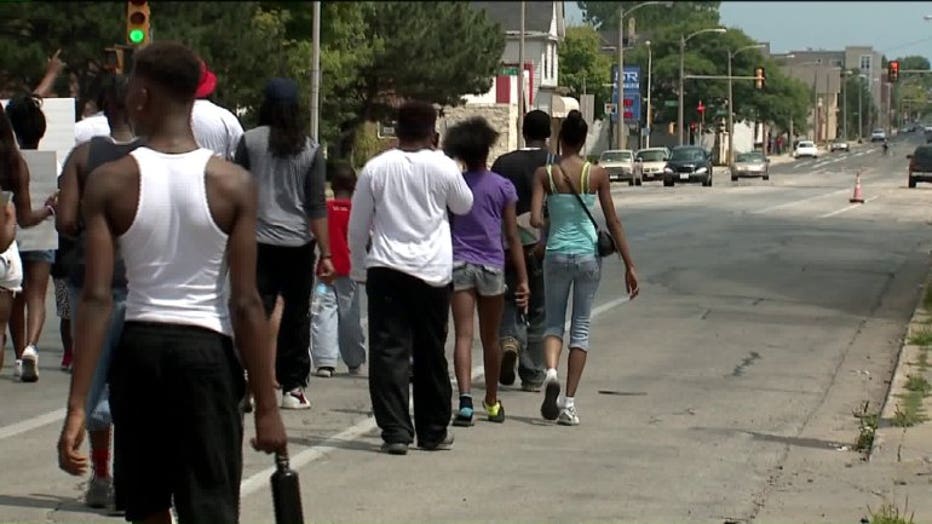 They stop and share their stories and pay respect to the lives lost. A few dozen march, hopeful someone will listen.

"It can just start with one person to make a difference, just one," said Mia McKay, friend of Dricka Hodges, victim of violence.

They stay optimistic despite a growing homicide rate.

So far this year, the number of homicides has surpassed the total for last year.

"We don't want to see any more violence. No more shootings, no more killings -- no more losing any of our youth," said McKay.

This past week has been filled with deadly shootings including the death of an 18-year-old. Family says he was robbed, then murdered just feet from his home.

Days later, a man was killed near Buffum and Burleigh. And Friday night, July 24th the city's 90th homicide happened outside of a gas station at 9th and Center.

The rally on Saturday stops at that spot, spreading a message -- violence will not be tolerated.

The group says results will not happen quickly, but they aren't willing to give up.

"This didn't happen overnight and it's not going to be resolved overnight. What we can do is plant seeds of that growth," said Lowe.

People walked for about 20 blocks, they say this is only the beginning. They're hoping this march could become the catalyst for more change.