Nicholas Olson pleads not guilty to disorderly conduct
MILWAUKEE -- 17-year-old Nicholas Olson of Greendale pleaded not guilty to a charge of disorderly conduct during his initial court appearance on Wednesday, October 3rd. This, after admitting to scrawling a bomb threat in a bathroom at Greendale High School during Homecoming week.
Bomb threats usually result in a felony charge, but authorities were more forgiving in this case. That leniency is not sitting well with Milwaukee County Sheriff David Clarke.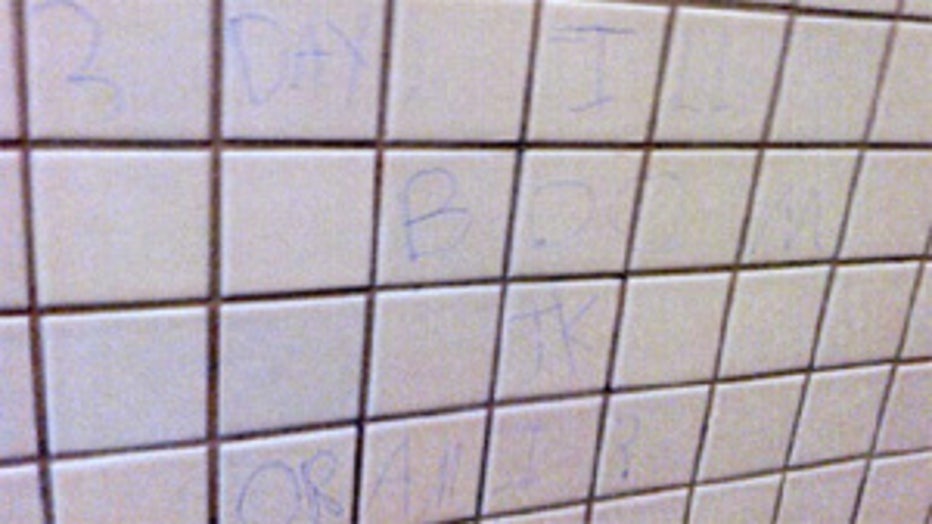 Threat written on bathroom wall at Greendale H.S. by Nicholas OlsonAuthorities interviewed Olson on September 25th. During the interview, Olson stated that he did, in fact, write the threat on the bathroom wall. Olson stated that he did not have any plans to use an explosive device and did not want to hurt anyone. Olson reported that he penned the threat in an attempt to disrupt Homecoming activities. Police say Olson was taunted and teased by classmates for many years. Police say classmates had just voted Olson onto the Homecoming court as a joke. Olson originally faced a felony charge, but based on the circumstances and Olson's story about being bullied, the charges were lessened to disorderly conduct.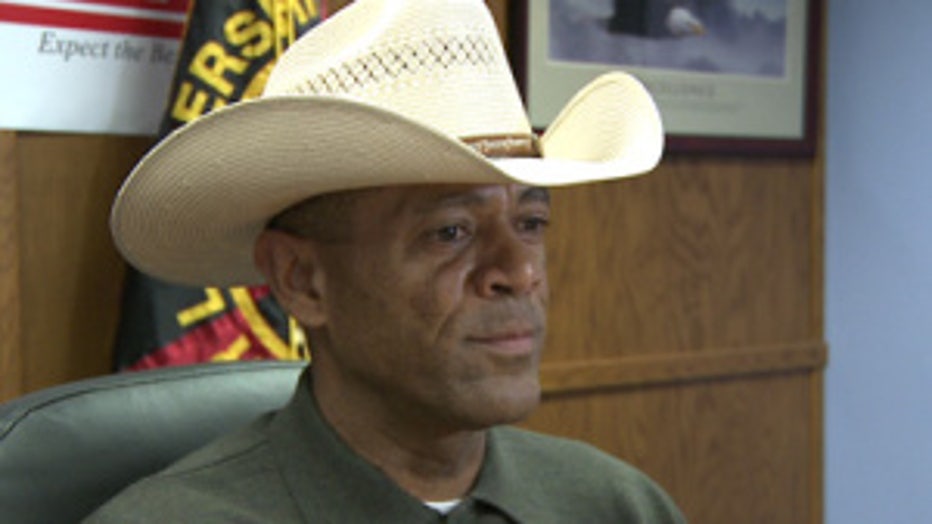 Sheriff David Clarke (10-3-12)On Wednesday, October 4th, FOX6 News spoke with Milwaukee County Sheriff David Clarke about this case. He says bullying is not a justifiable excuse for making threats such as the one Olson made in Greendale. "Calling in a bomb threat is no way to respond to that sort of situation. This is not as if you play hookie from school, but that's how we're handling this. Prosecutors should be doing more. Kids know right from wrong by this age, so let's not try to find an area where somebody else should be doing a little bit more," Sheriff Clarke said. Sheriff Clarke says prosecutors are sending the wrong message by agreeing to lesser charges to crimes like school bomb threats. Because there have been multiple calls like the ones in Greendale, the sheriff thinks it's time to make penalties more severe. "You want to teach them a lesson, charge them with the felony and they'll have to deal with that the rest of their life," Sheriff Clarke said. Olson is due back in court next week for a pre-trial conference. If convicted, he faces up to a $1,000 fine or imprisonment for 90 days. Related stories: