NEW LAW: Police no longer allowed to investigate own officer-involved deaths


MADISON (WITI) — Supporters are calling it a "bittersweet celebration." Assembly Bill 409 is officially law. Gov. Scott Walker signed the bill into law on Wednesday, April 23rd. Now, if police in this state take someone's life, an outside agency must handle the investigation.

Michael Bell on Wednesday morning joined several other families at the state Capitol to watch Gov. Walker sign the bill into law.

Bell's son, Michael was killed by Kenosha police in 2004.

"I feel a lot of joy over it, but it`s not a spiking the ball kind of joy. It`s a joy that we`re doing this for the greater good of the whole," Bell told FOX6 News.

State Rep. Chris Taylor (D-Madison) worked closely with Door County Republican Gary Bies to advance the bill.

Bies says the bill nearly died before it even reached a committee.

"Oh, we were on CPR quite a few times," Bies said.

Ultimately, both the Assembly and the Senate passed the bill unanimously.

"It brings some transparency, some independence. I think it`s really hard, in any profession, to investigate your own colleagues," Taylor said.

Joining the Bell family for the signing were the parents of Paul Heenan -- killed by Madison police in 2012, and Sonya Moore -- whose son, Derek Williams, died in Milwaukee police custody in 2012.

"It`s kind of soothed my soul because my soul was hurt because didn`t no one get penalized for what they did to my child -- so it might not be the main step but it`s a very big one," Moore said.

"If my brother was there, I think he`d be jumping up and down -- like so proud of the family and even the extended family we met along this journey," Bell's sister, Shantae Bell said.

The bill also states that if law enforcement officials are cleared of wrongdoing -- the family of the deceased is entitled to copies of the investigation.

Bell says he hoped the bill would include a required blood draw for officers involved in a deadly use-of-force incident -- but even though that didn't make the final version, Bell says he's still satisfied.

CLICK HERE if you would like to read the entire text of the police oversight bill, Assembly Bill 409.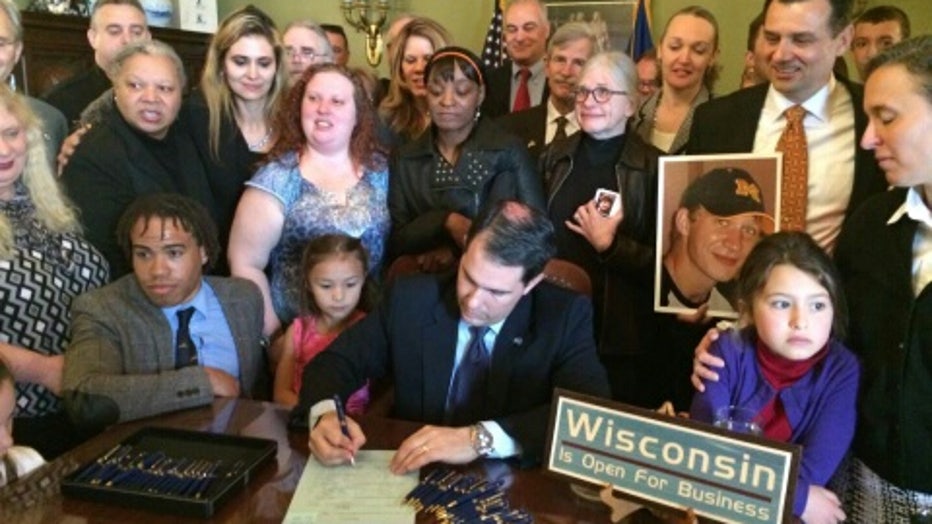 Assembly Bill 409 signing


Related stories: