New Berlin K-9 Condor remembered: 'He was a good boy'
NEW BERLIN, Wis. - A four-legged hero in New Berlin crossed the rainbow bridge last week.
After 10 years of service, K-9 Officer Condor joined others Friday, May 26 at the New Berlin Police Department Memorial.
"When he went to work he was all business, and he was great at what he did," said Sgt. JJ Ament.
SIGN UP TODAY: Get daily headlines, breaking news emails from FOX6 News
Ament and Condor worked together for the past 10 years. One day while on duty, the K-9 wasn't himself.
"I see him more than I do my wife," Ament said. "He's at home with me every day. He's at work with me every day. We spend almost every minute of every day together. When something is not right with him, you know it."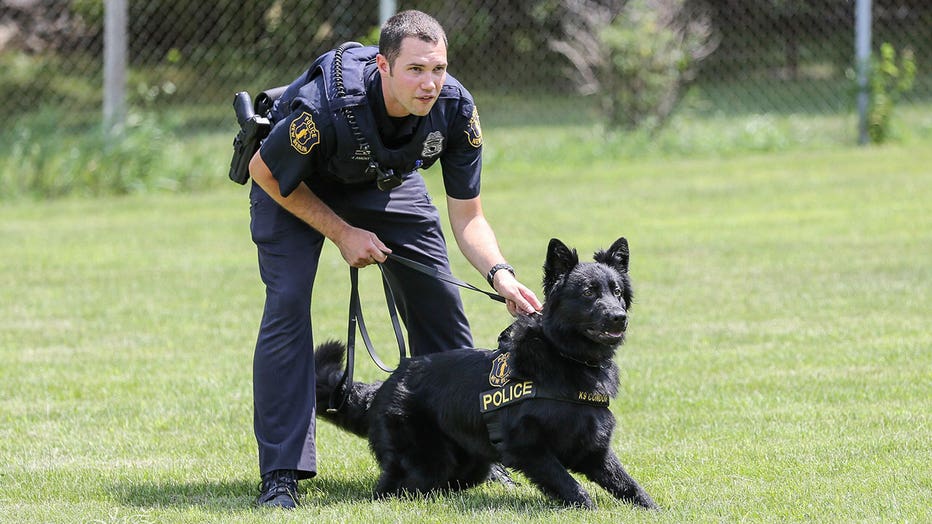 Sgt. JJ Ament and K-9 Condor
Condor was diagnosed with a terminal cancer. The veterinarian gave him three-to-six months to live.
"I didn't see it coming. I don't think anyone ever does," said Ament. "He made it eight (months). I attribute that to his love for work. He still came to work every day."
FREE DOWNLOAD: Get breaking news alerts in the FOX6 News app for iOS or Android.
Condor died May 19.
"We were able to give him last honors, and he was able to go to sleep with his favorite toy in his mouth," Ament said. "He got ice cream right before and being held by me and my wife. He went out exactly the way that he would want to."
Friday, the police department honored Condor's life and service to the community.
"It let me know that people saw what Condor did out there and respected everything we accomplished as a team. I'm forever grateful," said Ament.
"If I had a counter on how many times I would tell him he was a good boy, it would be in the hundreds of thousands, I would imagine. It was 50 times a day because he was that good of a boy. He was such a good dog. I don't think there'll be another one that I'll ever see like him."
New Berlin police told FOX6 News they are lucky if a K-9 officer serves six years. They said for Condor to serve 10 makes him go down in history as one of the best K-9s they've ever had.