Muskego police need help to identify robbery suspect
MUSKEGO (WITI) -- The Muskego Police Department is asking for the public's help in attempting to identify a subject who as stolen thousands of dollars of liquor from two grocery stores.

Muskego Police were contacted by employees of the Piggly Wiggly on Racine Ave. on Thursday, April 25th. Police were told a subject, described as a male white, clean cut, in his 40's, with short dark hair and medium build, had entered the store three times in the previous week, filled a cart with liquor concealed by groceries, and fled the store.  The store estimates over $2,000.00 in liquor was stolen in total. The thefts occurred on Saturday, April 20th, on Tuesday, April 23rd, and Wednesday, April 24th.

At approximately, 2:30 p.m. on Thursday, managers at the Pick N Save store on Janesville Rd., reported the same subject committed a similar theft at their store sometime over the weekend.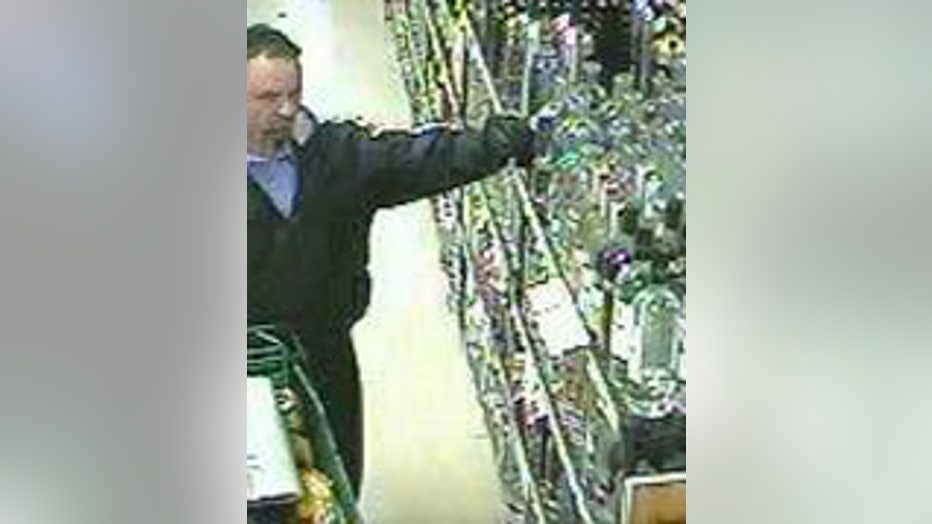 Video surveillance stills from Piggly Wiggly and video from Pick N Save accompany this press release.  The suspect is identified in the Pick N Save video as wearing a black jacket with a white stripe down the sleeve.

Anyone having any information regarding the identity of the suspect is urged to contact the Muskego Police Department at 262-679-4130.