Mural featuring FBI Most Wanted Terrorist removed at MU, sorority says proper research wasn't done


MILWAUKEE (WITI) -- Within hours of learning about concerns over a mural on display on the Marquette University campus, school officials had it removed. The mural showed Assata Shakur -- an African-American activist convicted of killing a New Jersey state trooper in 1973. On Tuesday, May 19th, Marquette University announced the Gender and Sexuality Resource Center's director has been terminated. Because this is a personnel matter, officials at MU won't say whether the termination is related to the mural controversy.

The mural had been up since March -- displayed on the fourth floor of the Marquette University Alumni Memorial Union -- inside the Gender and Sexuality Resource Center. University officials say this is not a well-traveled area, so they just recently learned of concerns regarding the mural. It has been removed.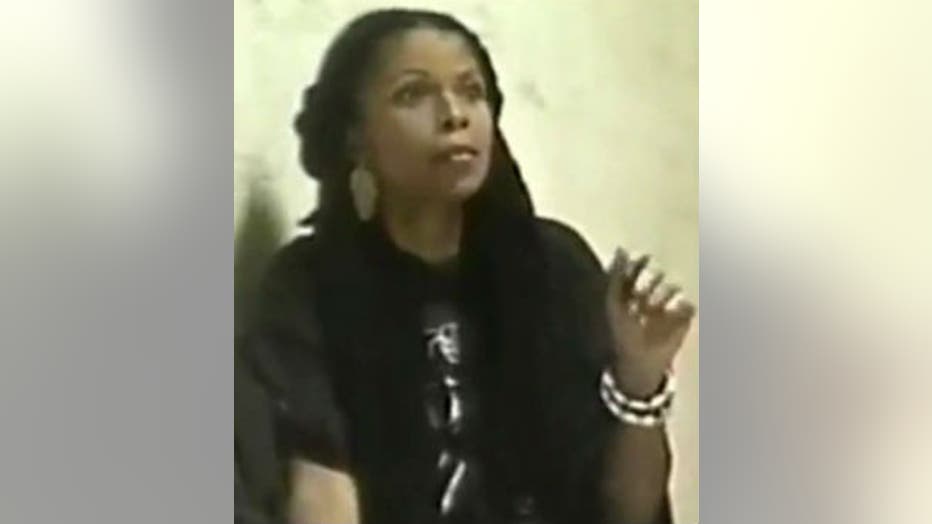 Shakur is on the FBI's list of "Most Wanted Terrorists."

John McAdams, an associate professor at Marquette University, says he wasn't expecting to see a mural featuring the fugitive and convicted murderer on campus.

"What in the world were they thinking?" McAdams said.

McAdams pointed out murals on campus are usually reserved to honor someone.

Shakur, a former civil rights activist with the Black Panthers was convicted in 1973 of killing a New Jersey state trooper execution style. A few years later, she escaped from prison and is now living in Cuba.

"A professor can hang something on their door, or office and that`s just their space. But if it`s a mural on a wall of a Marquette office then that is Marquette University`s official action. And that`s what`s so odd, so strange about this," McAdams said.

Marquette University officials say they had no idea this mural inside the Gender and Sexuality Resource Center on the fourth floor of the Alumni Memorial Union even existed. They say once they found out, more than two months after it went up, they took action.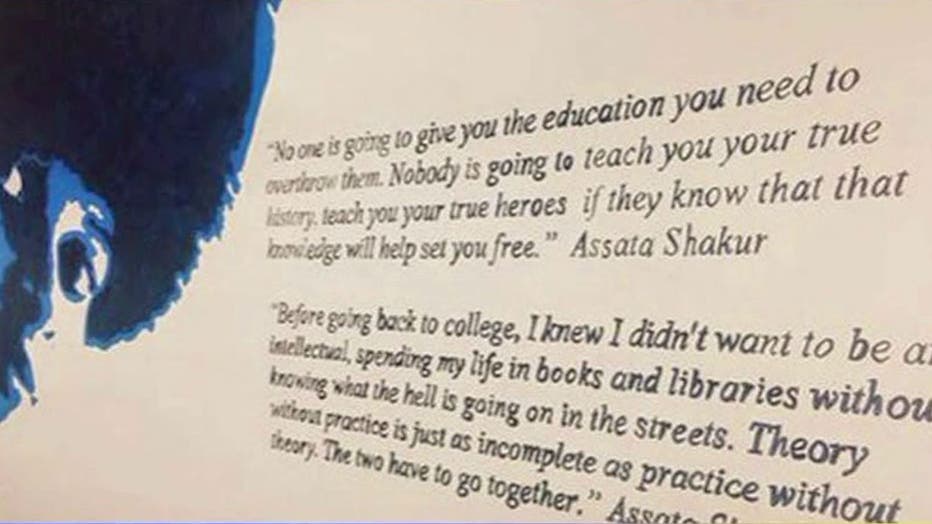 In a statement, Marquette University officials said:

"This is extremely disappointing as the mural does not reflect the Guiding Values of Marquette University. It was removed immediately. We are reviewing the circumstances surrounding the mural and will take appropriate action."

MU officials say they are looking into who is responsible for putting the mural up.

FOX6 reached out to officials with the Gender and Sexuality Resource Center where the mural was displayed, and we haven't received a response.

On the Facebook page for the Gender and Sexuality Resource Center, a post suggests a Marquette sorority, Alpha Kappa Alpha helped make the mural possible.

A statement from the Alpha Kappa Alpha Sorority Inc. reads as follows:

"In March 2015, the MU Beta chapter of Alpha Kappa Alpha Sorority, Inc. at Marquette University hosted a series of scheduled campus based service projects and activities for Marquette University students.  As part of these activities, MU Beta members proposed a mural theme, which was approved by Marquette University, to be painted at the university's Gender and Sexuality Resource Center.

The chapter worked with the Gender and Sexuality Resource Center to determine a theme and imagery for the mural.

The chapter, along with other university staff and students painted a mural that featured an image and quote by Assata Shakur to promote student thinking about their educations and history.

Unfortunately, Ms. Shakur's entire history and background was not fully researched. If that process had occurred, she would not have been featured in the mural.

Throughout Alpha Kappa Alpha Sorority's 107-year history of service, the organization has consistently been a beacon of peace, nonviolence, and justice for all mankind.  In no way, does the organization of more than 283,000 members condone, promote, or tolerate the killing or violent activities of anyone.

In order to prevent a recurrence, AKA is in the process of reminding all of its chapters, both undergraduate and graduate about the importance of thoroughly vetting any person who might be promoted by the sorority before any action is taken."

This isn't the first time Milwaukee has seen controversy connected to Shakur. In the summer of 2013, the Milwaukee Police Association was concerned that a Milwaukee school for at-risk students had been named after Shakur -- especially when a large poster of Shakur was visible in the window of the school.

At that time, MPS officials said Assata was a charter school, and founders chose Assata because it is a popular Eastern African Swahili name, and the school was designated to be an Afro-centric school.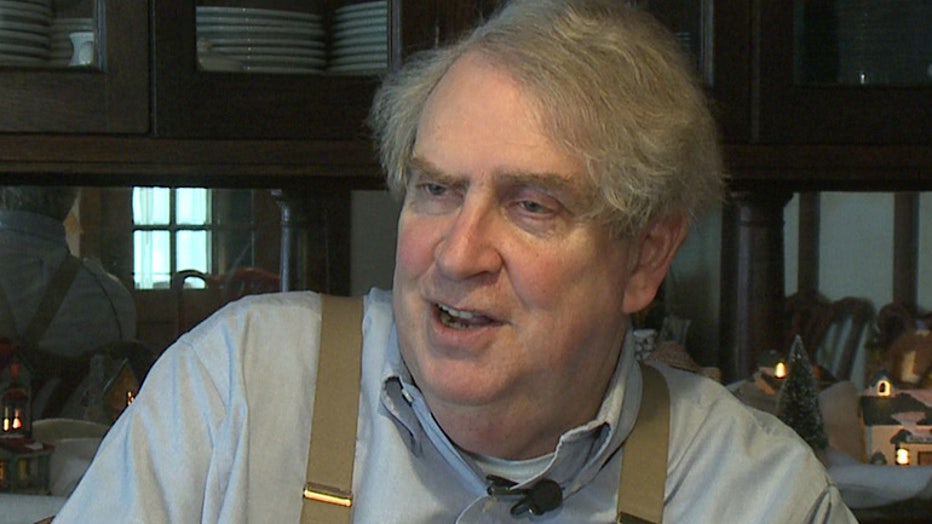 As for John McAdams, he is not currently allowed on the Marquette University campus. MU officials in February began the process of firing him after he published a controversial post to his blog.

It all started with a discussion in a philosophy class back in October 2014. An unidentified student felt Graduate Assistant Cheryl Abbate blew off his request to discuss same-sex marriage. After class, he went up to Abbate to talk about it, and he recorded the conversation. In part, he said: "Regardless of why I'm against gay marriage, it's still wrong for the teacher of a class to completely discredit one person's opinion when they may have different opinions." Abbate responded by saying: "There are some opinions that are not appropriate, that are harmful -- such as racist opinions, sexist opinions and quite honestly, do you know if anyone in the class is homosexual?"

The student took the recording to McAdams, who posted it on his conservative-leaning blog.

In December, Marquette University asked McAdams to stay away from campus. All of his second semester classes were cancelled.

In a letter dated January 30th, Marquette officials informed McAdams the university is moving to fire him.

McAdams continues to be paid by Marquette University, but he is not teaching at this time. He has said he will appeal MU's decision to terminate him.

McAdams says he learned of the mural on Facebook -- as he is not allowed on campus.