Money, money, money: It's driving the race for Sheriff in Milwaukee County


MILWAUKEE (WITI) -- Tuesday, August 12th is primary election day in Wisconsin -- and the race for Milwaukee County Sheriff is one of the most hotly-contested of the primary election season. We've seen a lot of outside money, tough ads and two candidates with polar opposite viewpoints.

The race is a re-run of the 2010 election in which current Milwaukee County Sheriff David Clarke defeated Chris Moews 53% to 47%.

This time around, one thing has changed the dynamic: money. A lot of it is being spent by an outside group trying to unseat David Clarke.

Ads have set the tone for the final days of the race for Milwaukee County Sheriff.

"People don't give the kind of money we've seen enter into this race. This is unprecedented.  The Greater Wisconsin Committee coming up with $400,000 for a local sheriff's race," Sheriff Clarke said.

Sheriff Clarke, an outspoken conservative was criticized for airing a public service announcement about self defense during the national debate over gun control.

One campaign ad focused on the gun issue.

"We need law enforcement executives that are serious about the issues we're facing -- not engaging in that style of public speaking, and we need a new sheriff. Enough is enough.  We're focused more on the sideshow of David Clarke than on the track record of David Clarke," Moews said.

"It isn't about guns.  I never mentioned guns in any of those ads. I said 'consider taking a firearm safety course so you can defend your own family.'  I didn't say 'go out and get a gun and shoot people,'" Sheriff Clarke said.

"David Clarke is more interested in an image -- in wearing a cowboy hat and riding a horse, than he is at doing his job," Moews said.

"None of this is sticking because after 12 years, people -- they know who Clarke is.  So I don't worry about that. That's why I don't need to answer the charges," Sheriff Clarke said.

Clarke has been Milwaukee County's sheriff for 12 years. He says his record speaks for itself.

"The people of Milwaukee County are going to have a very clear decision.  Do they want a law-and-order sheriff like I've been or do they want to return this office back to a political sheriff like it was?" Sheriff Clarke said.

"He's trying to say that he is the non-political sheriff, when clearly, for the last majority of his term he has been the political sheriff," Moews said.

Moews says Clarke has spoken to special interest groups like the NRA and at political Tea Party rallies.

But Clarke says his education and training trump Moews' and Clarke criticizes Moews for not having bee promoted since the last election.

"He was a lieutenant four years ago when he ran against me. He's a lieutenant today. In other words, even chief Ed Flynn is communicating that he hasn't thought much of his ability," Sheriff Clarke said.

"David Clarke again is making assumptions about things he knows nothing about. We have had captain's processes in the MPD. The most recent one I din't even partake in because I'm committed and focused on being the sheriff of Milwaukee County," Moews said.

Many observers believe this primary will really decide the entire race. The winner faces a nominal opponent, Angela Walker, an independent in the November General Election.

The following is Chris Moews' biography, as posted on his website: MoewsForSheriff.com:

Chris Moews (pronounced "Mays") is a lieutenant with the Milwaukee Police Department. Currently he is the Executive Officer to the Captain at District 7. Prior to that he supervised a team of detectives in the North Investigations Division, investigating, solving and working to prevent violent crime. Under his leadership, his team had one of the highest crime-solving rates in the city.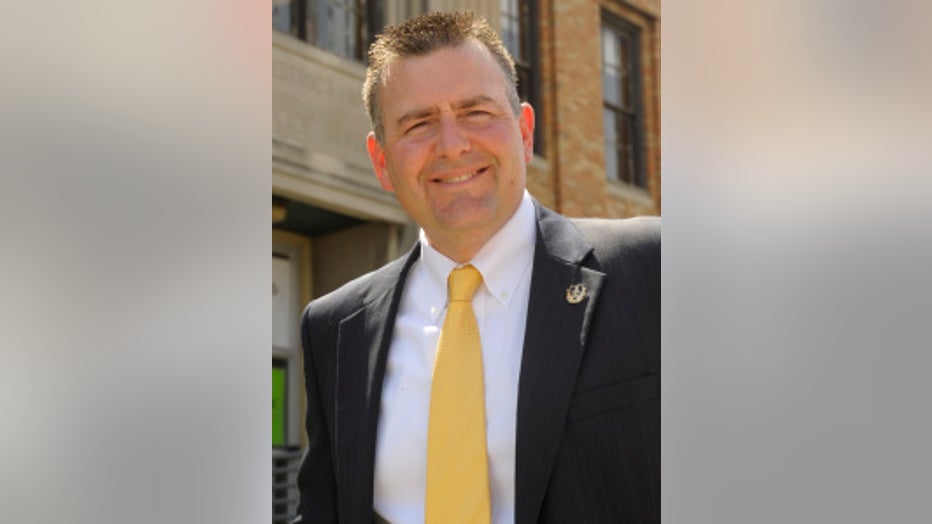 Moews has been a police officer for 20 years, and has earned numerous awards and recognition. He is a sought-after instructor, and commands a major incident response team. Moews currently serves as a board member of the Wisconsin Association of Homicide Investigators and previously served on the board of the Milwaukee Police Association.

Lt. Chris Moews is a lifelong resident of Milwaukee County. He and his wife, also a police officer, and their two children live in Milwaukee's Jackson Park neighborhood. Moews graduated from Marquette University High School and holds a Bachelor's of Science degree in Criminal Justice from UW-Milwaukee. The Moews family attends St. Alphonsus in Greendale, where Chris previously taught confirmation classes.

The following is Moews' message to voters as posted on his website:

"I'm a lieutenant with the Milwaukee Police Department and I am running to be the next sheriff of Milwaukee County.

We need to have a professional law enforcement official that focuses on public safety, not politics.

The incumbent unfortunately has failed as a law enforcement officer, a steward of public dollars and a community role model.

We need a sheriff who is focused on countywide law enforcement issues. In addition to the ongoing task of managing the jail the Milwaukee County Sheriff's Office provides courtroom security, community safety in parks and other public places, and executes our highway patrol. There are also a number of responsibilities that used to fall to the sheriff but have been lost in recent years.

The sheriff must play a productive role in witness protection, coordination of a smart, effective drug-interdiction strategy, and promotion of public policy that enhances smart policing.

Most importantly, as an elected official, the sheriff should conduct himself with the utmost dignity, and help facilitate cooperation between our urban and suburban law enforcement partners. And the sheriff should respect deputies, treating them as partners, not adversaries.

The incumbent has engaged in theatrics and grandstanding, chasing headlines and putting his own needs over the needs of the citizens he swore to protect. He's bullied his officers. And he's pushed an extreme political agenda instead of prioritizing public safety, alienating most Milwaukee County residents.

We need new leadership in the Milwaukee County Sheriff's Office. We need a smarter approach to today's challenges. We need a new sheriff in Milwaukee County, and as concerned citizens I hope you will join with me in making Milwaukee County safer.

I hope to earn your support on August 12, 2014. Thank you."

The following is Milwaukee County Sheriff David Clarke's biography -- as posted on the Sheriff's Office's website: 

Milwaukee County Sheriff David A. Clarke Jr., is a lifelong resident of the City of Milwaukee. A Marquette University High School graduate, he was a member of the varsity basketball team that won the state private school championship in 1973.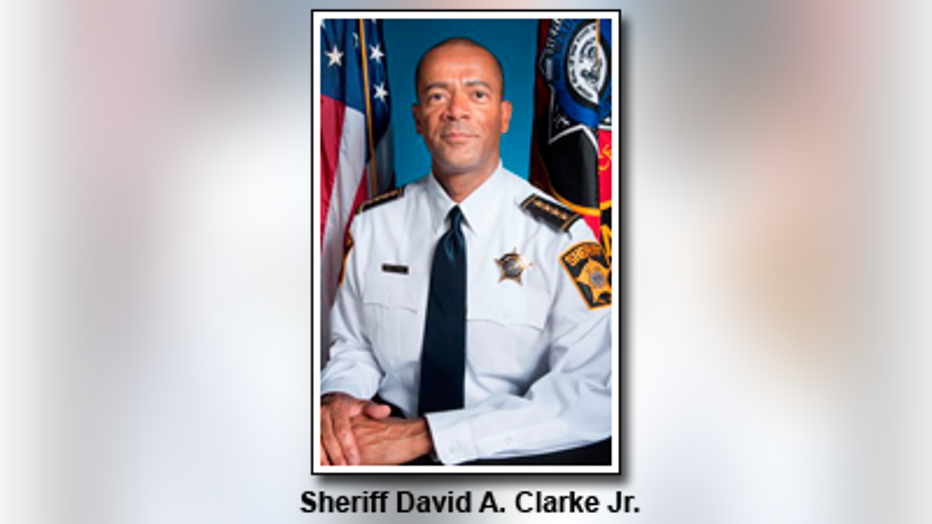 His 35-plus years as a law enforcement professional began in 1978, at the Milwaukee Police Department (MPD), where he served 24 distinguished years and acquired a broad range of experience. During his 11 years as a Patrol Officer, he received meritorious citations for felony arrests. He was promoted to Detective in 1989, and just nine months later was selected for the specialized Homicide Division, where he was part of a team that investigated more than 400 homicides in a four-year period. MPD made arrests in more than 80 percent of homicides, well above the national average of 60%.

Clarke was promoted in 1992, to Lieutenant of Detectives and was assigned to the Criminal Investigation Bureau as Shift Commander of the Crimes Against Property Division, the Violent Crimes Unit, and again to the Homicide Division. In 1996, he was promoted to MPD's command staff as Captain of Police, and soon became Commander of the Department's First District, located in Milwaukee's business and entertainment center. Clarke's goal was to provide a safe environment for the district's employees, tourists, and patrons of the arts, dining and nightlife.

In 1999, Clarke became Commanding Officer of MPD's Intelligence Division. The Division was responsible for producing and sharing intelligence, and for providing dignitary protection in conjunction with the Secret Service, the Department of State, and other federal agencies. Clarke also served as the Department's liaison with the United States Attorney as coordinator of the CEASEFIRE violent crime reduction program, and with the Federal Bureau of Investigation, Customs Service, the Bureau of Alcohol, Tobacco and Firearms, the Immigration and Naturalization Service, and the Wisconsin Department of Criminal Investigation.

In March 2002, Clarke was appointed Sheriff by Governor Scott McCallum, and eight months later was elected to his first four-year term, earning 64%of the vote. Sheriff Clarke is now in his third term, having been re-elected in November 2006 and 2010, increasing his victory margins to 73% and 74%.

Clarke graduated summa cum laude from Concordia University Wisconsin with a degree in Criminal Justice Management, and in May 2003, Concordia honored him with their Alumnus of the Year Award. Sheriff Clarke also is a graduate of the FBI National Academy in Quantico, Virginia. This prestigious school trains law enforcement executives from all over the world, and provides management and leadership instruction. In July 2004, he completed the intensive three-week Program for Senior Executives in State and Local Government, at the John F. Kennedy School of Government at Harvard University.

In October 2004, Sheriff Clarke participated in the 80-hour Executive Development Program of the National Sheriffs' Institute, sponsored by the National Sheriffs' Association and the National Institute of Corrections in Colorado. Clarke returned to Harvard University's John F. Kennedy School of Government in April 2005, to complete the week-long executive education program entitled, "Driving Government Performance: Leadership Strategies That Produce Results."

In 2005, Sheriff Clarke was nominated to the FBI's 28th Annual National Executive Institute, a world-renowned leadership development forum for law enforcement executives conducted by recognized experts in leadership, media, ethics, international policies, intelligence-led policing, homeland security, and social, political and economic trends. The forums were conducted in weeklong cycles in Quantico, Ottawa and Gettysburg.

Sheriff Clarke traveled to Los Angeles in 2009, to meet with Police Chief William Bratton and Los Angeles County Sheriff Lee Baca, and to study their operations. Of special concentration were LAPD's CompStat system, a crime control and analysis model, and LASD's detention services, large jail management, and emergency management operations.

In October 2009, Sheriff Clarke was honored to receive the Americanism Award from the Milwaukee County War Memorial Veterans Board of Directors at their annual awards ceremony. The board, consisting of 22 veterans organizations, historically has awarded civic leaders and community volunteers, and not elected officials. However, board members said they chose to recognize Sheriff Clarke in "appreciation for his version of law and order."

In April 2011, Sheriff Clarke, along with a dozen American police chiefs and sheriffs, traveled to Israel on a weeklong law enforcement executive training mission sponsored by the American Israel Education Foundation. There they exchanged best practices in areas including airport security, intelligence analysis and sharing, public spaces security, bomb disposal, border security, incident and media management, the psychology of terror, and terror financing.

Sheriff Clarke was honored in May 2013, with the Sheriff of the Year Award from the Constitutional Sheriffs and Peace Officers Association for, "demonstrating true leadership and courage. . . staying true to his oath, true to his badge, and true to the people he has promised to serve and protect."

In September 2013, after completing a rigorous master's degree program, Sheriff Clarke received an M.A. in Security Studies from the Naval Postgraduate School, Center for Homeland Defense and Security, in Monterey, California. The competitive 18-month program included 12 weeks of in-residence study, course work, on-line study and the completion of a thesis. As a postgraduate student, Clarke collaborated with national security officials on current policy, strategy and organizational design challenges in security studies, homeland security and defense. He wrote his thesis on striking a balance between domestic intelligence operations, and protecting privacy and civil liberties.

Sheriff Clarke is a member of several professional organizations, including the American Jail Association, International Association of Chiefs of Police, Major County Sheriffs' Association, Badger State Sheriff's Association, Milwaukee County Law Enforcement Executives Association, National Organization of Black Law Enforcement Executives, and the National Sheriffs' Association, serving on its Legal Affairs Committee.

He is an Honorary Chair of the Milwaukee Fellowship Open, and a past board member of the Three Harbors Council Boy Scouts of America, Milwaukee Tennis & Education Foundation, Boys & Girls Clubs of Greater Milwaukee, and the American Red Cross in Southeastern Wisconsin.

Sheriff Clarke and his wife Julie Clarke, a Realtor, live in the home they built on the northwest side of Milwaukee.

---

Another big race in Tuesday's primary election is for the Fourth Congressional District seat.

Congresswoman Gwen Moore is facing challenger Gary George.

On Sunday, August 10th, Moore held a "get out the vote" event -- a reminder that the primaries are this Tuesday.

Moore has served five terms in her position. Her opponent, Gary George served in Wisconsin's Senate for more than a decade.

He was recalled in 2003.

On Sunday, both talked about their positions.

"My number one goal would be to bring more federal funds back to Milwaukee to help us create jobs, and I will have a sense of urgency to do that. A job will help the gun problems. A job will help with the education issues. A job that will help hold families together," George said.

"If we're gonna have an alternate system, then we need to add more money to the pot and not have it make an impact on Milwaukee Public Schools -- and I also think that it's really important to not re-segregate our schools -- not to have voucher schools at the expense of all our children," Moore said.