Milwaukee Public Museum new exhibit sneak peeks coming
MILWAUKEE - There's been a lot of talk about what's going to move to the new Milwaukee Public Museum – and what may not. Starting next week, the public will get a chance to find out.
The museum holds a lifetime of memories for a lot of people, but in a few years, its new home is going to look different.
"We know people love this museum," said spokesperson Madeline Anderson. "We are going to bring over that same legacy of the really immersive exhibits where you feel you are being transported to another time and place."
SIGN UP TODAY: Get daily headlines, breaking news emails from FOX6 News
On Wednesday, the museum unveiled five themes for the permanent exhibit galleries: Time Travel, Wisconsin Journey, Milwaukee Revealed, Living in a Dynamic World, and Rainforest.
"This is to give visitors a sense of direction for the new museum and its exhibits," Anderson said.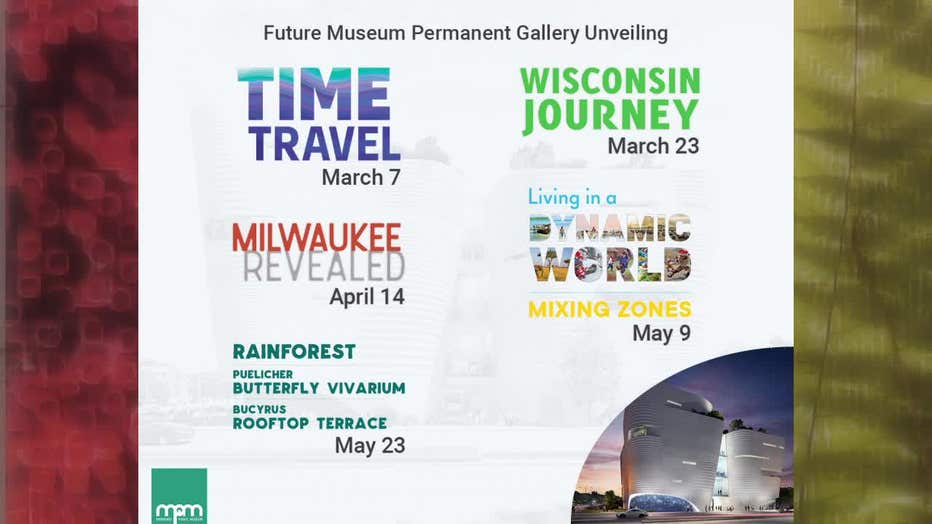 Permanent exhibits coming to new Milwaukee Public Museum
There are a lot of changes coming for the museum set to open in 2026. The biggest one is the location, which is only four minutes away, and the newest addition starts Tuesday. That's when "Time Travel" will be revealed.
"We can share that it will explore dinosaurs," said Anderson.
FREE DOWNLOAD: Get breaking news alerts in the FOX6 News app for iOS or Android.
When it comes to big changes, there can be some concerns. Anderson said the museum's 4 million collection items will all be coming with it.
"If you look at some of the gallery names, and descriptions, they are very reminiscent of the current museum," Anderson said. "I think people should have some of their fears eased.
"You can certainly expect to see iconic elements in this museum transferred over and be reimagined in the museum."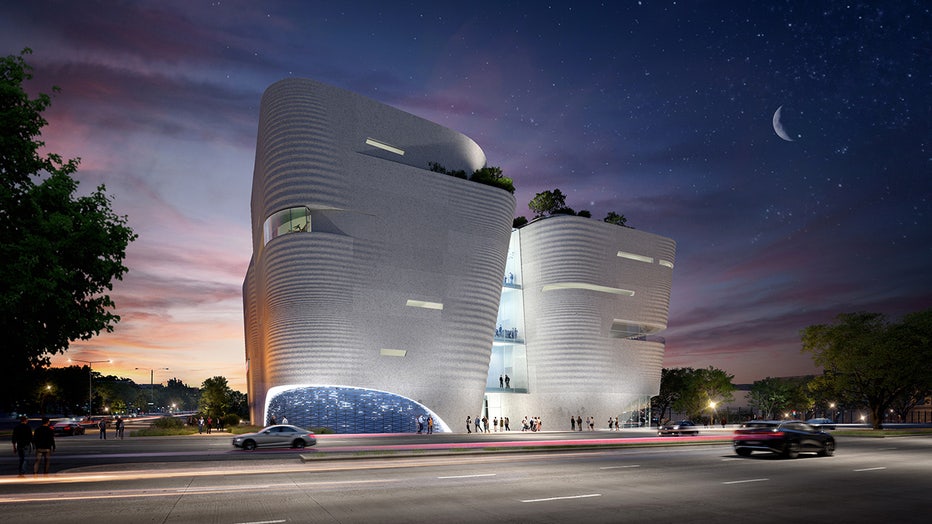 Milwaukee Public Museum unveils renderings for new building
Anderson said they will not reveal all five exhibit galleries at once, but over the next couple of months until May. They want people to take it all in and look at all the sketches.
Time Travel: A gallery which will explore the planet's deep past, including when dinosaurs roamed the earth
Wisconsin Journey: A gallery focused on the geological and cultural history of Wisconsin
Milwaukee Revealed: An immersive gallery focused on historical Milwaukee streetscapes and neighborhoods
Living in a Dynamic World: A gallery focused on areas and cultures across the world
Rainforest: An immersive exploration through tropical rainforests
"People have been speculating about what is going to happen to the Streets of Old Milwaukee, and we told people in January that there will be a walkthrough-style immersive experience in the new museum that explores Milwaukee history, natural landscapes," Anderson said. "The new gallery will be called Milwaukee Revealed, so still a nod to Milwaukee just a slightly different name."
Milwaukee Revealed will be announced on April 14 – "414 Day."
In addition to the permanent galleries, the new museum will have a gallery dedicated to temporary, traveling exhibits, as well as two flexible spaces where the museum's collections can be rotated. There also will be a planetarium and a butterfly exhibit.