Milwaukee police sergeant, officer injured as Dontre Hamilton supporters tried entering Bradley Center


MILWAUKEE (WITI) -- Milwaukee police say a sergeant and an officer were injured on Tuesday night, November 25th -- as Dontre Hamilton supporters attempted to enter the BMO Harris Bradley Center during a Milwaukee Bucks game. This, as a large crowd of supporters gathered nearly 24 hours after the grand jury decision was handed down in Ferguson.



It began Tuesday evening inside downtown Milwaukee's Red Arrow Park. Supporters, and members of Dontre Hamilton gathered for what was billed as a peaceful protest in solidarity with Ferguson, Missouri.

In Ferguson on Monday, it was announced a grand jury has decided there is no probable cause to indict Ferguson Police Officer Darren Wilson in the August shooting of Michael Brown.

That decision led to outrage and protests in Ferguson and across the country -- including here in Milwaukee.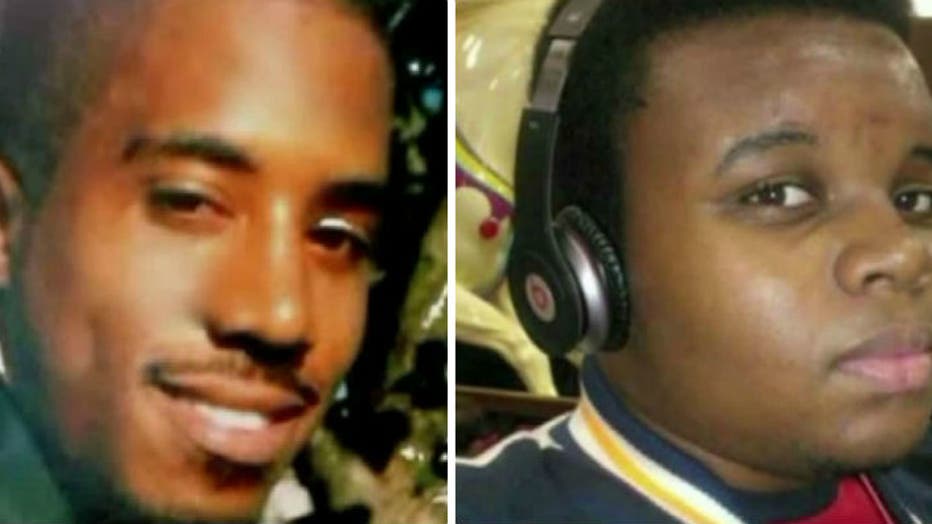 Dontre Hamilton and Michael Brown


The case out of Ferguson is similar to the case here in Milwaukee involving Dontre Hamilton. 31-year-old Hamilton was shot and killed in April by Milwaukee police officer Christopher Manney. Manney has been terminated from the Milwaukee Police Department over his handling of Hamilton that day -- a termination he's appealing.

Meanwhile, Dontre Hamilton's family continues to await a decision out of the Milwaukee County District Attorney's Office as to whether Christopher Manney will face criminal charges in the shooting. It's a decision they have waited to hear for nearly seven months.

Dontre Hamilton's mother, Maria and brother, Nate watched the grand jury decision out of Ferguson be read on Monday evening. It was a decision that upset Maria Hamilton so much, she had to leave the room.

One day later, Hamilton's family members and a large crowd of more than 100 supporters met in Red Arrow Park at 5:00 p.m. Tuesday, November 25th. They've been demonstrating in downtown Milwaukee since the shooting.

After gathering in Red Arrow Park, the crowd marched down Water Street -- at times blocking traffic and chanting "whose streets? Our streets" -- and chanting Dontre Hamilton's name.




"I can't deny that my family is hurt. I can't deny that the people of this community are hurt. We're trying to stay peaceful. We're trying to make the right steps on getting change done because that's what we want -- we want change done. We understand that through violence it kind of overshadows the change that needs to be made. It's just been too long for justice not to arrive in the city of Milwaukee," Dontre Hamilton's brother, Nate Hamilton said Tuesday.

The group marched to the Federal Courthouse.

They then entered the Grand Avenue Mall -- and made their way through the mall. Store employees locked their doors as demonstrators chanted.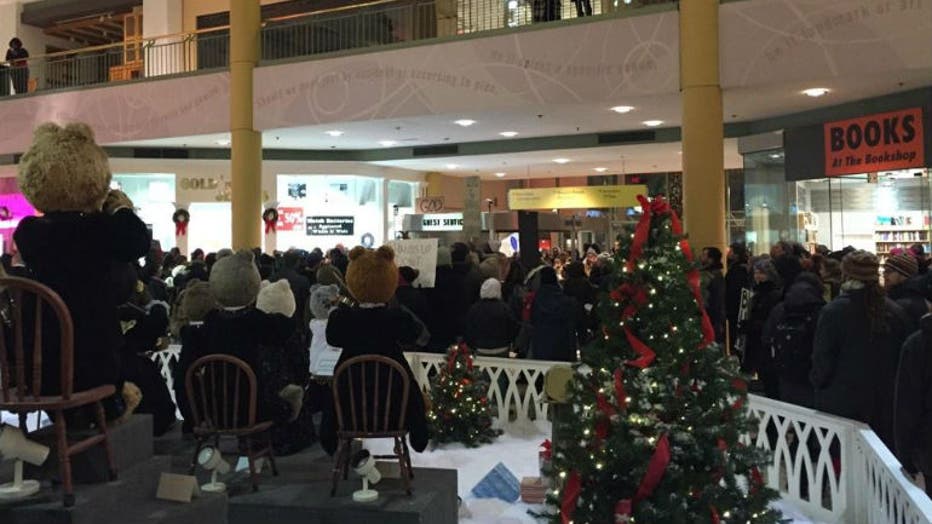 The group eventually exited the mall, and headed back onto the streets.

Just after 6:30 p.m., Ashley Sears reported the group was headed to the Milwaukee Bucks game at the BMO Harris Bradley Center. As the game neared tip-off, protesters attempted to push their way inside.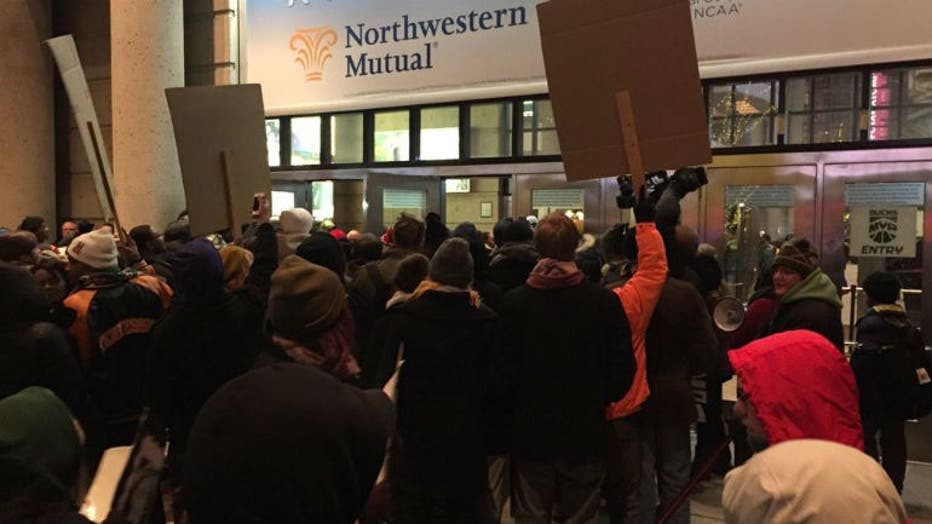 That had Milwaukee police tweeting out this message on Twitter:




The group eventually made its way back to Red Arrow Park before 7:30 p.m.

Milwaukee police said on Twitter just after 7:30 they received a report of an individual with a weapon at Red Arrow Park. Police detained a man, and an investigation ensued. That man was eventually released.




Milwaukee police issued this statement to FOX6 News on Tuesday evening's protest:

"The Milwaukee Police Department again successfully policed demonstrations in the downtown area. As we have in the past, we protected life, First Amendment rights, and property. The Hamilton family again reiterated their desire for peaceful demonstrations and expressions of frustration, and the MPD again demonstrated restraint in its facilitation of the demonstration. No arrests were made.

Because a few people were intent on ignoring the family's request for an orderly protest, a Milwaukee police sergeant and officer were injured protecting the BMO Harris Bradley Center from protesters attempting to unlawfully enter the building. The members have not sought medical attention at this time. This investigation is ongoing and we are actively seeking the assailants. Anyone with information is asked to call Milwaukee police."

CLICK HERE for further coverage of the Dontre Hamilton case via FOX6Now.com.