Milwaukee, Mayville women just blocks away as gunman opened fire in Vegas: "People were dying"


LAS VEGAS, Nevada -- A gunman on the 32nd floor of a Las Vegas hotel-casino rained heavy fire down on a crowd of over 22,000 at an outdoor country music festival, turning the expanse into a killing field from which there was little escape. At least 58 people died. FOX6 News has learned of several people from SE Wisconsin who were in Vegas and near the scene when it happened.

Evette Arvelo is from Milwaukee -- in Vegas for a wedding when the shooting happened. Kim Weinburger is from Mayville -- in Vegas for a work convention. Both were just a few blocks away when the gunfire rang out.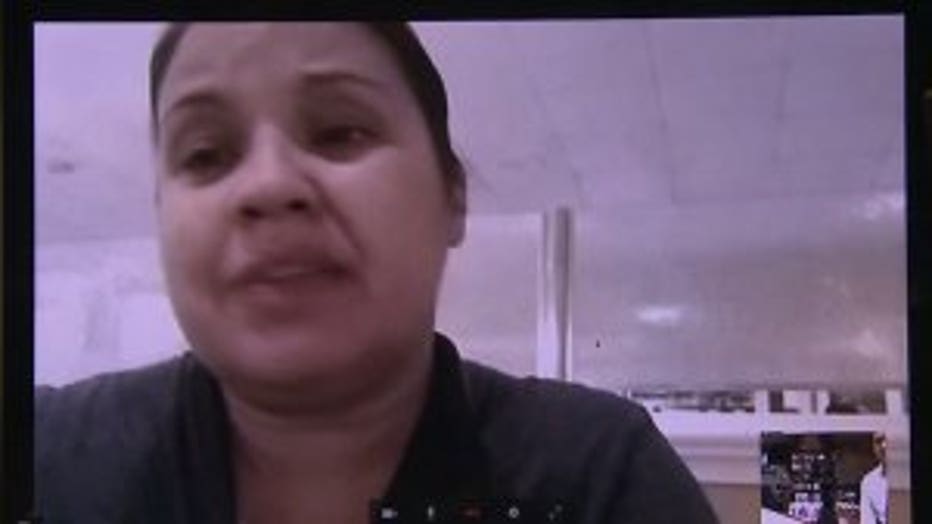 "There were a lot of people running and screaming and there were kids around too which was so sad," Arvelo said.

43-year-old Arvelo said on Sunday night, October 1st, she was just a few blocks from the Route 91 Harvest Festival when the shooting began.

"So many wounded. So many people were bleeding. People were helping and taking off their shirts. They were standing by. People were dying," Arvelo said.

Arvelo said amid the chaos, she and her boyfriend began making their way to their hotel.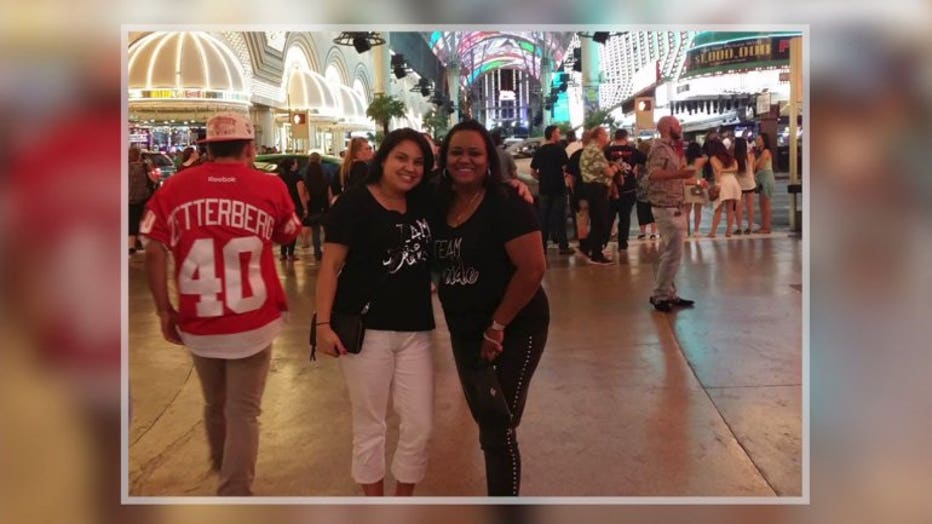 "All transportation had stopped. No one could get into a taxi," Arvelo said.

The frightened crowd made their way toward the Bellagio.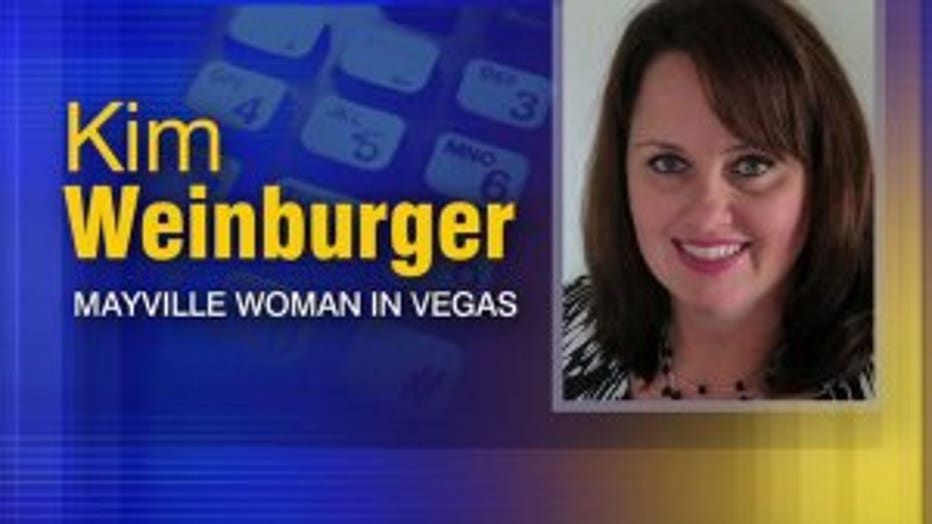 "Sheer terror on their faces and screaming as they were coming at us," Weinburger said.

Weinburger said the scene was chaotic and confusing as hotel staff ushered them into the restaurant's kitchen at the Bellagio.

"They were shuffling all these hundreds of people that just kept coming into the doorway into the kitchen and kept pushing us in as far as they could go," Weinburger said.

Meanwhile, Arvelo was trying to weave her way back to her hotel -- as tactical police were rushing toward concert-goers.

"We had to stay in the lobby there for a few hours until we were able to make it to our hotel," Arvelo said.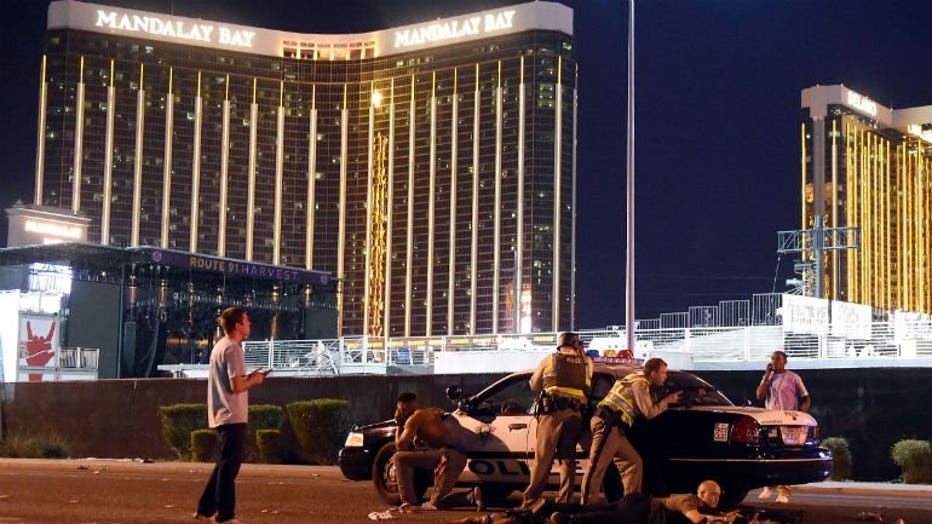 LAS VEGAS, NV - OCTOBER 01: Las Vegas police stand guard along the streets outside the festival grounds of the Route 91 Harvest on October 1, 2017 in Las Vegas, Nevada. There are reports of an active shooter around the Mandalay Bay Resort and Casino.


"I know that I will have nightmares about just sitting at that table at the restaurant and those people running at me. That doesn't nearly compare to the nightmare that these people will have that were at that event," Weinburger said.

This was the deadliest mass shooting in modern U.S. history. At least 515 people were injured.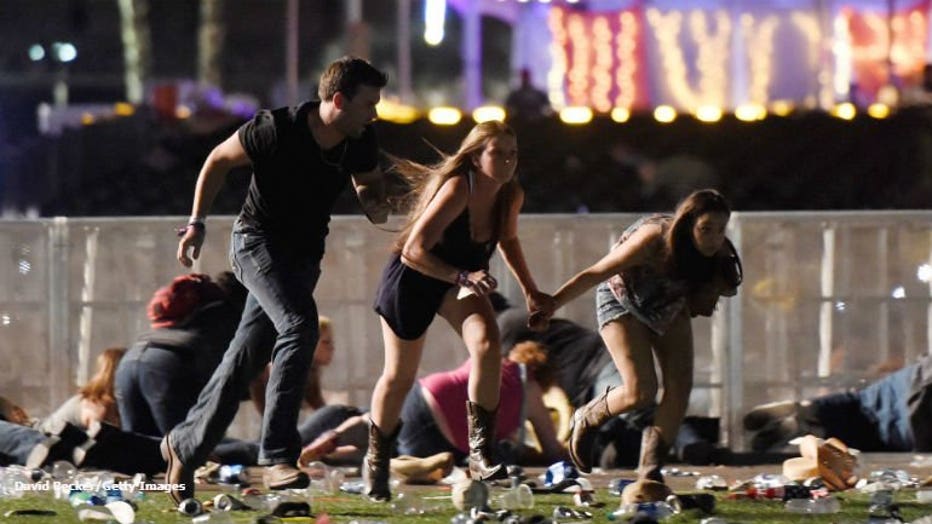 LAS VEGAS, NV - OCTOBER 01: People run from the Route 91 Harvest country music festival after apparent gun fire was hear on October 1, 2017 in Las Vegas, Nevada. A gunman has opened fire on a music festival in Las Vegas, leaving at least 20 people de


Country music star Jason Aldean was performing at the Route 91 Harvest Festival when the gunman apparently used a hammer-like device to smash out windows in his room and opened fire, the muzzle flashes visible in the dark, authorities said.

The crowd, funneled tightly into a wide-open space, had little cover and no easy way to escape. Some victims fell to the ground, while others fled in panic. Some hid behind concession stands. Others crawled under parked cars.

After the first burst of gunfire, the music stopped, Aldean left the stage, and many of those in the crowd looked on in confusion. Then the shooting resumed about half a minute later.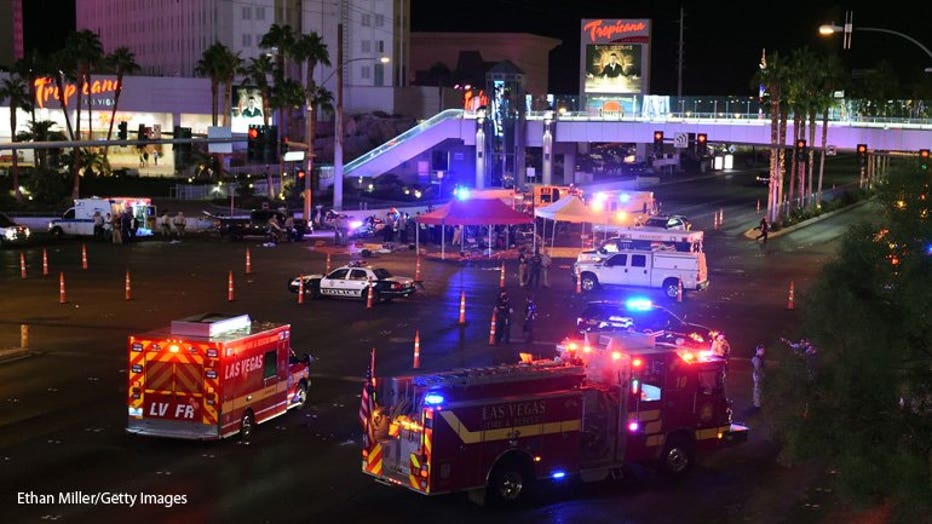 LAS VEGAS, NV - OCTOBER 02: Police and rescue personnel gather at the intersection of Las Vegas Boulevard and Tropicana Ave. after a reported mass shooting at a country music festival on October 2, 2017 in Las Vegas, Nevada. A gunman has opened fire


The shooter appeared to fire unhindered for more than 10 minutes as Las Vegas police frantically tried to locate the man in one of the Mandalay Bay hotel towers, according to radio traffic. For several minutes, officers could not tell whether the fire was coming from Mandalay Bay or the neighboring Luxor hotel.

The dead included at least three off-duty police officers from various departments who were attending the concert, authorities said. Two on-duty officers were wounded, one critically, police said.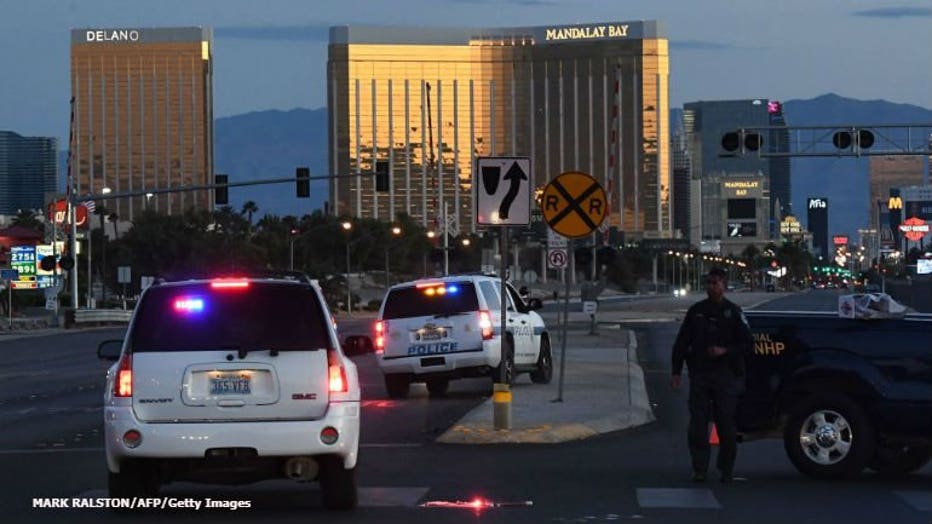 Police form a perimeter around the road leading to the Mandalay Hotel (background) after a gunman killed at least 50 people and wounded more than 400 others when he opened fire on a country music concert in Las Vegas, Nevada on October 2, 2017. The g


CLICK HERE for the very latest -- and complete coverage of the Las Vegas mass shooting via FOX6Now.com.