Milwaukee Co. supervisor condemns MAM, MCTS over what he calls 'racist paid ad' on county bus


MILWAUKEE -- A Milwaukee County supervisor on Monday, Aug. 12 spoke out against a Milwaukee Art Museum sponsored advertisement on a Milwaukee County Transit System bus -- an ad that was designed by young people from Milwaukee and selected by the Milwaukee Art Museum's education department.

County Supervisor Dan Sebring in a news release called for the removal of the bus wrap "which depicts Immigration and Customs Enforcement agents arresting children, and lists tactics for evading detention by ICE agents." Supervisor Sebring also condemned the actions of the museum and MCTS for "approving the anti-law enforcement message."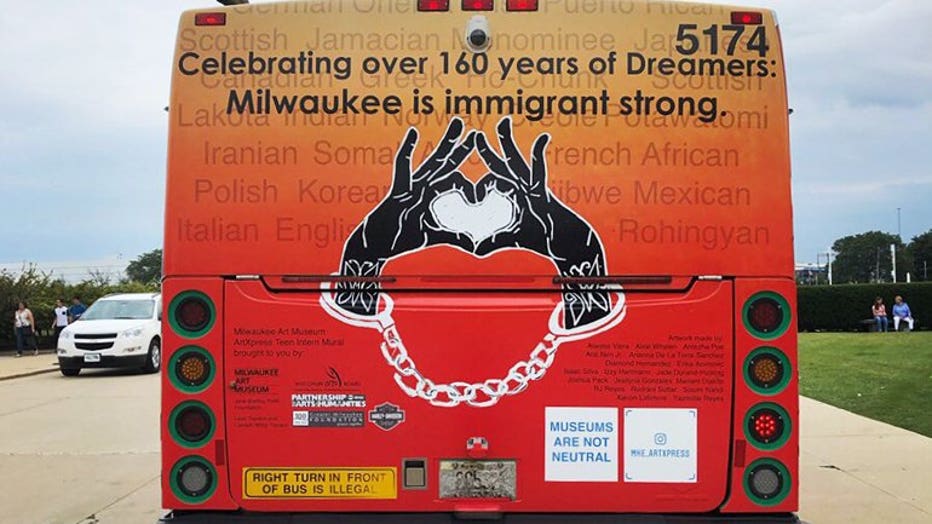 "The racist, anti-law enforcement messages contained in the Milwaukee Art Museum's paid ad on a county bus is an offensive abomination and a slap in the face to law enforcement officers and officials at every level," Supervisor Sebring said in a release. "We cannot allow a county bus to be decorated with advertising that includes a 'how-to' guide for illegal immigrants to evade law enforcement. MCTS should remove this so-called 'art' immediately."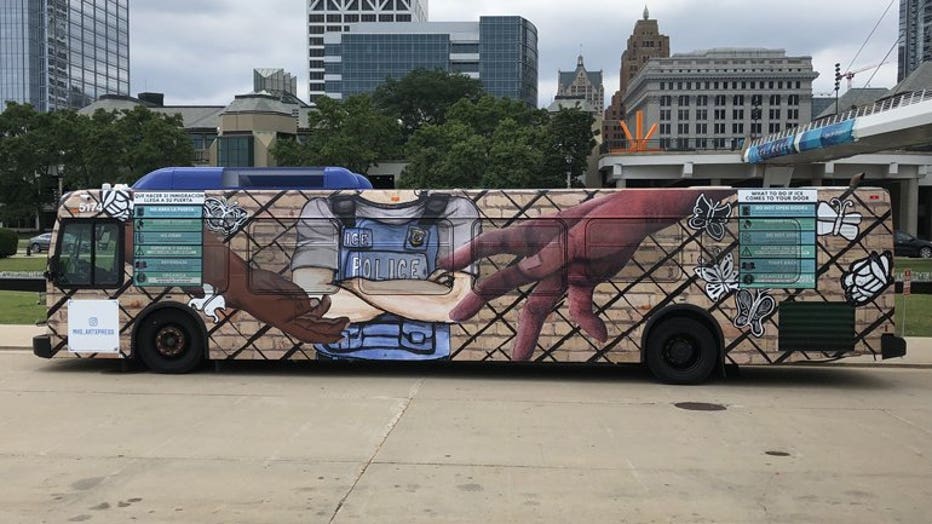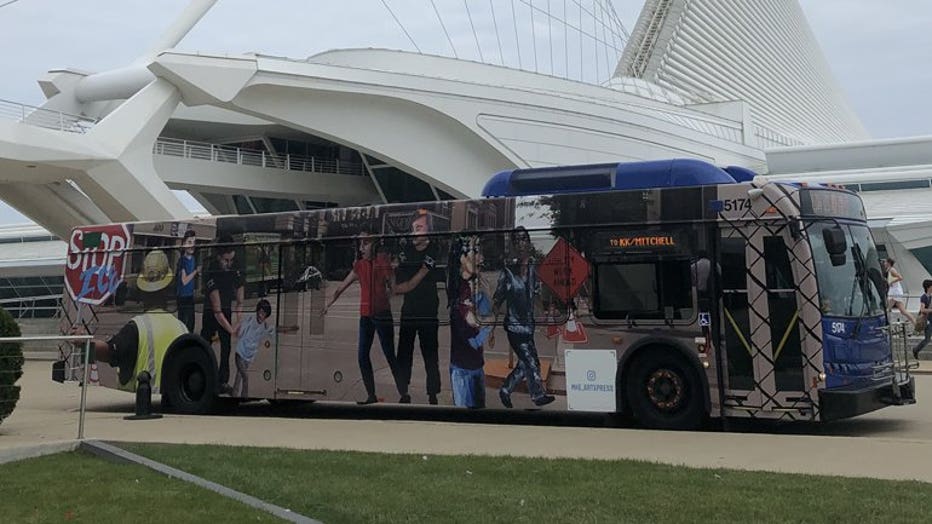 A spokeswoman for the Milwaukee Art Museum issued this statement to FOX6 News:

"This summer, a diverse group of 18 teens participated in the Teen ArtXpress program from more than a dozen schools across the Milwaukee metro area, ages 16-18. Activities include making art with professional artists, giving tours of exhibitions at the Museum, leading art activities in the community, and participating in the Craft for a Greater Good program. The final project that the teens create is a mural that's placed somewhere in the community--typically on a bus or a bus shelter, paid for with Museum advertising dollars."

"We don't steer or endorse what the teens create. As with any artist at the Museum, we don't censor their expression nor is the work a reflection of the Museum's position on any topic. We do encourage them to speak about artistic issues they care about."

"The teens were encouraged to use the bus space to cover a topic they personally cared about, drawn directly from their personal experiences. They unanimously chose to focus on the topic of protecting their friends and neighbors from deportation and came into the program deeply concerned about this issue. This was not a topic suggested or assigned by any Museum staff."

"All the content, including the written content, was created or sourced through research by the teens as they explored the topic and created the artwork."

"We hope the attention around this artwork can lead to conversations about how art can foster important conversations and bring people together around tough issues in a constructive, positive way."

Milwaukee County Supervisor Sequanna Taylor issued this statement Tuesday, Aug. 13, in support of the young artists:

"I am proud of the students who bravely stood up for themselves and their peers during such a challenging time for our country, and I'm inspired by their art, which draws attention to serious human rights violations occurring under our current administration. I applaud them for using their civil rights to protect the rights of others with this important work."

"Families are being ripped apart by the federal government's inhumane treatment. Our children in the United States see news images and hear stories daily about youth who look just like them being torn away from their parents—not only at the border but also in their hometowns across the country. I stand with these children whose art speaks out against the uncivil and inhumane policy of separating and detaining migrant families. We must not stop fighting to keep families together."

Milwaukee County Supervisor Patti Logsdon called on MCTS to change its advertising guidelines to prevent political messages from appearing on county buses. She issued the following statement Thursday, Aug. 15:

"Current policy puts transportation officials in the difficult position of determining what may or may not be excessively politically controversial and offensive to many people. Our buses serve all members of the public and are many people's primary contact with County government. No one should feel our public transportation is subjecting them to a political ad. If MCTS doesn't create better guidelines to limit political advertising, I can see this escalating into a back and forth of increasingly polarizing, politically motivated messages that are intended to offend rather than promote dialogue."