MFD fights large recycling plant fire on city's south side
MILWAUKEE - The Milwaukee Fire Department was called to the scene of a fire at a southside recycling plant Saturday afternoon, April 3.
According to MFD, the call originally came in as a garage fire. SKYFOX and FOX6 News tower cameras captured smoke billowing from the scene -- Alter Metal Recycling, near 16th and Bruce.
Fire officials said the large size of the rubbish fire made it a challenging fight, flames shooting out from under piles of metal and debris. The smoke could be seen along I-43 and hung in the air throughout much of the city.
The large plume of smoke drew the attention of almost everyone in the area. Carol Strange was concerned as the blaze continued; she lives in the building right next to the Alter facility.
"It's like seeing a spaceship come up from outer space, and you've never seen it before. It's like indescribable," Strange said. "I mean to see billows of black smoke and they are just constantly coming up, up, up. It's indescribable."
Despite how it looked, fire officials said the fire was contained to one pile of rubbish -- estimating it as 20 feet high and 60 feet wide. 
"It's just a large pile. A large pile gives a large fire, large plume of smoke," said MFD Battalion Chief Thomas Pollock. "A lot of metal and debris that gets ground up and shredded before it gets processed. Something caused a spark underneath the pile and it's smoldered and got hot enough to start burning."
Pollock said there have been several fires at the facility before. The fire department worked with the company Saturday to move the debris and put out the root of the smoke.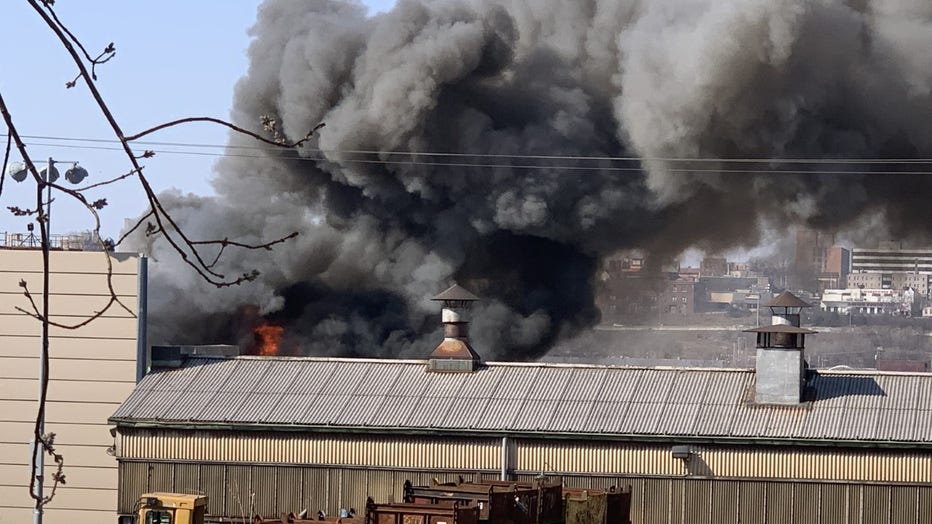 Smoke billows from fire at Milwaukee recycling plant
Friday, the Alter facility in La Crosse and a fire of its own. FOX6 News reached out to the company for comment. One manager said he was out of town and still working to figure out what happened. Another said he was busy and hung up.
Officials with the Wisconsin Department of Natural Resources said the entire state is under a high fire danger this weekend.
This is a developing story. Check back for updates.
FREE DOWNLOAD: Get breaking news alerts in the FOX6 News app for iOS or Android.