MCTS bus drivers strike, service suspended until 3 a.m. July 4th


MILWAUKEE -- Bus service in Milwaukee County has been suspended. Workers went on strike at 3 a.m. Wednesday, July 1st after they couldn't reach a contract agreement with Milwaukee County. The strike is set to continue until 3:00 a.m. Saturday, July 4th.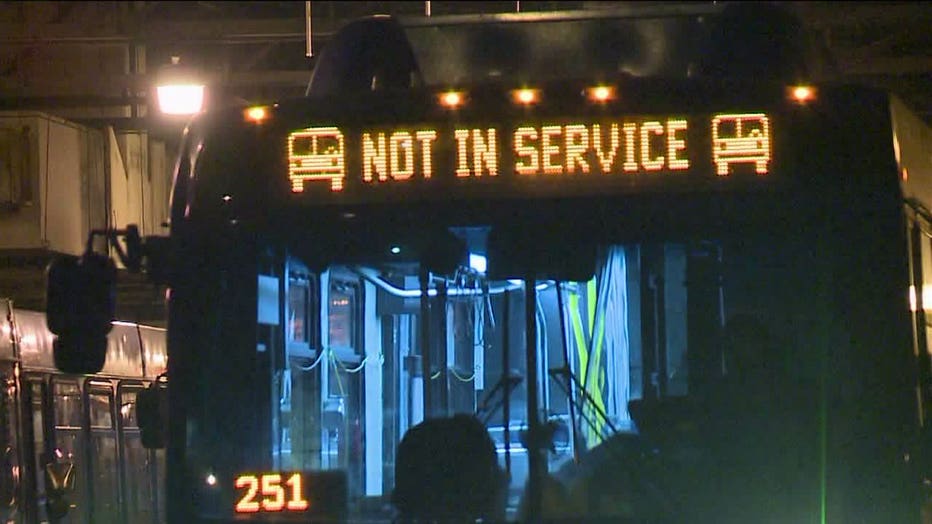 Milwaukee County bus drivers were on the street on Wednesday -- manning the picket lines instead of driving buses.

But leaders of Amalgamated Transit Union (ATU) Local 998 say they're not calling this a strike. Instead, they're calling it a "work stoppage."


"This is not a strike. It is a work stoppage. We will be conducting a work stoppage at 3:00 a.m. Wednesday, July 1st, 2015 for a period of three days," Rick Bassler, ATU Local 998 vice president said.

Union leaders say all ATU employees will be taking part in this "work stoppage" that will continue for 72 hours. This, after union members and Milwaukee County representatives sat down with a federal mediator for six hours on Tuesday to try to come up with a last-minute deal to avoid a strike.

"It wasn't us that wanted to put the passengers in jeopardy. Or the services in jeopardy. We could have had the buses online," James Macon, ATU Local 998 president said.

We're told there have been 10 meetings between Milwaukee County representatives and Local 998 leaders. Still, there are many sticking points, and a contract agreement has not been reached.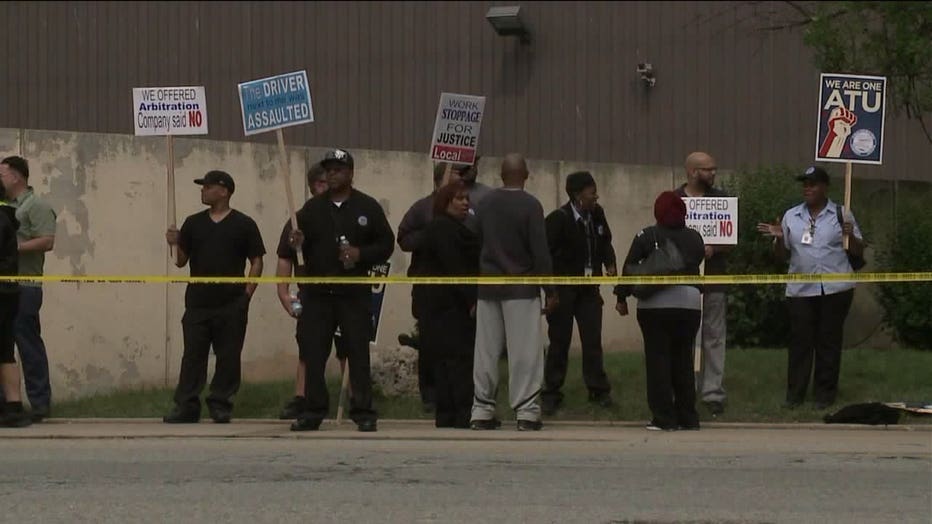 "We are not trying to stop service. The company is stopping service. This could have been over (Tuesday) if they would have been willing to go to arbitration. So the question is not to ask to me. The question needs to be asked to the county executive," Macon said.

"We don't have interest in going to arbitration.  We have limited tax dollars.  An arbitrator doesn't look at your fiscal future," Brendan Conway, MCTS spokesman said.

"I`m for the passengers. We all are. We like the passengers we want to service them. And we sympathize with them, but our hands are tied. It`s time some of these problems are addressed," David Wasechek, an MCTS bus driver said.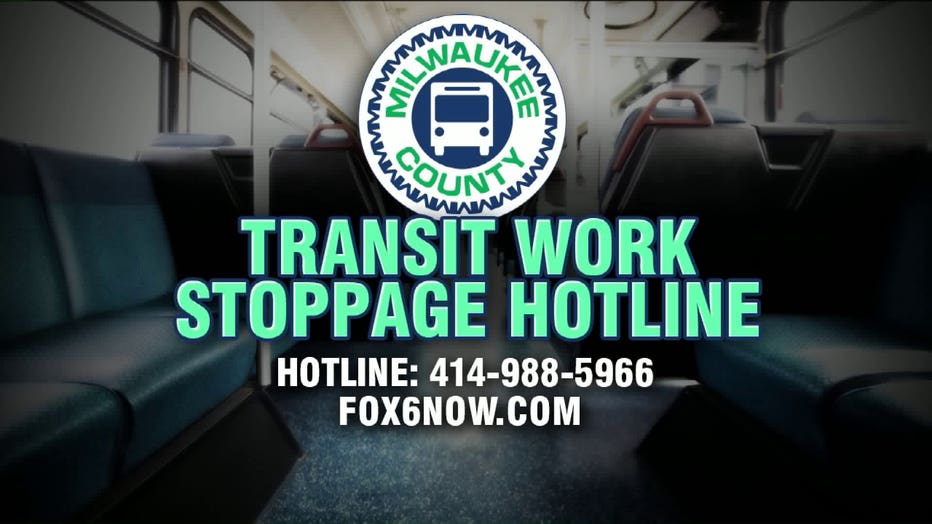 Union leaders say they were not offered a fair contract — blaming Milwaukee County Executive Chris Abele, who said Tuesday: "The final, added concessions represent our last, best offer. Anything more than this is unsustainable in our county budget and would be irresponsible to the taxpayers we serve."

"When push came to shove, we said 'what can we do to solve this?' They said, 'here — you need to give us $8 million more over two years,'" Conway said.

In a news release, MCTS officials said the following:

Amalgamated Transit Union (ATU) Local 998 leaders have called for a work stoppage despite significant attempts and concessions from MCTS during a daylong negotiation session.

The union's decision means tens of thousands of people who rely on MCTS to get to work, school and doctor's appointments will have to find other transportation. The strike will also shut down Summerfest service that tens of thousands of people rely on every day to get to the Big Gig.

MCTS presented a contract proposal on Friday that would have increased bus drivers and mechanics pay in exchange for some health care concessions. The average MCTS bus driver will make more than $62,000 this year in salary and overtime.

In an attempt to avoid a strike, MCTS made significant concessions to the union, including:




A matching $1,000 Flexible Spending Account for employees to help offset modest increases in healthcare costs. The previous proposal was $500.


Capping the amount of part-time drivers MCTS will hire.


Some flexibility for how mechanics use their personal time.




Despite numerous recent statements from union leaders that their contract dispute was not over money, the union came to the bargaining table (Tuesday) to ask for $8 million in increased wages.

Milwaukee County Executive Chris Abele issued the following statement Tuesday evening:

Although County Executive Abele is disappointed in (Tuesday's) decision by the Amalgamated Transit Union (ATU) to reject a reasonable contract offer and strike, he is confident that a deal will soon be agreed to that respects both transit workers and taxpayers.

"The Milwaukee County Transit System is a critical tool for economic development and self-sufficiency, and I am proud of our record of maintaining routes and excellent service without raising fares," County Executive Abele said. "Taxpayers ride the bus over 150,000 times every single day. In choosing to strike, ATU is punishing county residents that rely on bus service."

Proposed Contract Facts:




The average MCTS bus driver makes more than $62,000 per year in salary and overtime.


Between cost of living increases, pay increases, and pension contribution decreases, ATU members would see a salary increase of up to 3.3% in the first year with an additional 1% increase to base pay on top of that in the second year. Additionally, ATU members were offered a $1,000 employer matching contribution to their Flexible Spending Accounts during negotiations.


The net compensation increase (salary and benefits) for ATU members over the next two years is $3,580 for workers with an individual healthcare plan and $2,848 for workers with a family healthcare plan.




In a time when state transportation funding has been flat and federal funding has declined, ATU members rejected multiple contract compromises that increased overall compensation while allowing for the continuation of full transit services, stable fares, and respect for county taxpayers.

Throughout negotiations, the county has and will continue to remain focused on one outcome only – the best service for transit riders now and in the future. The emphasis is on providing a high quality transit system while modernizing and expanding services.

"From low income workers to Summerfest attendees, the ATU's decision to strike has far reaching consequences for the people of Milwaukee County," Abele said. "To be clear, the final added concessions (Tuesday) represent our last, best offer. Anything more than this is unsustainable in our county budget and would be irresponsible to the taxpayers we serve."

"Not only did they say 'that's not good enough,' they rejected everything we offered," Conway said.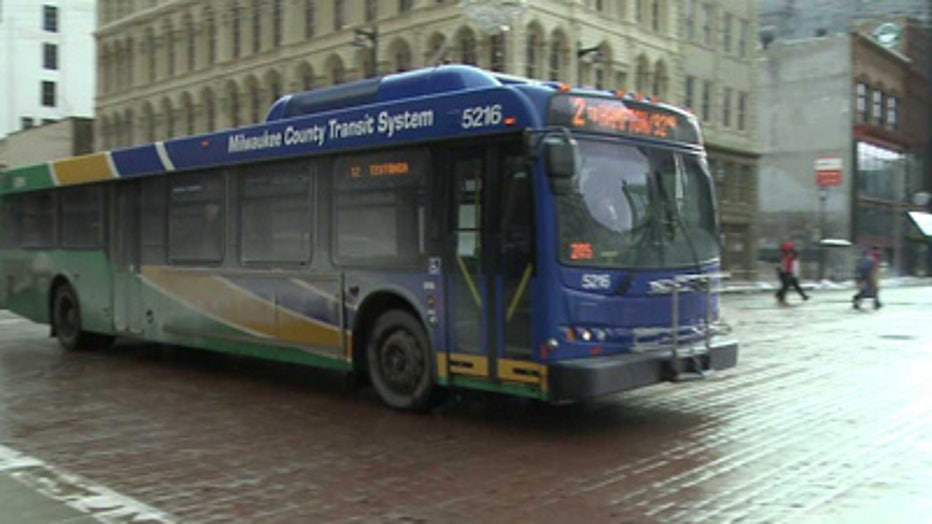 Milwaukee County representatives say they're offering a 7.6% pay increase for drivers over two years.

Union leaders say part of that pay increase comes from the county taking over some of the drivers' pension payments and another portion from the cost of living increase.

"You've got a pension that you want to change that is basically one of the best in the country. Why? It doesn't make sense," Macon said.

Union leaders say if it was a straight pay increase, things might be different.

"I can get that passed and have the buses rolling," James Macon, Local 998 president said.

Other issues include how many part-time drivers the county would hire, and the length of bathroom breaks for drivers.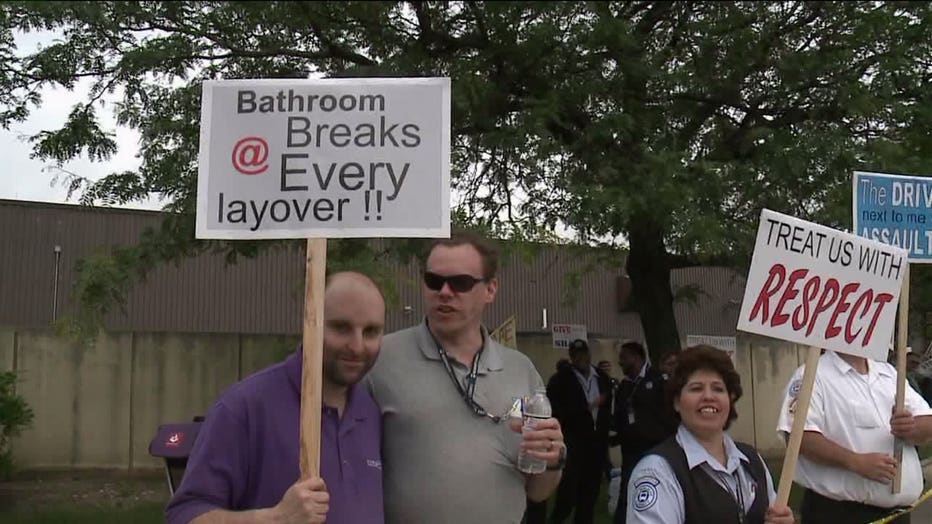 "Our issues are not about money. Our issues are about working conditions and basically keeping our pension going," Macon said.

"If they want to see their fares raised and their routes cut and they're okay for bus drivers who make $62,000 a year to get a 7.6% raise over two years," Conway said.

Sharon Lewis is an MCTS bus driver.

"We see these people every day. We care about these people. It`s Abele that doesn`t care. They don't give a crap about the average Joe," Lewis said.

"We need to have a sustainable transit system that will continue to run for those who need it," Conway said.

Conway says MCTS attempted to offer concessions during Tuesday's mediation, but union officials walked out.

"It was the same stuff that we voted (Monday) night to vote down but they just twisted the numbers. There was no gain," Macon said.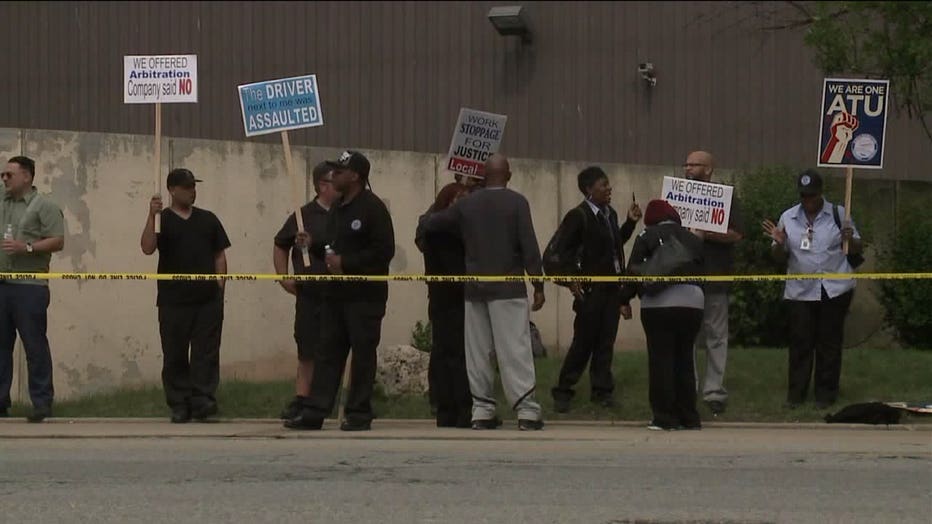 On Monday, Local 998 members voted to reject MCTS' latest contract offer, and to strike. The vote Monday night was 93% to reject the new contract being offered, and 92% in favor of a strike.

MCTS and Local 998 leaders are not currently negotiating because the mediator is out of town.

Milwaukee County Supervisor Theo Lipscomb says there's an easy solution -- let an independent arbitrator decide which side is right.

"I'm worried we are essentially wasting three days.  I don't know why we are not in a room today. If his deal is such a good deal, and theirs is so bad, then an arbitrator should look and see which is a fair and reasonable deal," Lipscomb said.

Union leaders say they wanted to go into interest arbitration Tuesday, where an impartial arbitrator would make the final decisions, but county officials said no.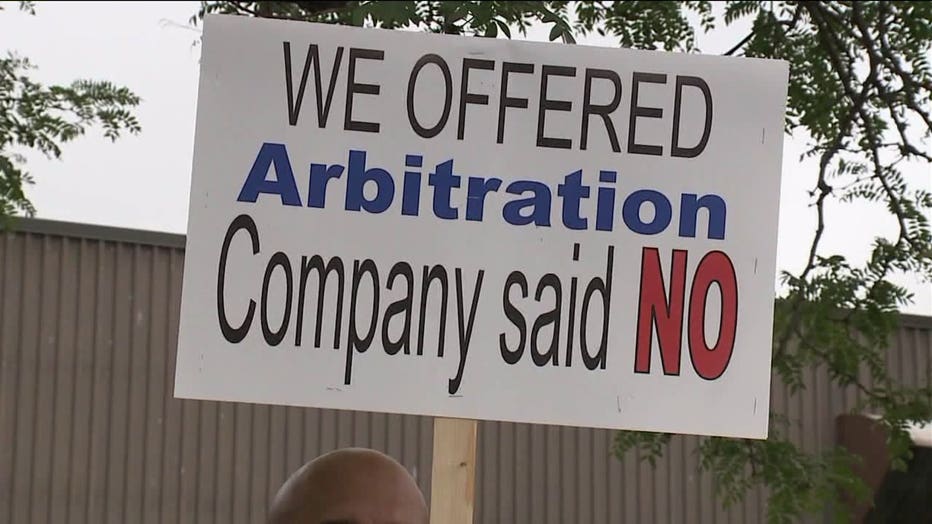 In speaking about the strike on Wednesday, Milwaukee County Executive Chris Abele said he wants bus drivers back on the job.

"The riders -- they pay for a service to get to work.  They didn't do anything wrong.  I can't offer more without pulling from some other service the taxpayers are paying for,  and I'm not going to do that," Abele said.

We're told the mediator is unavailable next week as well, so it's unclear when talks could pick back up. But Local 998 leaders said Tuesday they intend to lift the strike and get drivers back to work on Saturday at 3:00 a.m.

MCTS bus drivers plan to rally on Thursday at the Milwaukee County Courthouse at 5:00 p.m.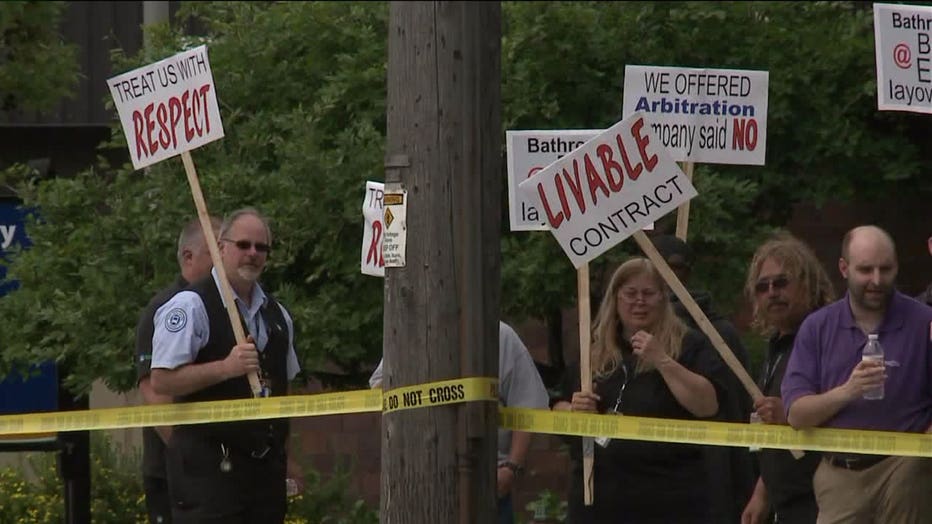 MCTS has about 150,000 passenger rides a day. This is the first MCTS bus driver strike since the late 1970s.

MCTS spokesman Brendan Conway says all new and updated information in the coming days will be available to the public at RideMCTS.com or by calling 414-988-5966.

This strike includes MCTS Route 143 that serves Ozaukee County and MCTS Route 6, 61 and 279 that serve Waukesha and Washington Counties.

Paratransit service is available during the strike for passengers who are eligible. For questions call 343-1700 or visit http://www.ridemcts.com/programs/transit-plus

MCTS will continue to hand out the GO Pass to eligible seniors and persons with disabilities. For more on the pass please visit http://www.ridemcts.com/fares-passes/go-pass

CLICK HERE for further coverage of the transit strike via FOX6Now.com.