Marquette Law School poll shows Walker would edge Barrett, Falk


MILWAUKEE -- A new Marquette University Law School public opinion poll shows Gov. Scott Walker would edge Milwaukee Mayor Tom Barrett or former Dane County Executive Kathleen Falk in a recall election.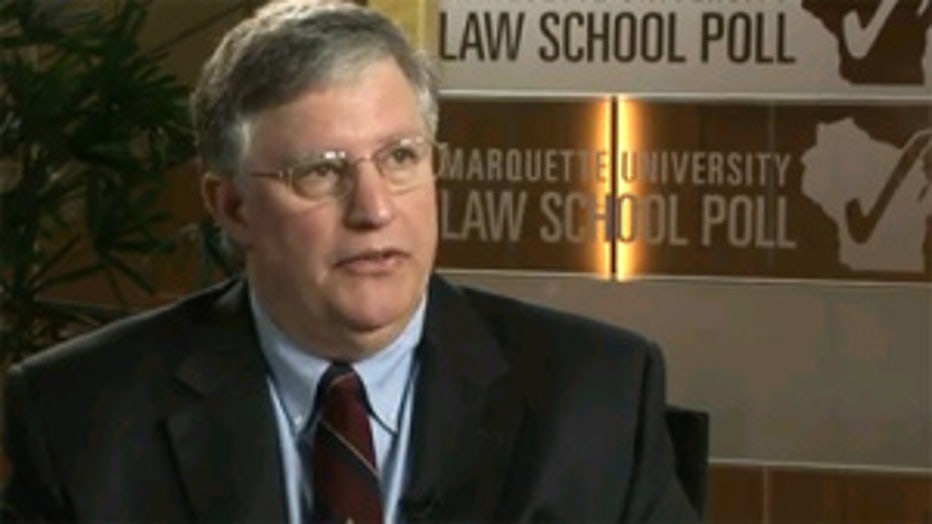 Dr. Charles Franklin conducts the poll -- a monthly snapshot of the state's attitudes and opinions on key political questions. Tuesday, Dr. Franklin unveiled the results of the March poll.

In the Wisconsin gubernatorial recall, the poll shows a very close race. Gov. Walker holds a 47 percent to 45 percent margin over Barrett and a 49 percent to 45 percent edge over Falk. These matchups have tightened since January, when Walker led Barrett by six percentage points and Falk by seven percentage points. State Senator Kathleen Vinehout trails Walker 41 percent to 49 percent and Secretary of State Doug La Follette trails 42 percent to 49 percent.

"There's an obvious shift in the vote to her if Barrett chooses not to run, but what looks like a pretty close primary election should he decide to get in the race," said Dr. Franklin.

In a potential Democratic primary, Barrett has the support of 36 percent to Falk's 29 percent, with Kathleen Vinehout and Doug La Follette each at eight percent. A substantial 17 percent say they remain undecided. If Barrett is not a candidate, Falk holds a wide lead among Democratic primary voters, with 54 percent to 15 percent for La Follette and 12 percent for Vinehout, with 18 percent undecided.

The presidential primary is just one week away and the Marquette Law School Poll shows Governor Mitt Romney with a 39 percent to 31 percent lead over Senator Rick Santorum, reversing Santorum's lead in February polls. Looking ahead to the November election, Romney trails President Barack Obama by 43 percent to 48 percent. In February Obama led by double digits. The new poll shows the rest of the Republican field also trailing Obama: 51 percent to Santorum's 39 percent, 50 percent to Ron Paul's 40 percent, and 53 percent to Newt Gingrich's 36 percent.

In the week that saw gasoline prices reach all-time record highs in the Milwaukee area, voters were evenly divided on the ability of a president to affect gas prices: 46 percent say that a president can do a lot to affect gas prices while 46 percent say this is beyond the control of any president. There is a strong partisan cast to the perception of presidential control over gas prices, with 63 percent of Republicans thinking the president can do a lot about gas prices, while 62 percent of Democrats believe this is beyond any president's control. Among independents the split is 50 percent saying a president can do a lot, while 44 percent say it is beyond his control. Among those independents thinking the president has some control, 66 percent disapprove of the way Obama is handling his job as president. Among those independents who say no president can control gas prices, an identical proportion (66 percent) approve of how Obama is handling his job.

You can view more poll results by CLICKING HERE.

The poll interviewed 707 registered Wisconsin voters by both landline and cell phone March 22-25, 2012. The margin of error is +/- 3.8 percentage points for the full sample.