Man claims $1 million Powerball prize, pops the question
MILWAUKEE (WITI) -- Jason Peck, a 35-year-old construction worker from Milwaukee, claimed on Thursday, May 23rd his $1 million prize from a recent Powerball drawing. But that's not all. Peck also popped the question.

Right after being handed the big check from the Wisconsin Lottery, Peck turned to his girlfriend and said, "Baby, will you marry me?" After some laughter in the crowd, she said "Yes, oh geez."

Peck actually won $1,000,004 with his ticket purchased for the Powerball drawing on Saturday, May 18th. That's because he won $4 with another set of numbers on the same lottery ticket. After taxes were taken out, Peck gets a lump sum payment of $672,500.

Peck told reporters that while the drawing was on Saturday, he didn't even look at his ticket until Sunday evening. That's when he found the lottery ticket in his wallet -- and he decided to check the numbers. His fiance recognized a few of the numbers and initially thought they won $10,000. But after checking again, they realized it was a million-dollar prize. They asked their 12-year-old daughter to verify the numbers and the prize.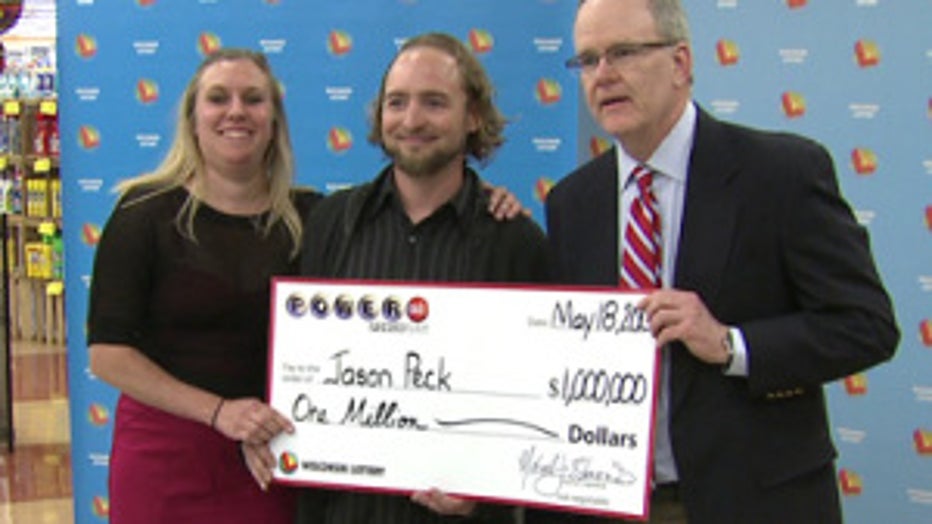 Peck say he has no idea yet what they are going to be doing with the money. He said his daughter has only requested dinner at Taco Bell and some concert tickets. He says they'll probably put away some money for college.

Peck purchased his ticket just before the close of sales on that Saturday at the Pick 'n Save on E. Garfield in Milwaukee. He normally selects his own numbers, but bought a quick pick ticket because it was a last-minute decision.

For its part, the Pick 'n Save store that sold the ticket earns a $20,000 commission from the Wisconsin Lottery.  Lottery retailers who sell winning tickets with prizes of $600 or more earn a commission equal to 2% of the prize, up to a maximum of $100,000.