MADACC announces the "12 Days of Straymas" with $12-$23 adoption fees on available cats, dogs


MILWAUKEE -- Milwaukee Area Domestic Animal Control Commission (MADACC) announced Monday, December 11ththat adoption fees for all available cats and dogs will be $12 starting December 12th and increasing $1 a day until December 23rd. MADACC's goal is to get all adoptable animals homes by Christmas Eve!

According to a press release, the $12-23 adoption fee includes spay/neuter surgery, microchip, and up-to-date vaccines. An additional $12 license fee will apply for all Milwaukee County residents.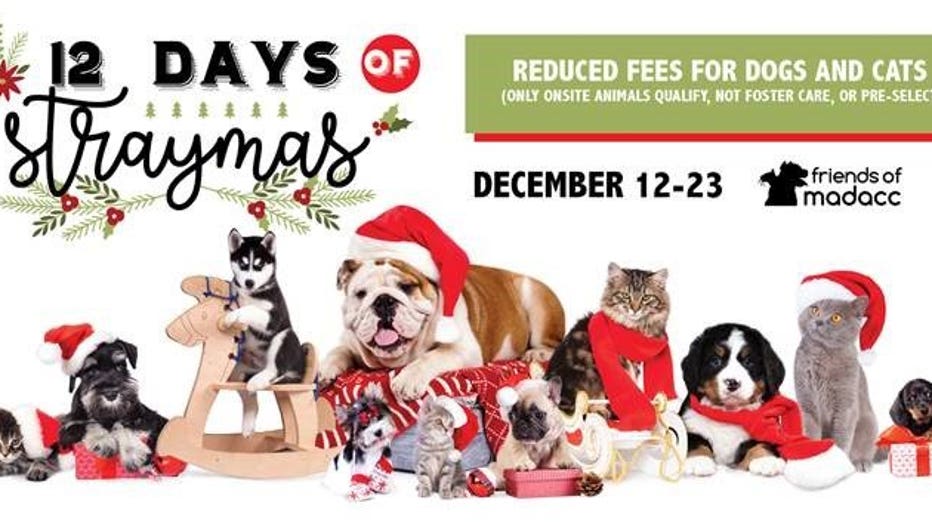 "MADACC is so grateful that Friends of MADACC supports adoption events like 12 Days of Straymas." said Karen Sparapani, "Friends of MADACC's generosity makes it possible for needy animals to get the medical help and support they need to get into happy homes!"

To expedite the adoption process and cut down on wait times, MADACC is encouraging interested adopters to complete a free and non-binding adoption application for pre-approval ahead of your arrival at MADACC.

You do not need to have an appointment to stop in and you can come in during MADACC's adoption hours.

Adoption hours are Monday through Friday 1-6:30 pm and Saturday and Sunday 11-3:30 pm. You can find more information on their website at www.madacc.org or call 414-649-8640.

An online application is available here: http://madacc.org/madacc-adoption-application-3/