Las Vegas mass shooting: FBI seen at site of concert shooting


LAS VEGAS — The Latest on the mass shooting in Las Vegas (all times local):

9:44 a.m.

More than a dozen investigators, most wearing jackets marked "FBI" and all in blue protective booties, arrived in unmarked sedans and entered the concert site Tuesday to pick through the scene for clues.

The site inspection was visible by The Associated Press videographers from the 35th floor of the Mandalay Bay tower — three floors above the suite where Stephen Craig Paddock launched his barrage and later killed himself.

Authorities say 59 people were killed and more than 500 were injured Sunday night.

Nevada Attorney General Adam Laxalt compared the scene with a war zone. Laxalt is a former U.S. Navy Judge Advocate General's Corps member.

"Shoes, baby strollers, chairs, sunglasses, purses. The whole field was just littered with things," Laxalt said Monday. "There were blood stains everywhere."

8:24 a.m.

Hospital officials say Tuesday that at least 45 people remain in critical condition after being wounded at a mass shooting at a Las Vegas music festival on Sunday.

Sunrise Hospital has 33 people and University Medical Center has 12 people still in critical condition as of Tuesday morning.

Authorities say Stephen Craig Paddock killed 59 people and injured more than 500 others when he opened fire Sunday night on an outdoor country music concert from a 32nd floor hotel tower.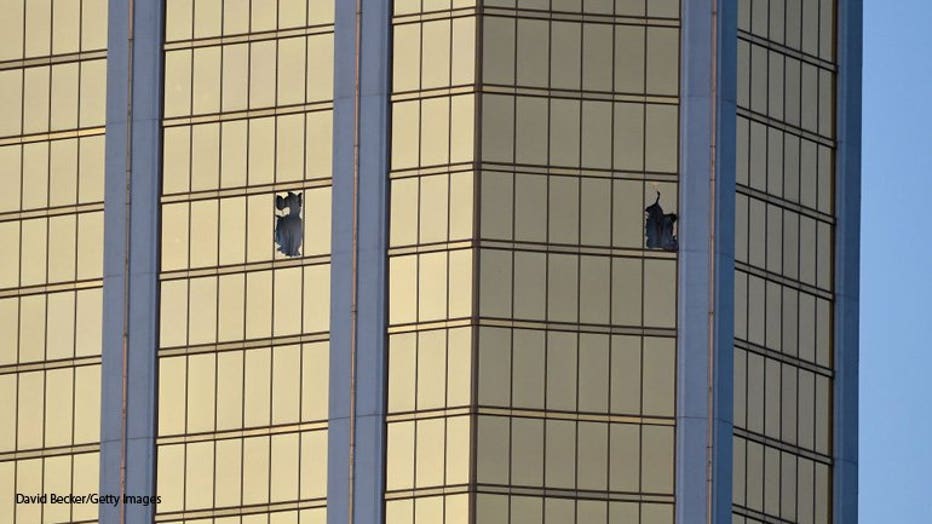 LAS VEGAS, NV - OCTOBER 02: Broken windows are seen on the 32nd floor of the Mandalay Bay Resort and Casino after a lone gunman opened fired on the Route 91 Harvest country music festival on October 2, 2017 in Las Vegas, Nevada. The gunman, identifie


A motive is unknown.

At Sunrise, a total of 68 people remain hospitalized out of the 214 initially admitted. Officials say 15 people have died there.

Officials say a total of 60 people remain hospitalized out of the 104 who were taken to University Medical. Four have died.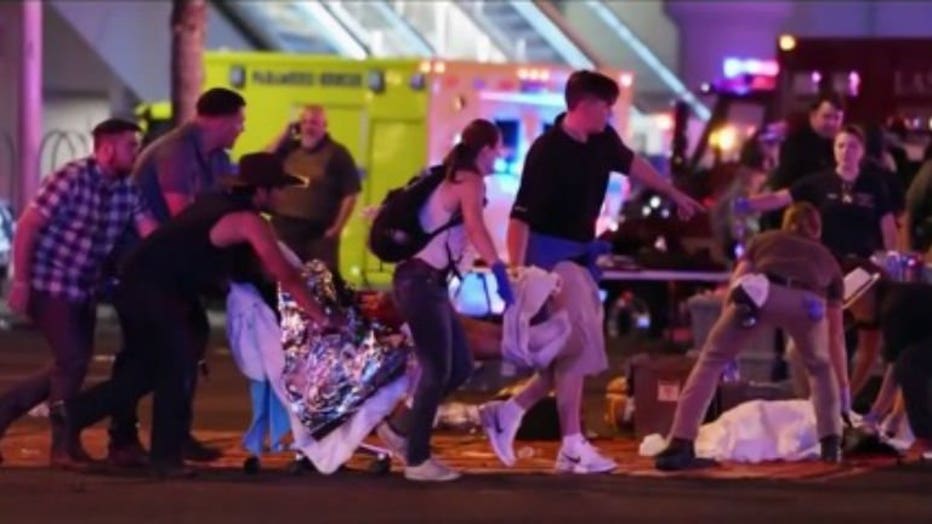 ___

6:56 a.m.

White House press secretary Sarah Huckabee Sanders has singled out a Philadelphia financial planner as a hero during Sunday night's mass shooting in Las Vegas.

Sanders told reporters Monday that Mike McGarry lay atop younger people at the country music concert targeted by a gunman in a nearby hotel.

McGarry told KYW-TV that he did it because, "I'm 53, they're in their 20s. I lived a decent life so far, I'd rather them live longer than me."

McGarry didn't realize he'd been praised nationally because he was on a flight home when Sanders addressed the media. He says his wife, a registered nurse, was more of a hero than him — putting a tourniquet on one of those wounded.

McGarry says, "We're just trying to help other people. I don't think I did anything spectacular."

___

6:15 a.m.

President Donald Trump is calling the man who killed 59 people and wounded hundreds others at a music festival in Las Vegas a "very, very sick individual."

President Trump spoke to reporters Tuesday as he departed for a trip to hurricane-ravaged Puerto Rico. He called the gunman "demented" and said "we're looking into him very seriously."

President Trump also praised Las Vegas police, saying they had done an "incredible job."

President Trump stressed that the shooting was a tragedy. Asked about gun laws, the president said "we'll be talking about gun laws as time goes by."




___

4:45 a.m.

Headliner Jason Aldean took to social media to speak to fans a day after a gunman opened fire during his set at a country music festival.

Aldean wrote on Instagram that his "heart aches for the victims and their families."

Sixty-four-year-old Stephen Paddock rained bullets down on the tens of thousands of people who were watching Aldean perform. The attack killed 59 and wounded 527.

The country star pleaded for people to stand together and "stop the hate."

Authorities have not yet disclosed a motive for the attack.

___

12:15 a.m.

Hospitals were overflowing with victims of a gunman who fired on a concert from the 32nd floor of a Las Vegas hotel.

Emergency personnel scrambled to deal with the aftermath of a Sunday attack by 64-year-old retired accountant Stephen Paddock that would kill 59 and wound 527.

Doctors say some of the gunshot wounds were so severe they knew they had come from high-powered weapons not usually seen on the street.

Concert-goers described scenes of horror and heroism.

One man grasped the hand of a dying stranger to comfort him as he died, unable to pull himself away despite the danger.

Many carried the wounded to their own cars to drive to the hospital where they waited in lines of ambulances at emergency rooms.