Joint Finance Committee approves plan to give County Executive a say in what happens to struggling schools


MADISON/MILWAUKEE (WITI) -- It was a late night at the Capitol Tuesday, May 19th as lawmakers stayed past midnight for a Joint Committee on Finance session. Lawmakers covered a large collection of education proposals, including a controversial plan to give the Milwaukee County Executive a say in what happens to struggling schools in Milwaukee.

As midnight approached in Madison, lawmakers to serve on the Joint Committee on Finance, the state's budget-writing committee discussed a plan Republican supporters say would improve the city's underperforming schools.

"We have sat around for decades saying 'something should be done,'" Sen. Alberta Darling (R-River Hills) said.

"Reform is what we need," Rep. Dale Kooyenga (R-Brookfield) said.

"I'm saying 'enough is enough.' We need no more pilots," Sen. Lena Taylor (D-Milwaukee) said.

Democrats say this is an effort to privatize Milwaukee schools at the expense of Milwaukee Public Schools.

The "Opportunity Schools and Partnership Program" was approved by the Joint Finance Committee around 1:30 a.m. Wednesday. It calls for a commissioner appointed by the Milwaukee County Executive. That person would operate independently from the Milwaukee Board of School Directors and would have the authority to assume control of failing MPS schools -- either managing them directly or soliciting offers from charter or private schools.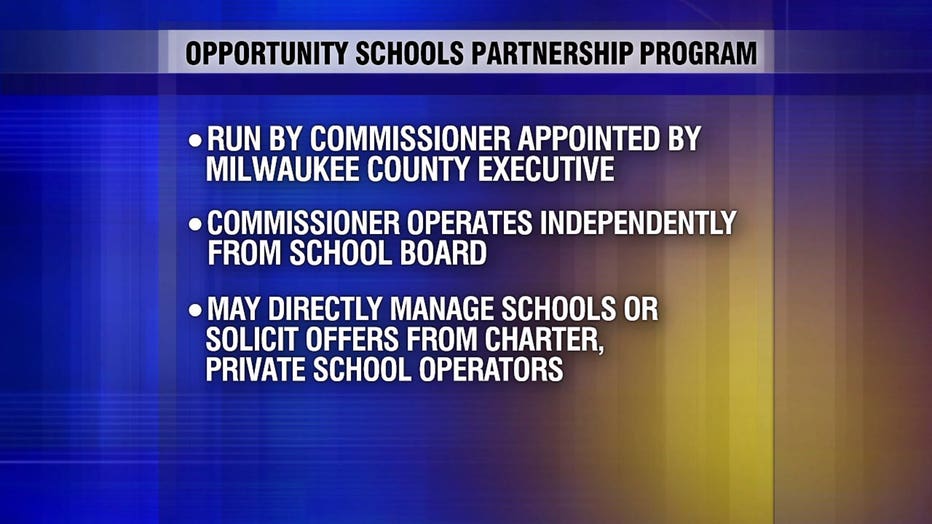 Opportunity Schools and Partnership Program


The program requires three criteria to be met, and Milwaukee is the only district that would immediately quailfy, but Madison and Racine meet two of the three criteria and could be brought into the forced reorganization plan later.

Critics say it's an attack on Milwaukee residents as giving power to an appointed commissioner weakens the influence of an elected school board.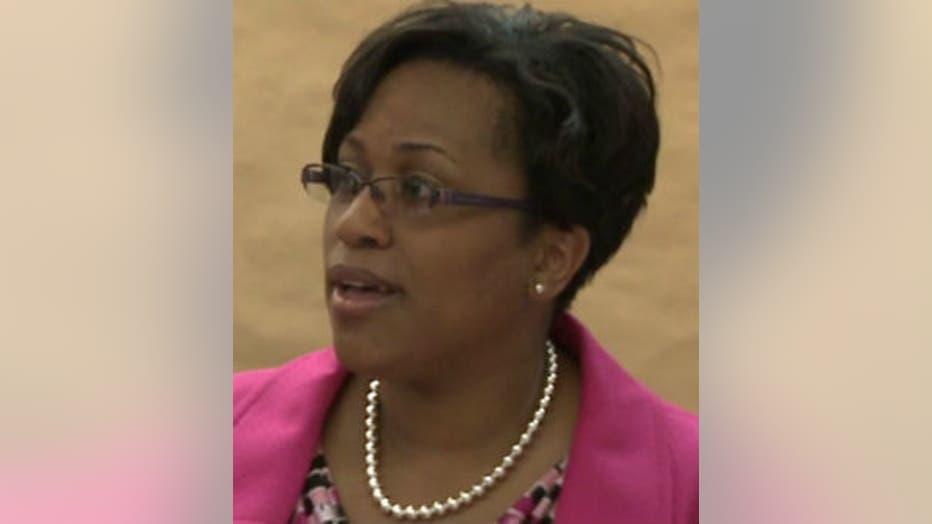 Darienne Driver, MPS Superintendent


They add Milwaukee Public Schools Superintendent Darienne Driver, who has been on the job for less than a year, should have more time to implement reform on her own.

"We have a good superintendent. Let`s wrap around her and let`s give what`s needed in order for it to work," Sen. Taylor said.

Republicans say MPS had plenty of time to enact meaningful reform.

"They just want the status quo. They want to study the issue. They want to have more conversations. I`m tired of sitting, and theoretical. We need to just execute. Do it!" Rep. Kooyenga said.

Democrats say if the GOP wants to act now, it should address the poverty that leads to struggles in the classroom.

"These new, shiny schemes are not gonna solve the problem because you`re not getting at the root of it," Rep. Chris Taylor (D-Madison) said.

The Milwaukee Board of School Directors will hold a special meeting Thursday, May 21st to vote on a plan MPS officials believe would fix the problems without state intervention. It would give the superintendent power to take over failing schools -- even the power to turn them into charter schools.

The 55 failing MPS schools are as follows:

ELEMENTARY


ELEMENTARY/SECONDARY COMBINED


MIDDLE SCHOOLS


HIGH SCHOOLS


Milwaukee Board of School Directors President Dr. Michael Bonds and Milwaukee Public Schools Superintendent Dr. Darienne Driver issued the following statement regarding Joint Finance Committee action on the state budget:

"Over the past week, many Milwaukee community members have expressed concern about the plan to create a 'turnaround district' by carving out some of the lowest performing schools in MPS. They were right to be uneasy.

The plan passed by the Joint Finance Committee undermines the promise of public education across Wisconsin. It increases the number of schools with no accountability to taxpayers, making true transparency more difficult.

The so-called 'turnaround plan' forced on Milwaukee Public Schools is not a plan to improve academic outcomes for students; its focus is on finding ways to put public school buildings into the hands of charter and voucher schools. It will not improve achievement - these plans have not in other communities - and will further fracture and disrupt Milwaukee's educational ecosystem. This plan targets struggling schools rather than seeking ways to support them.

MPS repeatedly met with legislators in a sincere effort to reach agreement that would have avoided the chaos this plan would cause. We shared on numerous occasions the success we are seeing and our plans to further improve student achievement. It is unfortunate the legislature did not apparently consider these factors.

We will remain focused on what matters most - continuing our efforts and reforms that are improving achievement for students in Milwaukee Public Schools. We are appreciative of our students, families and staff who have remained dedicated to making sure our young people continue their hard work through the end of the school year. We also want to thank the many partners who support our efforts to improve the lives and education of young people and who have pledged their continued support.

To all of those who care about public education, please continue to voice your concern. We look forward to our continued efforts to raise expectations and outcomes for our students."

Meanwhile, in Wauwatosa Wednesday, parents and students with the Wauwatosa School District rallied against the proposed budget for public schools.

Those who took part in the demonstration are part of the "Support Our Schools" group.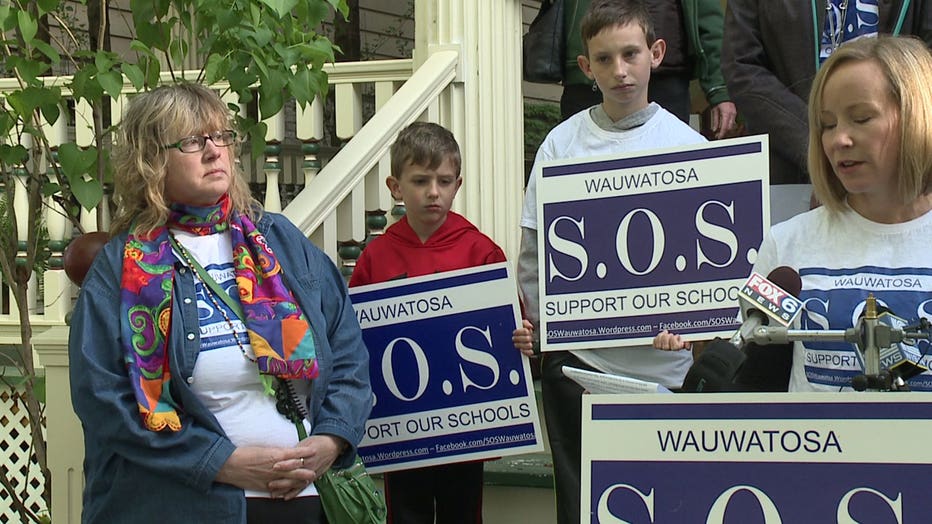 They are upset that money intended for public schools is being used to expand voucher and charter school programs. They claim the state isn't able to adequately support public schools, so it shouldn't be looking to spend money on expansions to other education programs.