Jill Stein announces Wisconsin presidential election recount funded; now fundraising for MI, PA
A recount of the November 8th presidential election results is more likely to happen in Wisconsin -- after Green Party candidate Jill Stein announced enough money has been raised to fund a recount in Wisconsin ahead of a Friday, November 25th deadline.

The below message was posted to Stein's website Thursday:




Because of you, the first recount is funded. We have two more to go!


Congratulations on meeting the recount costs for Wisconsin! Raising money to pay for the first round so quickly is a miraculous feat and a tribute to the power of grassroots organizing.

Now that we have completed funding Wisconsin's recount (which is due on Friday), we have begun to tackle the funding for Pennsylvania's recount (due Monday). Then we will focus on raising funds for Michigan's recount (due Wednesday). The breakdown of these costs is described below.

On November 23, the Stein/Baraka Green Party Campaign launched an effort to ensure the integrity of our elections. With your help, we are raising money to demand recounts in these three states where the data suggests a significant need to verify machine-counted vote totals.

In true grassroots fashion, we're turning to you, the people, and not big-money corporate donors to make this happen.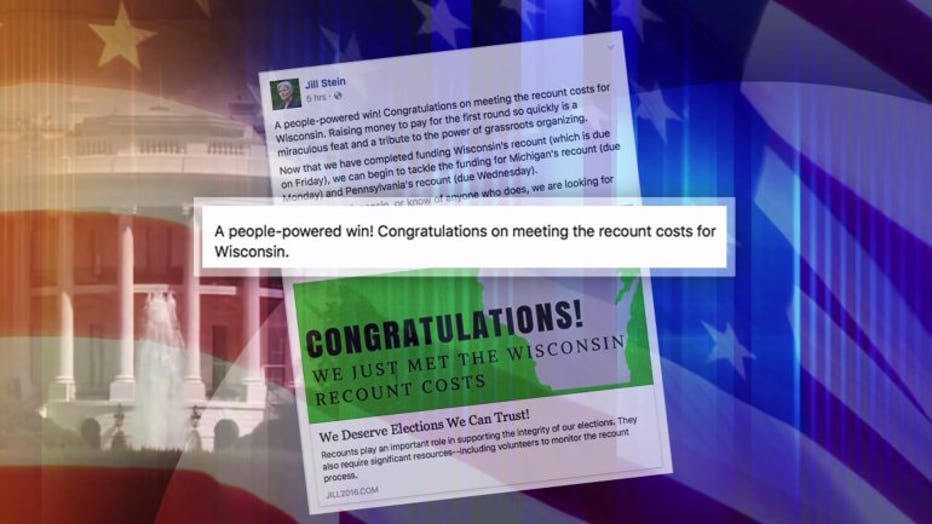 Officials with the Wisconsin Election Commission said Wednesday they expect Stein and the Green Party to file a petition Friday, November 25th for a recount -- and clerks across the state were being notified.

Stein and others are seeking an audit and recount of the voting results in Wisconsin, Michigan, Pennsylvania following reports that voting security experts alerted Hillary Clinton's campaign to the possibility of hacks in key counties in those states.

Stein launched her effort after computer scientists reportedly told Clinton campaign officials that the election may have indeed been rigged -- in President-elect Trump's favor.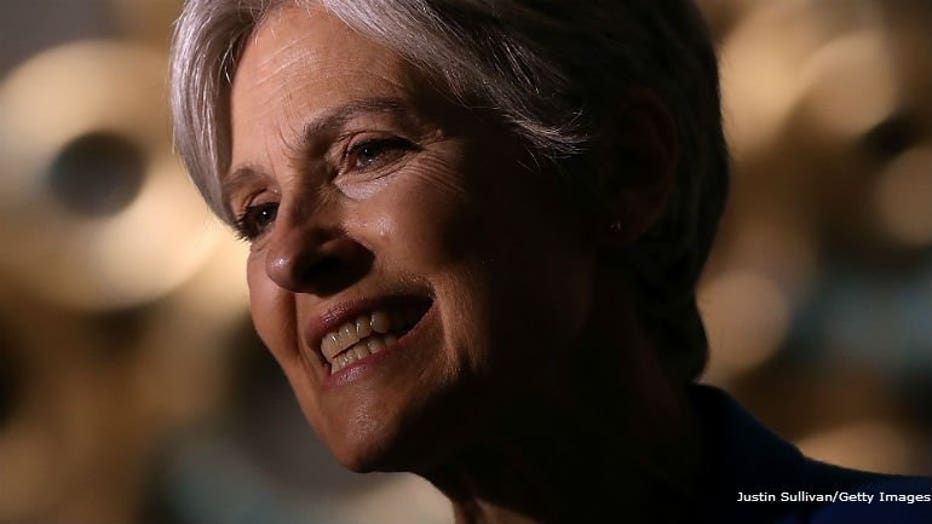 NEW YORK, NY - OCTOBER 12: Green party nominee Jill Stein speaks to members of the press before the start of a campaign rally at the Hostos Center for the Arts & Culture on October 12, 2016 in New York City. Jill Stein and her running mate Ajamu


The group of voting scientists -- including University of Michigan's J. Alex Halderman and voting rights activist John Bonifaz -- alerted the campaign that Clinton's tallies fell 7% shy of expectations in counties that used electronic voting machines.

To give you an idea of how the recounts COULD change the election -- here's the Electoral College as it stands:

The magic number is 270.

President-elect Donald Trump has 290 votes.

Hillary Clinton has 232 votes

Michigan remains too close to call.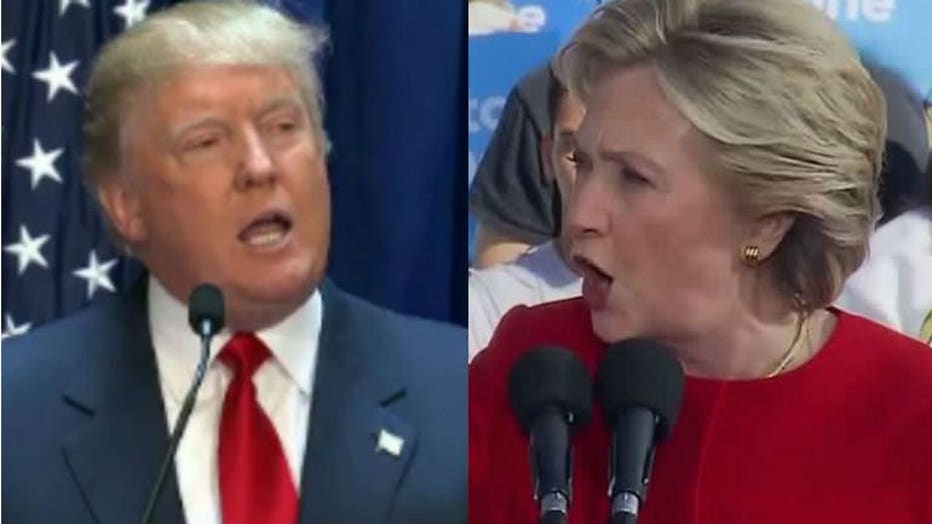 Donald Trump, Hillary Clinton


"I`m thankful on Thanksgiving that this happening because this is what democracy looks like. This is us finding out and knowing we can trust our vote. I don't know what the result will be. I'm more interested in election integrity," Holly Mosher, who is in support of a recount said Thursday.

"I just think it's a lot of wasted motion and energy," Van Mobley, who is against a recount said.

Mobley, the Thiensville village president was an early supporter of President-elect Donald Trump. He said even after an error in Outagamie County, Mr. Trump's margin of 22,000 votes in Wisconsin will hold -- adding that a recount will keep his clerks from the jobs they'd normally be doing this time of year.

"We only have three people in the office. One of things we have, for example -- there`s always development proposals and projects that we work on," Mobley said.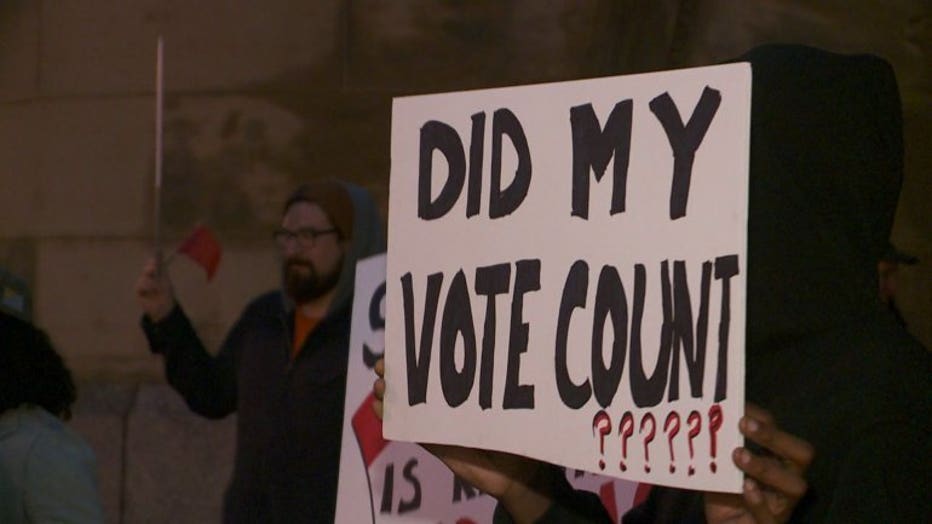 Officials with the Wisconsin Elections Commission have notified all 72 county clerks to prepare for a recount.

Mosher said she's already looking ahead to the next step.

"Now we need observers. We need 1,000 people in Wisconsin," Mosher said.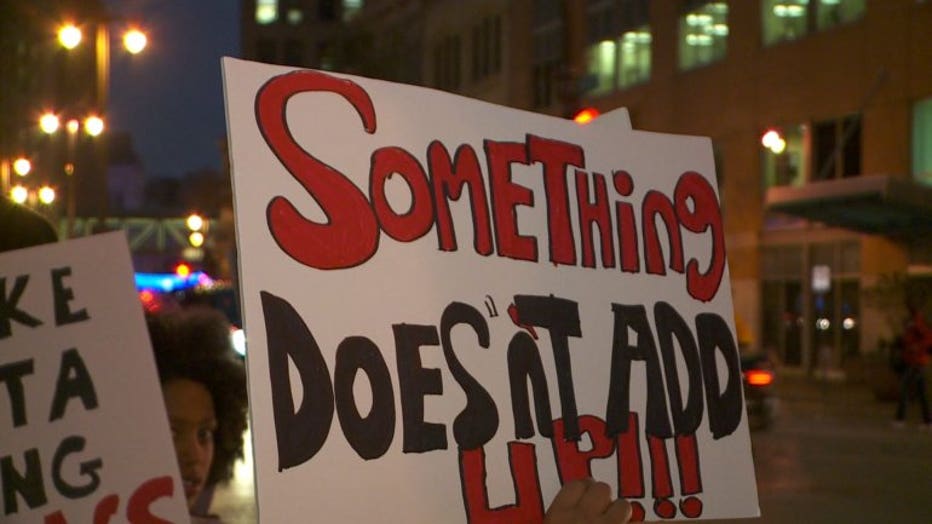 The Stein campaign is now asking for donations to cover recount costs in Michigan and Pennsylvania.

The last statewide recount in Wisconsin was in 2011 for the Prosser-Kloppenburg Supreme Court race.