Janesville police: 15-year-old girl groped, pepper sprayed during Donald Trump rally


JANESVILLE -- Hundreds of people gathered at the Janesville Conference Center on Tuesday afternoon, March 29th for a chance to hear Republican presidential candidate Donald Trump speak.

The Janesville stop was the first Wisconsin stop for Trump. But he has indicated it would not be his last.

Trump plans to campaign in the Dairy State through the week -- leading up to the April 5th presidential primary.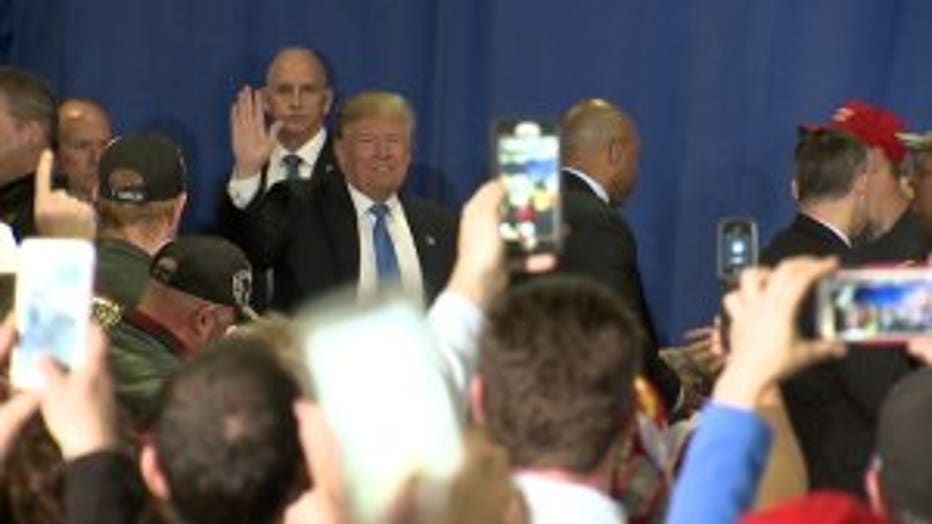 Donald Trump arrives at rally in Janesville


Trump was an hour late for his event in Janesville.

Prior to showing up at the conference center, Trump spoke briefly to reporters aboard his airplane. He spoke about everything from jobs in Wisconsin to Scott Walker -- hinting he would talk about the state's numbers and how Wisconsin is failing.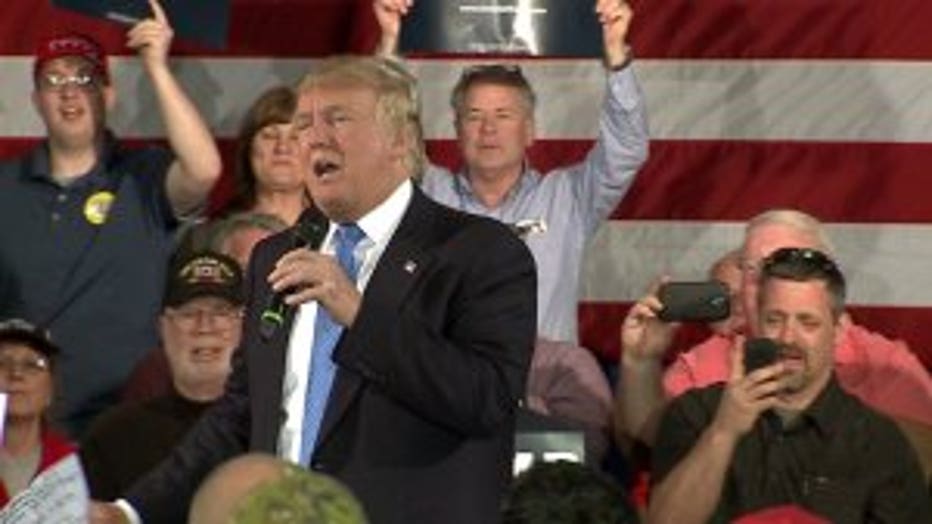 Donald Trump rally in Janesville


"So Walker came out today. I wrote down notes about Wisconsin. Now, I wouldn't have done this, but he endorsed Cruz. What am I going to do? Say he's doing a great job? He's not doing a great job," Trump said.

Police said 1,000 people were inside for the rally. Many supporters with tickets were left outside when the room filled up. They were joined by protesters, and among the crowds, some chaos.

Janesville police said a 15-year-old girl was groped and pepper sprayed.

Police said there was photo evidence of the suspects.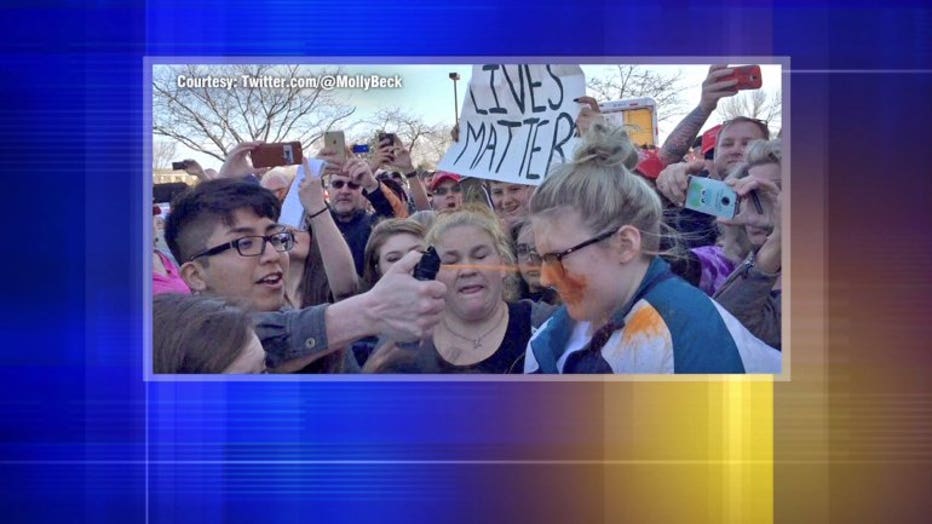 15-year-old girl groped and pepper sprayed at Donald Trump rally


Trump was dealing with his own controversy Tuesday. His campaign manager, Corey Lewandowski was arrested and charged with battery for an incident involving a reporter at an event in Florida on March 8th. The incident was caught on camera.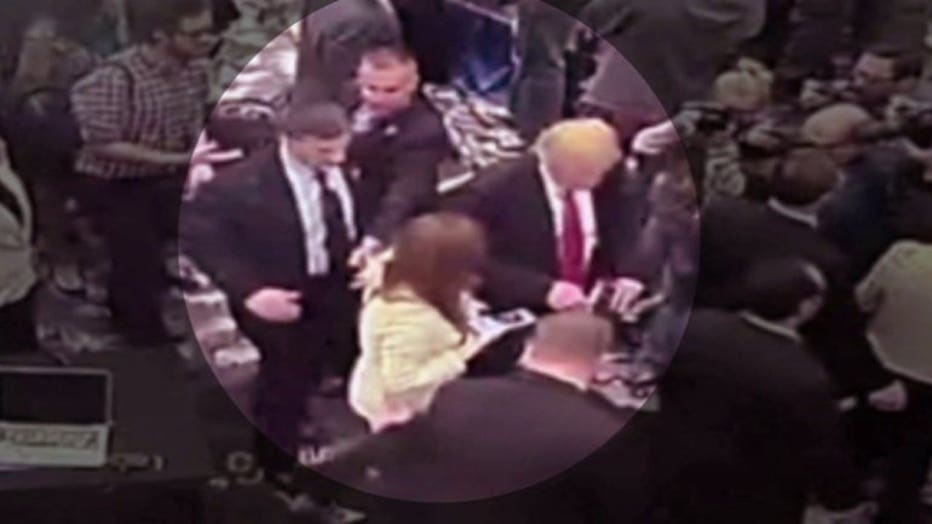 Incident involving Trump campaign manager Corey Lewandowski and reporter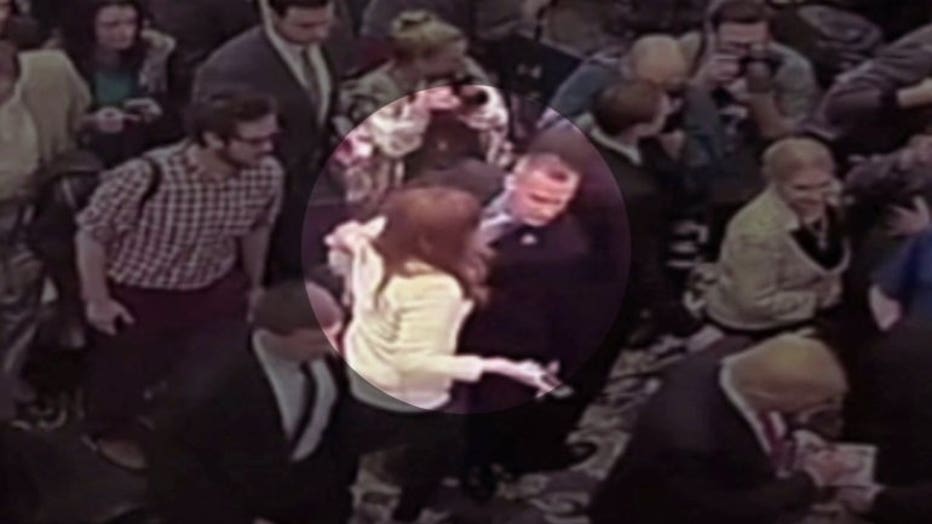 Incident involving Trump campaign manager Corey Lewandowski and reporter


The investigating officer described the investigation of the incident:

"On March 12, 2016, I obtained video footage from Trump Security at Trump National in Jupiter. I specifically obtained vide from the ballroom the night and time in question. The video parallels what Fields told me, in that Trump was walking towards the exit of the ballroom, taking questions, and signing autographs. Fields is seen on video, holding her phone up to Trump, appearing to ask him a question. Trump had looked in her direction, and then Lewandowski extended his left arm out, stepping between Trump and another male subject believed to be U.S. Secret Service. After extending his arm out, Lewandowski appeared to reach for Field's left arm with his left hand, allowing him to get closer to Fields.

Lewandowski then grabbed Fields left arm with his right hand, causing her arm to turn and step back. This motion cleared a path for Lewandowski to walk past Fields, allowing him to "catch up" and get closer to Trump, who was walking during this entire incident.

Based on the above-described investigation, probably cause exists to charge Corey Lewandowski, DOB 9/18/1973, with (1) count of Simple Battery… in that he did intentionally touch Michelle Fields, DOB 01/10/1988, against the will of Michelle Fields."

Donald Trump and his campaign issued a statement on Tuesday:

"Mr. Lewandowski is absolutely innocent of this charge. He will enter a plea of not guilty and looks forward to his day in court. He is completely confident that he will be exonerated."

On stage in Janesville Tuesday, Trump mocked the reporter's statement to police.

"Campaign managers aren't supposed to forcefully throw reporters to the ground -- except she never went to the ground. She never even -- she never even flinched!" Trump said.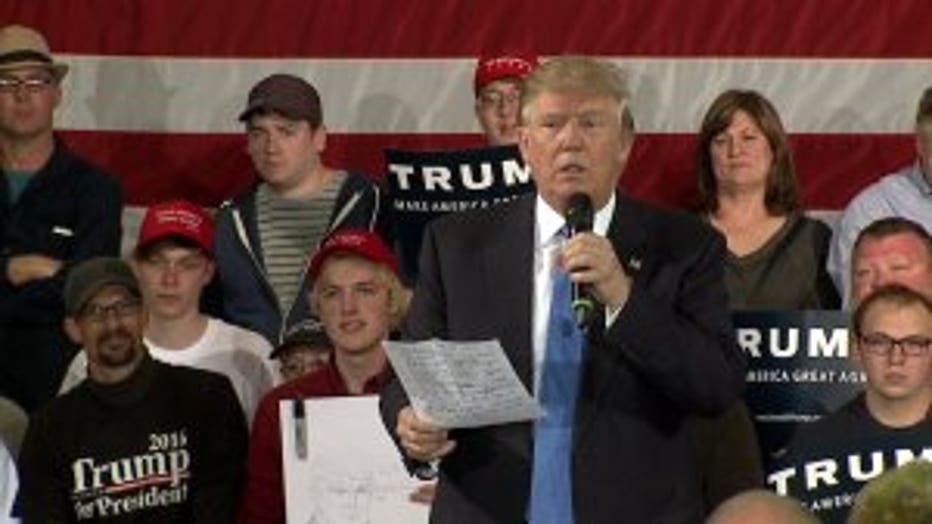 Donald Trump rally in Janesville


Trump said he will not fire his campaign manager.

"He's got a beautiful wife and children. I'm not going to destroy a man for that," Trump said.

Trump on Tuesday night was in Milwaukee -- taking part in a CNN GOP town hall event along with Ted Cruz and John Kasich.

Trump has rallies scheduled in De Pere and Appleton Wednesday, along with an MSNBC town hall event in Green Bay.

CLICK HERE for a complete list of presidential campaign events in the Milwaukee area ahead of April 5th.