'It's totaled:' 4 vehicles damaged in hit-and-run crash in Racine; no injuries


RACINE -- Multiple vehicles were damaged in a hit-and-run crash in Racine early on Thanksgiving morning, Thursday, Nov. 28. It made for a rude awakening on the holiday for residents living near DeKoven Avenue and Grand Avenue, but thankfully, no one was hurt.

FOX6 News found car parts and broken glass on the road and grass as a result of the crash.

Neighbors estimated the driver who caused the crash was going up to three times the speed limit of 25 miles per hour.

"Bad," said Trever Johnson, whose family vehicle was struck. "Like, really bad. Yeah, it's totaled."

PHOTO GALLERY



Johnson's sister's vehicle was parked on the corner of Center Street and DeKoven Avenue around 4 a.m. when a driver headed east crashed into the back of it.

"And it pushed it all the way right there, so basically 10 to 15 feet, into the other two cars," said Johnson.

The impact was so intense, Johnson said the striking vehicle ended up underneath her vehicle.

"Either they fell asleep, drunk, or they were racing because there's a stop sign a block away," said Johnson. "The only way you're going to be going that fast is if you took off from that stop sign racing someone, or if you fell asleep and went straight through it, and had your foot on the gas."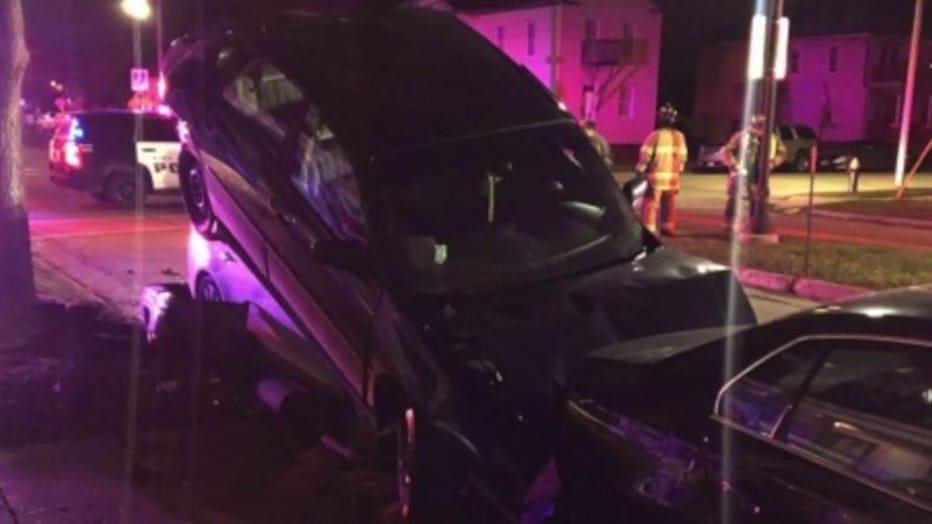 Hit-and-run crash on DeKoven Avenue near Grand Avenue in Racine


Other neighbors said the driver fled the scene before police arrived, leaving his vehicle there, along with a major mess for neighbors to clean up.

"My sister is a little upset because she has work and school, so tomorrow, they're going to see if they can get her another car," said Johnson.

While it wouldn't be the Thanksgiving they expected, Johnson said he and his family were determined not to let it ruin their plans.

"Laugh about it, I guess, because nobody got hurt," said Johnson. "If somebody was in the car, they would be very, very hurt."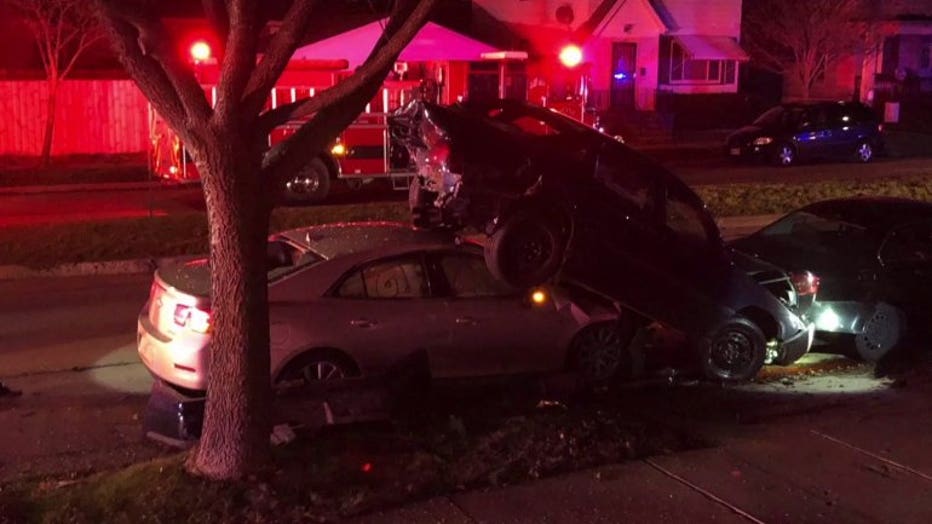 Hit-and-run crash on DeKoven Avenue near Grand Avenue in Racine


Police didn't say Thursday whether the striking driver had been located.

In all, neighbors said four vehicles were damaged.