It's been a journey, but everything's in place to make chapel at airport a reality, except the funding


MILWAUKEE -- General Mitchell International Airport does not have one -- and there is a group of people who want to change that. It is not a unique effort. According to Pew Research Center, of the 30 large-hub airports in the U.S., 60% have a dedicated chapel or prayer room. There are five times as many worldwide.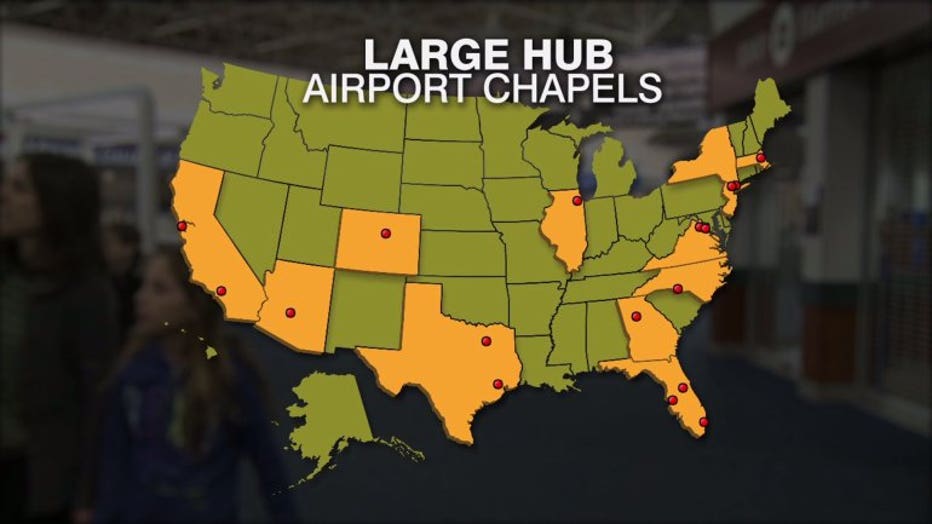 Large hub airport chapels


It was Suzanne McKinney's vision five years ago, and it still is. Now, she's a little closer to realizing that dream -- a chapel at General Mitchell International Airport.

It has been a journey involving getting approval for the chapel from the Milwaukee County Board, developing the design of the chapel, and raising money for it. Plunkett Raysich Architects have drawn up the design. The contractor is in place.

McKinney and volunteers were able to preserve some of the items from St. Stephen Catholic Church, which was once located near the airport.

"I knew St. Stephen Parish was going to be demolished, and I thought 'what better way of using some of their items in a chapel at the airport?'" Suzanne McKinney said.



Most of the time when you go to the airport, you are focused. You're getting yourself to the airport, you're getting checked in, you're getting on the plane, you're getting to your destination. It can be stressful. For example, there's been a family crisis. The flight is delayed. The flight is cancelled and you need to just relax, be still, meditate and pray.

Agrusa, chairwoman of the Interfaith Airport Meditation Room of Milwaukee says a chapel is essential for travelers who are stressed, dealing with a family crisis, or in need of a place to meditate and pray. It could also officer counseling and solace in the unfortunate event of a flight disaster.

"And the other thing that we're learning is workers within the airport community really make it their own," Ruth Agrusa said.

The chapel will have chaplains who will be familiar faces within the airport.

Agrusa says they'll also have perimeters.

"We do have policies that the airport has given us that we have to work within. We can't go up to somebody and say 'oh, if you don't believe...we're going to hit you over the head, you know? Non- proselytizing. But if people ask questions, if they are curious, we are allowed to answer their questions and see if we can give them some help," Agrusa said.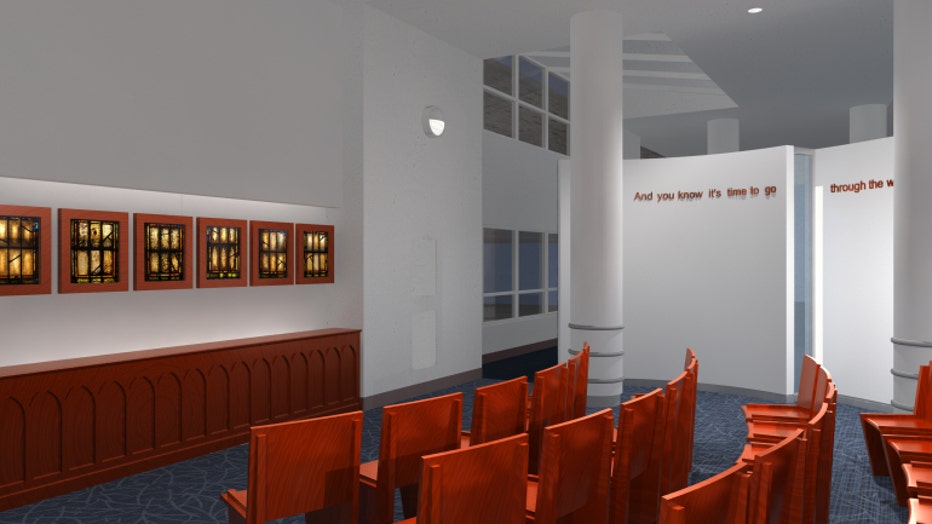 General Mitchell International Airport chapel interior rendering


Within the design are remnant pieces from St. Stevens Catholic Church. They include some stain glass windows and wooden panels.

"We're going to cover those windows with a dry wall partition -- but we're going to backlight these stain glassed panels," Michael Brush with Plunkett Raysich Architects said.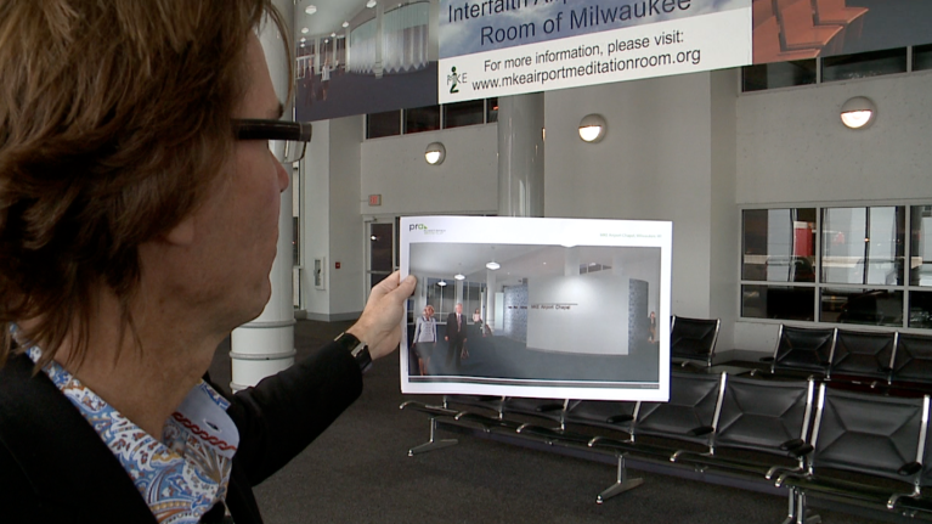 General Mitchell International Airport chapel entrance rendering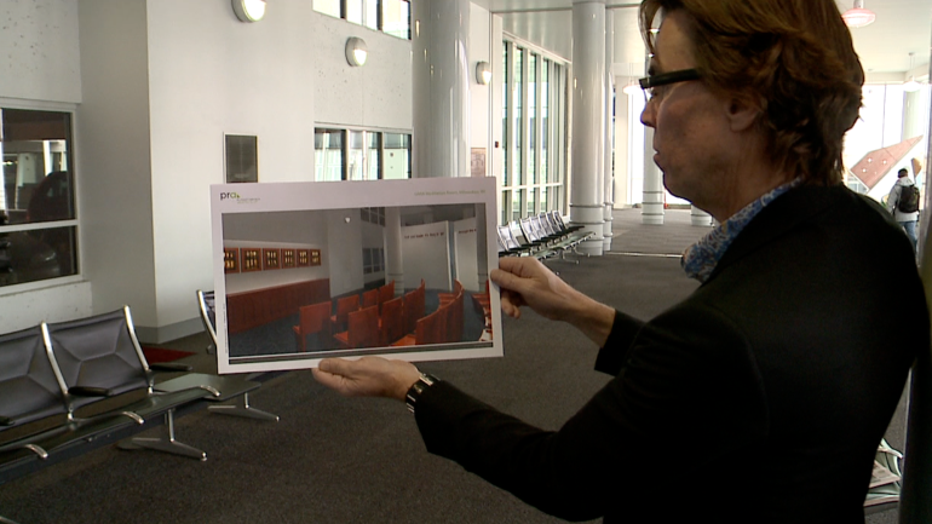 General Mitchell International Airport chapel interior rendering


There is one vital piece that must be in place before the chapel is built: funding.

Only two-thirds of the approximately $130,000 needed has been raised.

The group hopes the rest of the $48,000 will be donated in 2016.

They are giving in a grand effort before this year ends though. A holiday concert fundraiser featuring the Holy Family Parish Choir of Whitefish Bay will take place  Sunday, December 6th, 3:30 at the Italian Community Center.

For ticket information contact Ruth Agrusa at 414-332-3407.

CLICK HERE to find more information on ways you can help the chapel efforts.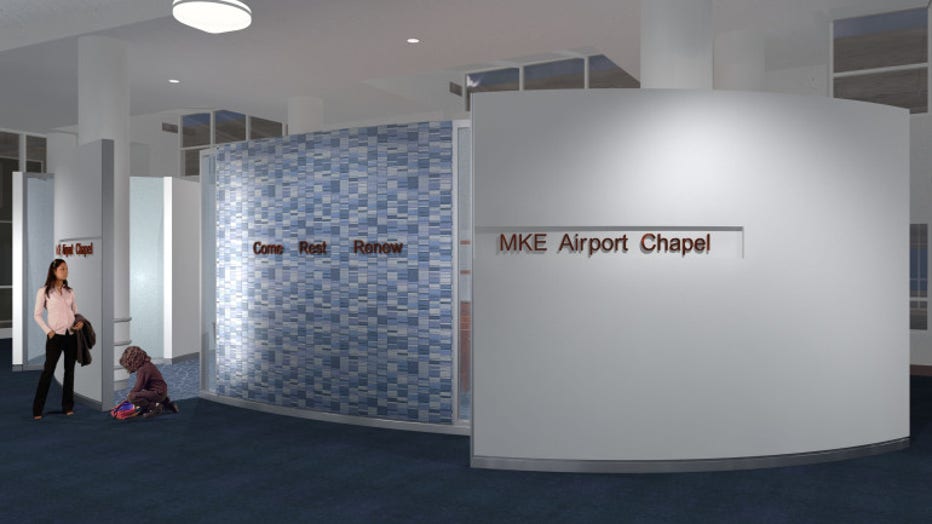 General Mitchell International Airport chapel entrance rendering