"It's a hard time:" Tuesday marks two-year anniversary of Sikh Temple shooting


OAK CREEK (WITI) --  Two years ago, a gunman opened fire inside the Sikh Temple in Oak Creek. When all was said and done, six people had lost their lives, and four others were injured — including Oak Creek Police Lieutenant Brian Murphy — the first officer on scene.

A moment of silence began at 6 p.m. Tuesday, August 5th, inside the Sikh Temple. It was followed by a Remembrance Ceremony.

On Wednesday, August 6th, LT. Brian Murphy and Officer Sam Lenda will receive congressional honors for their acts during the shooting.

Other events to honor the victims took place throughout Oak Creek all weekend long.

On Friday, August 1st, members of the Sikh Temple began four days of memorials — reciting the Sikh Holy Book for 48 hours.

On Saturday, members of the Sikh community took part in a memorial run/walk — the second "Chardhi Kala 6K." The Punjabi name refers to a state of constant optimism, which reflects an acceptance of God's will.

Sunday, August 3rd marked the end of 48 hours of continuous prayer and meditation at the Sikh Temple in Oak Creek. Worshipers and supporters have come from across the country to join in remembering the tragic day two years ago.

"We pray for the souls. We always think that they are up over there giving us blessings and they are always with us," said Rahul Dubey, the godson of one of the shooting victims.

While the anniversary of the mass shooting is an opportunity to come together, it's also a day when six families remember their loved ones — gunned down at the hands of a white supremacist living in Cudahy.

"It's a hard time. It's two years ago, but I miss my dad a lot," Palmeet Kaur Rathor said.

Rathor was inside the Sikh Temple as Wade Michael Page entered — killing six and wounding four, before taking his own life.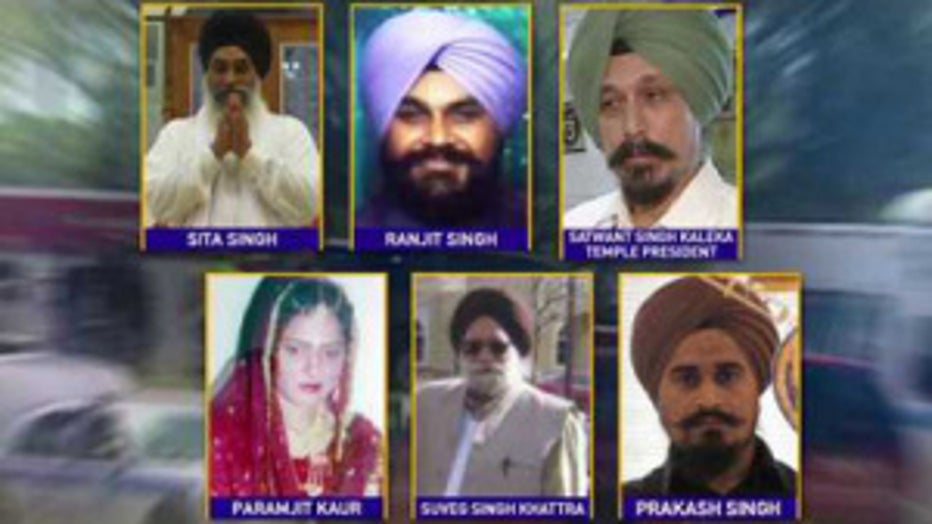 Rathor's father, Prakash Singh was one of the six killed.

"We just went to the basement and then I saw my dad. He got shot over here. We were hiding in the bathroom," Rathor said.

Officials believe Page thought he was targeting Muslims — though his motive for the shooting may likely never be known.

"It's harder to say whether we're stronger or weaker than the day before that happened, but I think two years later we're looking at peace differently, we're looking at forgiveness. I think all of us as a community are kind of looking at each other differently," said Amardeep Kaleka, whose father was killed in the shooting.

Over the past two years, the Oak Creek Sikhs have held vigils for others affected by mass shootings including the victims of Sandy Hook, Newtown and Boston.

The temple itself has also been altered since the shooting. There are now seven gold domes atop the building -- six to honor those killed in the tragedy, and one to honor the community as a whole.

CLICK HERE to view a collection of stories on the Sikh Temple shooting over the past two years, via FOX6Now.com.