"It was flames from top to bottom:" Fire damages two homes near 9th & Clarke


MILWAUKEE -- Several fire departments were called out to battle a house fire near 9th and Clarke Wednesday morning, July 22nd. The call came in shortly before 5 a.m. A vacant home was on fire, and flames spread to a neighboring home.

When crews arrived on scene, they encountered heavy smoke and flames coming from a vacant home.

"It was flames from top to bottom," said witness Denise Hopkins.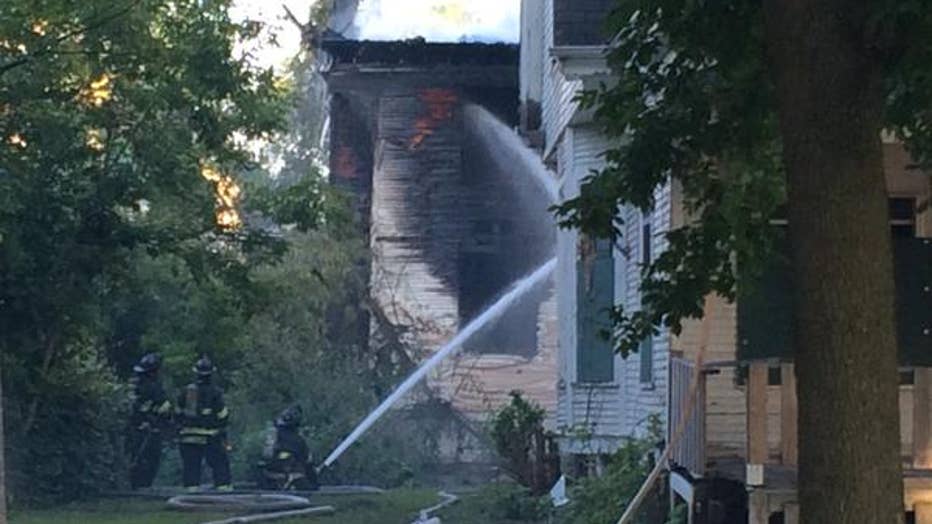 Authorities say the fire spread to a nearby home, causing major damage. The American Red Cross is helping two adults and one child who live in that home.

Officials say the fire was so heavy in the vacant home that firefighters weren't able to search it.

"It's an extremely trying situation to put firefighters in," said Deputy Fire Chief Aaron Lipski.

Another challenge, dangerous electrical wires.

"We had transformers explode and wires falling down in the yards. There's metal fences all around the place," said Deputy Fire Chief Aaron Lipski.

Fire officials say they were able to bring the fire under control in less than an hour. No injuries were reported.

The vacant home is a total loss. The State Fire Marshal is looking into the cause of the fire.



This is the second vacant home to catch fire overnight --and the third one this week. Firefighters were also called out to a vacant house fire near 12th and Rogers early Wednesday morning. There is no word on what started the fire or how much damage was done.

Early Monday morning, July 20th fire crews were also called to a vacant home near 4th and Melvina. The cause of that fire is unknown, however, officials are calling it suspicious at this time.