In Madison & Wausau, Bernie Sanders tells supporters he's "strongest Democratic candidate"
MADISON -- Democratic presidential candidate Bernie Sanders hosted a rally in Madison Sunday evening, April 3rd at the Kohl Center, with the Badger State's presidential primary set for April 5th. The crowd on hand at the Kohl Center ended up being smaller than crowds at prior Sanders' rallies in Madison, but it was before this crowd that Sanders appealed to Wisconsin voters with days to go before the election.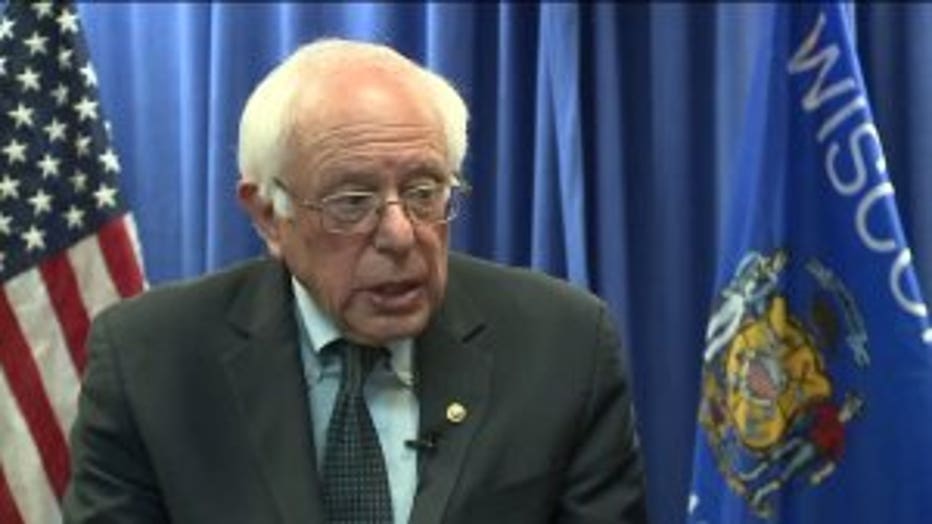 Bernie Sanders one-on-one with FOX6's A.J. Bayatpour
Before addressing supporters Sunday evening at the Kohl Center, Sanders repeated that he's the outsider in the Democratic primary. "It is too late, in my view, for establishment politics or establishment economics," Sanders said. Citing the latest Marquette University Law School poll, released on March 30th, which found Sanders is leading Clinton 49 percent to 45 percent, with 6 percent undecided -- and also showed Sanders performing better than Clinton against each remaining Republican candidate, including the front-runner, Sanders noted that he is faring better that Clinton in head-to-head match-ups with Republican candidates. Against Donald Trump, Sanders leads 54 percent to 35 percent. Clinton's edge over Trump is 47 percent to 37 percent among Wisconsin voters polled between March 24-28. Against Cruz, Sanders leads 52 percent to 39 percent; Clinton and Cruz are tied in that potential match-up, 44 percent apiece.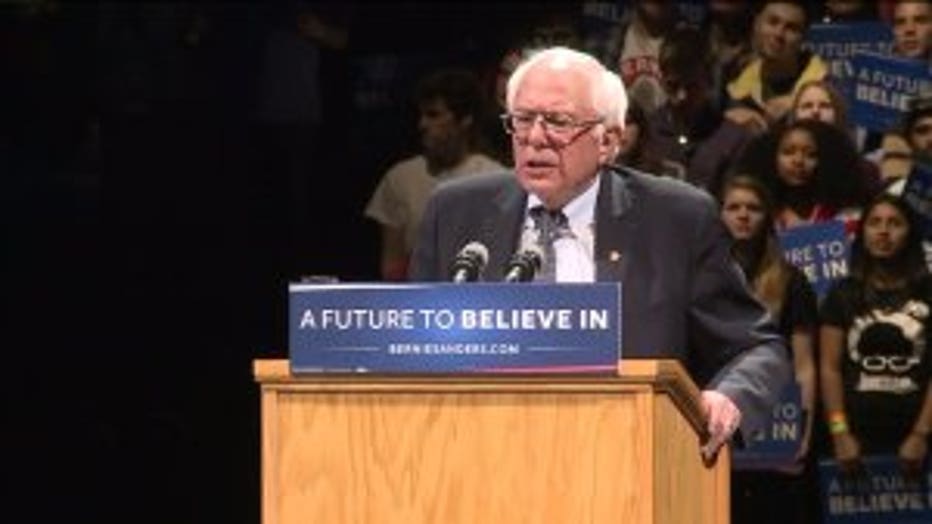 Bernie Sanders rally at the Kohl Center in Madison
"Because I can appeal to independents, in addition to Democrats, I honestly believe I am the strongest candidate," Sanders said. During his speech, Sanders aimed at a familiar target long removed from the presidential race. "So Governor Walker wants to cut funding for education and he wants to give tax breaks to large corporations. Well -- my view is exactly the opposite," Sanders said. While those in the stands rallied behind Sanders, the turnout Sunday evening was half the size it was during the two previous Sanders rallies in Madison. Sanders said that may have been a result of voter fatigue.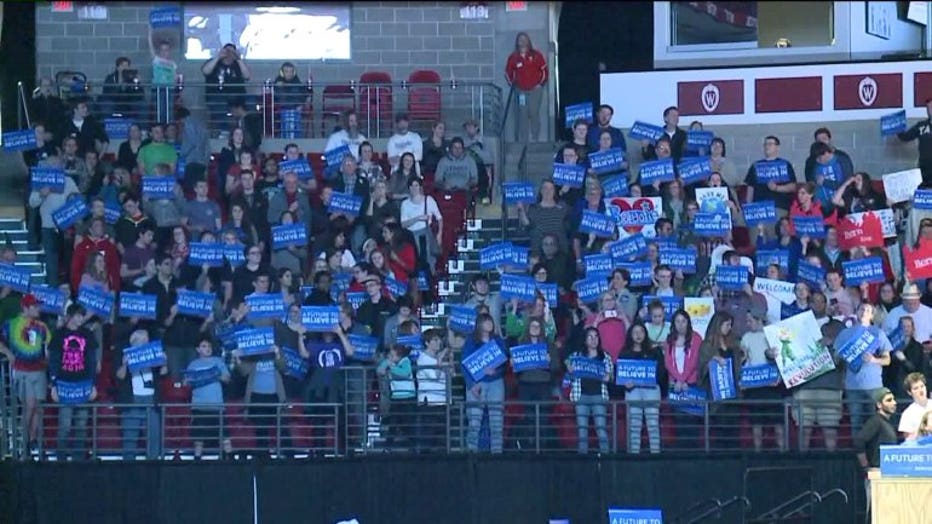 Bernie Sanders rally at the Kohl Center in Madison
"We`ve got a pretty good turnout. We`re gonna have about 4,000 people, which is a lot of people. Probably, the people in Wisconsin have been deluged with candidates and they`ll probably be happy to see this thing end on Tuesday," Sanders said. UW-Madison Police reported that, per the turnstile count, the attendance Sunday night was about 4,400. During a one-on-one interview, we asked Sanders about crime in Milwaukee as the Vermont Senator has made criminal justice reform part of his platform. Specifically, we asked about last year's increase in homicides and a rise in reported carjackings over the past couple of years. "I think we need to make sure that we have well-paid, well-trained police officers but that means police officers, themselves, have to respect the law," Sanders said. Sanders said he believes inner-city crime could be substantially reduced with a large investment in youth employment initiatives. "I will do my best to invest in jobs, in education," Sanders said, "Not more jails and incarceration."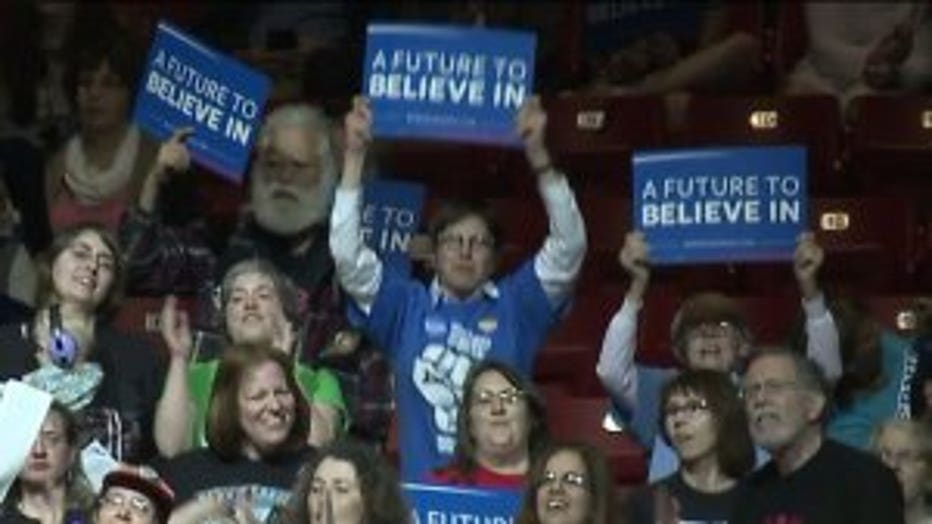 Bernie Sanders rally at the Kohl Center in Madison
In a building that has seen its share of comebacks, Sanders called on those inside the Kohl Center and across the state to help him achieve victory on April 5th. "We have a path to victory and that path goes right through Wisconsin," Sanders said.
Earlier Sunday, Sanders was in Wausau, for a rally at The Grand Theater.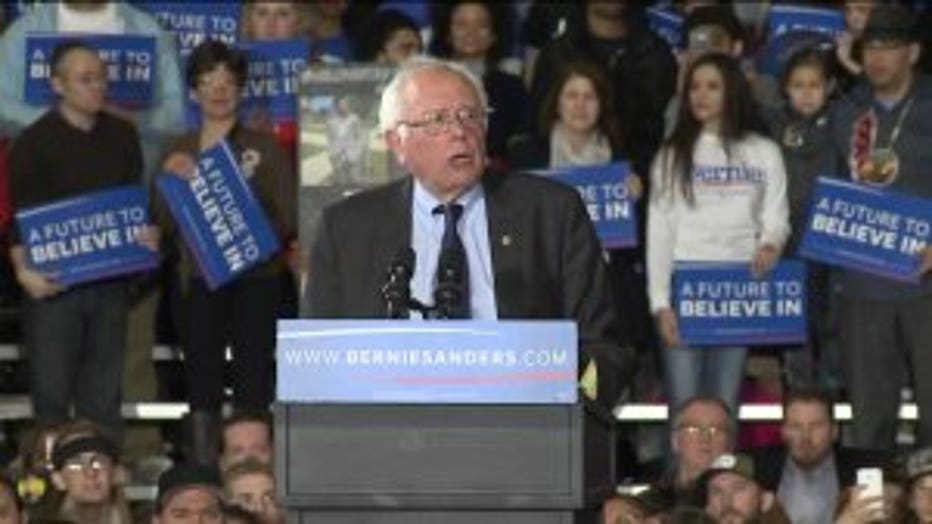 Wisconsin is not a "winner take all" state, so for Sanders, the margin of victory is very important. As he has campaigned throughout the state, Sanders has said he is more likely than Hillary Clinton to beat the Republican presidential nominee in November. "If Democrats want to make sure that Donald Trump does not end up in the White House, which would be an unmitigated disaster for our country, you`re looking at the strongest Democratic candidate," Sanders said.
On Monday, Sanders will be in Green Bay for a "Get Out The Vote" rally in Green Bay at the KI Convention Center at noon. Later Monday, he'll host a rally in Milwaukee at the BMO Harris Bradley Center. That event begins at 4:00 p.m.