"I'm so excited to be in Milwaukee:" First lady Michelle Obama campaigns for Mary Burke


MILWAUKEE (WITI/AP) — Monday, September 29th was a big day for politics in Wisconsin. Folks lined up in downtown Milwaukee to hear first lady Michelle Obama speak. The first lady was in town campaigning for Democratic candidate for governor Mary Burke. She spoke to a huge crowd at the Wisconsin Center in downtown Milwaukee.

The first lady was campaigning in Milwaukee for Mary Burke, the first woman ever to be nominated by a major party for governor in Wisconsin. Right now, Burke is locked in a tight race with Republican Governor Scott Walker.

"I'm so excited to be in Milwaukee today," Michelle Obama said.

"She cares about people. She doesn't care about politics," Mary Burke said.

In coming to Milwaukee, the first lady inserted herself into one of the nation's most hotly-contested races for governor.

"This is going to be a tight race, and every single vote is going to matter," Mary Burke said.

President Barack Obama's poll numbers are down -- both in Wisconsin and across the country. But the first lady is perhaps the most popular woman in American politics. A CNN poll taken in May shows the first lady with a 61 percent approval rating.

"When folks ask me whether I still believe everything we said about hope and change back in 2008, I tell them that I believe it more strongly than ever before -- because I`ve seen it with my own eyes," Michelle Obama said.

There's hope some of Michelle Obama's popularity transfers to Mary Burke in the governor's race. But the first lady said it will take more than enthusiasm at a rally. It will take people at the polls.

"Thank you for the work you have already done, but I'm going to ask you to leave it all out on the field.  The future of Wisconsin is at stake and the eyes of the country are on us," Burke said.

"I know we can elect Mary Burke as governor of Wisconsin. Thank you so much. God bless," Michelle Obama said.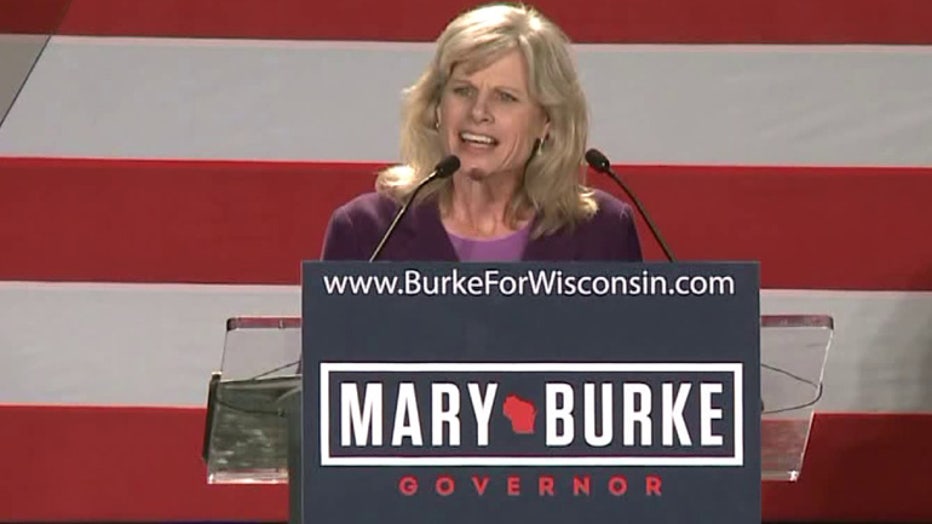 President Barack Obama will be in Wisconsin to campaign for Mary Burke at some point before November 4th.

READ IT: Remarks by Michelle Obama in Milwaukee Monday