'I'm asking for your support:' Gov. Walker lays out case for election to 3rd term in series of tweets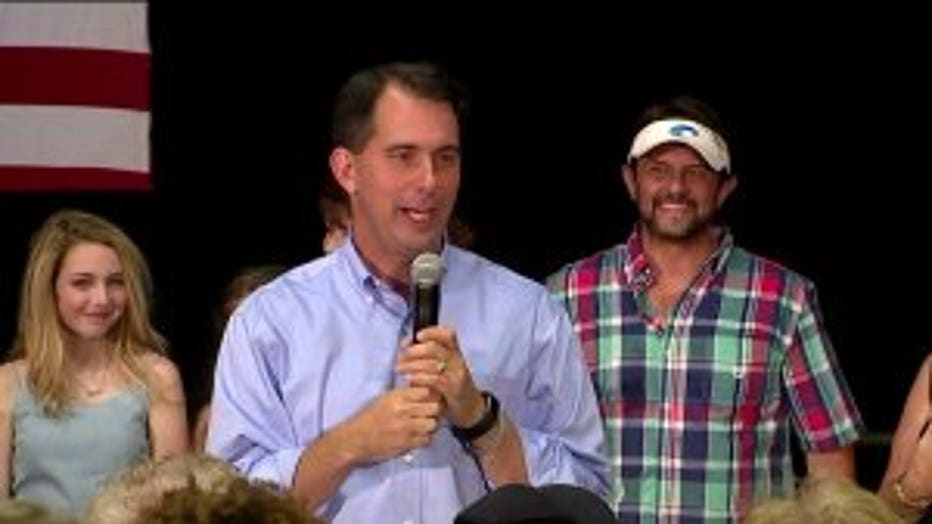 WAUKESHA -- Wisconsin Gov. Scott Walker laid out his case for re-election in a series of tweets while he waited for results from the primary election on Tuesday, Aug. 14.

Walker is seeking a third term in office, after he failed in his 2016 presidential run. Eight Democrats were seeking to challenge him in November.

Walker handily defeated his token opposition, Robert Meyer, who was not actively campaigning. Walker has amassed nearly $5 million and already run more than a dozen television ads as he positions himself for the fall election.

Democrats are optimistic that this year presents their best chance ever to take down Walker. They've scored unexpected election victories in other races this year and polls generally show Republicans to be vulnerable.

In 2012, Walker became the first governor to ever defeat a recall election.

Walker said in Twitter messages posted minutes after polls closed Tuesday that he wants the state to be welcoming to both retirees and Millennials.

He said he will detail his priorities for a third term in the coming days. Walker says those will include investing in education, expanding tax cuts and making health care more affordable.




Walker said Democrats plan to run on a message of what they are against instead of what they support. He noted that unemployment has hit a record low in Wisconsin and more people are working in the state than ever before.




Governor Walker posted this series of tweets moments after the polls closed: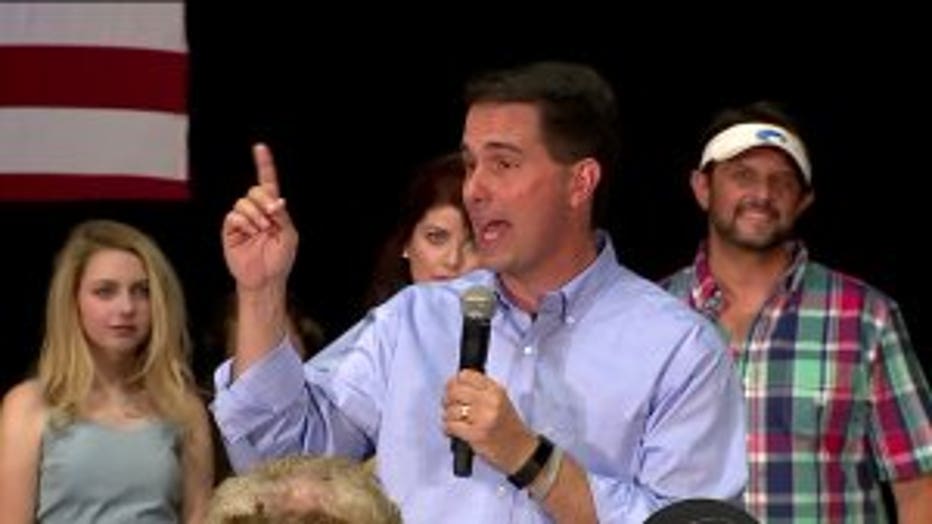 "Unemployment has hit a record low, and we've been below the previous record low of 3 percent for 5 straight months. More people are working in Wisconsin than ever before. After sparking our state's comeback and taking power away from the big government unions, we've made historic actual-dollar investments in our schools -- allowing school districts to staff based on merit and pay based on performance. After Washington failed to repeal Obamacare, we took action to address skyrocketing premiums -- our plan will lower premiums next year. We've invested in worker training to help those who want to work find not just a job, but a career. We did all of this and still had enough to reduce the burden on hard-working taxpayers in WI by more than $8 billion. Today, property taxes and income taxes are lower than they were in 2010. That's good news for working families, senior citizens, small biz owners and family farmers. Wisconsin is working -- and we are moving the state forward with our bold reforms that are having a positive impact across the state. Now, we are planning to build on our track record of getting positive things done for the people of Wisconsin. Tomorrow, I'll travel WI w/ Rebecca Kleefisch to lay out details for our plan of action for the next four years. We'll tell you what we're for -- in sharp contrast to the months of hearing Democrats tell you what they're against. I believe voters want to vote for something. I heard it from families as we traveled around the state on our 21-city bus tour. We want to build on our record investments in education, on our $8 billion in tax cuts, on our reforms to make health care affordable, and so much more. We want Wisconsin to be one of the best states in America for millennials AND for retirees. We want our high school graduation rate to be one of the best in the nation w/ our students truly ready for college and a career. And w/ unemployment levels at historic lows, we want WI to have one of the highest percentages of people in the workforce of any state in the nation. We want Wisconsin to have some of the best health care systems in the country for quality. Along with that, we want to have one of the greatest reductions in opioid and illegal drug addiction of any state. We want Wisconsin's working families to be able to keep more of their take-home pay. To do that, we want to have one of the largest reductions in the tax burden for working families of any state in the nation. Sadly, our opponents endorse many of the same policies that got this state into trouble in the past. We don't want to go back to the days of double-digit tax increases, billion dollar budget deficits and record job loss. That would be a giant step backward. The choice is simple: do we take a giant step backwards and watch more of our graduates flee the state to pursue their careers or do we continue to move forward as we keep Wisconsin working for generations to come. These goals are just the beginning of what we have planned for Wisconsin -- as I said, in the days ahead, we'll be laying out our plans to keep Wisconsin working for generations to come! I'm now asking for your support as we work to keep moving Wisconsin forward together!" Gov. Walker said on Twitter.