If you get thirsty while you're shopping, Lakefront Brewery will offer "Black Friday" BEER!
MILWAUKEE (WITI) – For the fourth year in a row, Lakefront Brewery, Inc. is celebrating the return of the notorious holiday shopping season with its "Black Friday" event, featuring a limited-edition beer!

The exclusive brew, Black Friday Imperial Stout Aged in Bourbon Barrels, will be available only at the brewery and only for one day.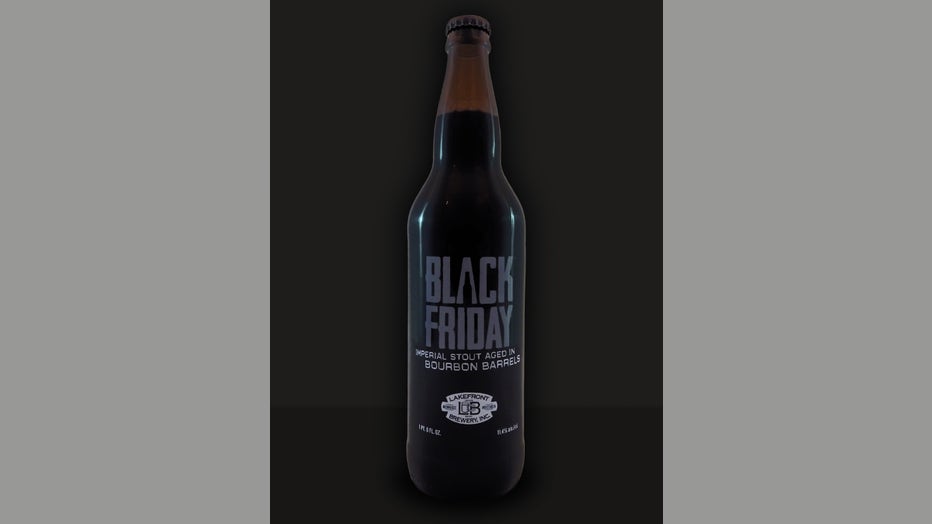 Lakefront Brewery Black Friday beer


Lakefront's Black Friday event will start at 8:00 a.m. on Friday, November 28th.

In addition to the special beer, the Lakefront Brewery Beer Hall will offer beermosas, Stone Creek coffee, baked French toast and breakfast skillets; a live deejay from 8:00 a.m. to 3:00 p.m. and a live band, the Brewhaus Polka Kings, from 5:30 to 8:00 p.m.

This is the first year the brewery is offering the barrel aged imperial stout. It will be available in 22-oz. bottles only. Sales will be limited to four bottles per person, while supplies last.

Unlike the Imperial India-Style Black Ale from previous years, consumers can choose to cellar the potent (11.4 percent ABV) brew and sample it alongside future Black Friday™ releases as part of a vertical tasting.

"Black Friday is all about the one-day-only, limited supply deals, so we wanted to offer our fans a super rare beer worth lining up for," said Lakefront's director of business development, Chris Johnson. "This is a strong, distinctive barrel aged imperial stout, with ample chocolate, roasted malt, vanilla and oak aromas."

Patrons will also receive a free Black Friday pint glass with each bottle they purchase, while supplies last. Full details about the event can be found on the brewery's Black Friday website, blackfridaybeer.com.

The brewery will have special gift boxes available featuring two bottles of Black Friday, slate coasters, and two Black Friday snifter glasses. Customers can also buy advanced brewery tour tickets online via the website if they want a guaranteed spot on a specific tour.