'I was duped:' David Clarke says ex-business partner was a Muslim Brotherhood operative


MILWAUKEE -- Ex-Milwaukee County Sheriff David Clarke says he's split up with his former business partner, whom Clarke accuses of being a Muslim Brotherhood operative who "duped" him.

Clarke made the announcement in a tweet on Sunday, Aug. 5, in which he also denied being played by alleged Russian agent Maria Butina. FOX6 News previously reported that Butina's group spent $6,000 on Clarke's expenses during a 2015 trip to Russia.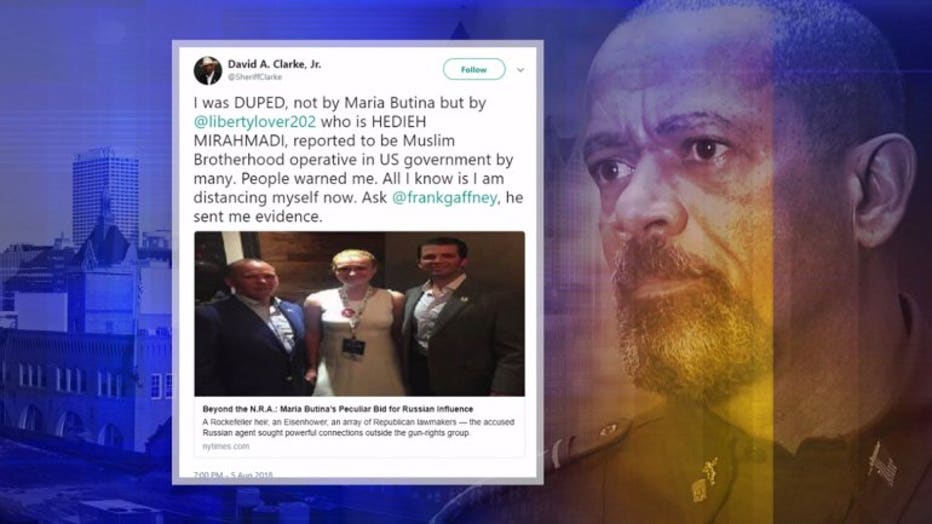 "I was DUPED, not by Maria Butina but by @libertylover202 who is HEDIEH MIRAHMADI, reported to be Muslim Brotherhood operative in US government by many. People warned me. All I know is I am distancing myself now," Clarke tweeted.

Mirahmadi, a lawyer who has worked for the federal government, was Clarke's business partner at DAC Enterprises. The two created the company after Clarke abruptly resigned as sheriff in 2017 to do political consulting work.

Speaking by phone from California on Monday, Mirahmadi said Clarke's accusations were not accurate.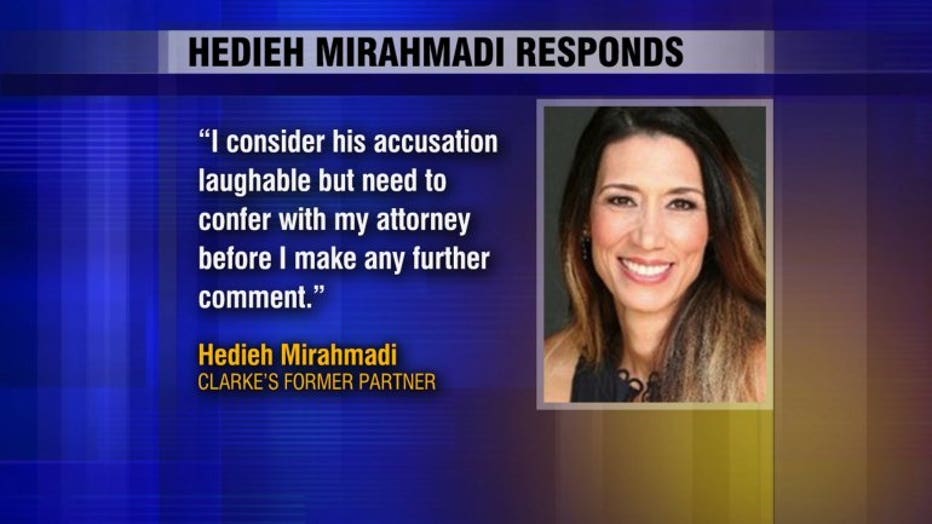 "I wrestled with a bear and got maimed," she said of her relationship with Clarke. "I consider his accusation laughable but need to confer with my attorney before I make any further comment."

Clarke once had much more positive things to say about Mirahmadi, even defending her against the same attacks he tweeted Sunday.

"She's been an invaluable partner -- business partner -- and source for me," Clarke said while guest-hosting The Dan O'Donnell Show on WISN/1130AM on Nov. 14, 2017.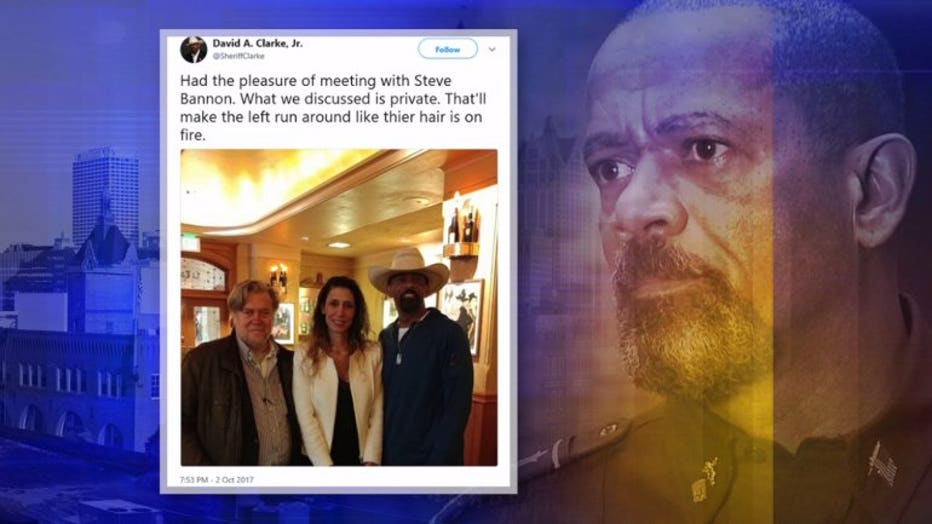 The two were often together at events around the country. In October, Clarke tweeted a photo of them with Steve Bannon, previously President Donald Trump's chief strategist.

Some told Clarke that Mirahmadi was tied to the Muslim Brotherhood, but Clarke defended her in emails obtained by FOX6.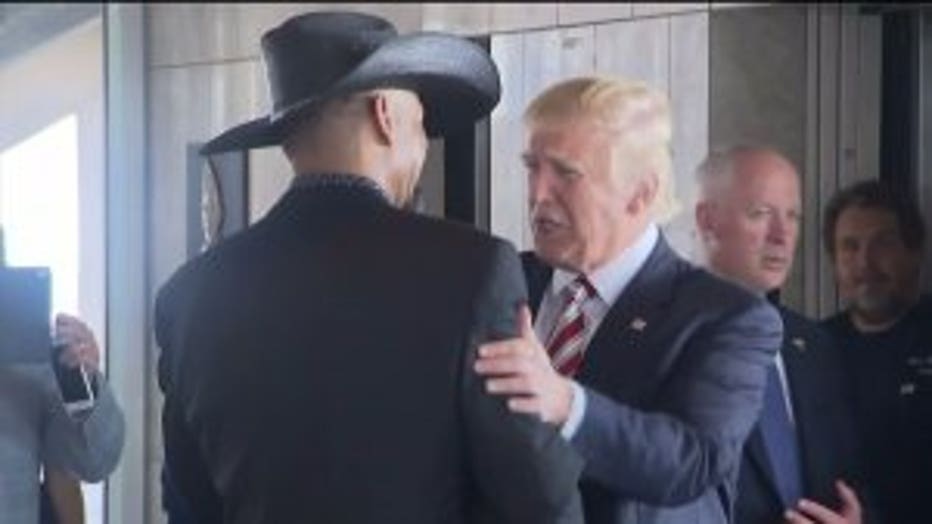 "When someone is unfairly smeared, they deserve a chance to defend themselves," he wrote in November 2017 to Frank Gaffney, who is seen by some as a national security expert and by others as an anti-Islamic conspiracy theorist.

But on Sunday, Clarke said in his tweet accusing Mirahmadi of duping him, "Ask Frank Gaffney. He sent me evidence."

Clarke did not return a message left on his cell phone Monday.

Clarke has been paid $69,219.01 since September 2017 as a senior adviser for America First Action, a PAC that supports President Trump. In July, a spokeswoman for the group said Clarke remained in that role.

The payments were routed through DAC Enterprises, and a legal fight is now possible over how much of that money is due Mirahmadi. Mirahmadi is listed as the registered agent who filed articles of organization to create DAC Enterprises in Maryland.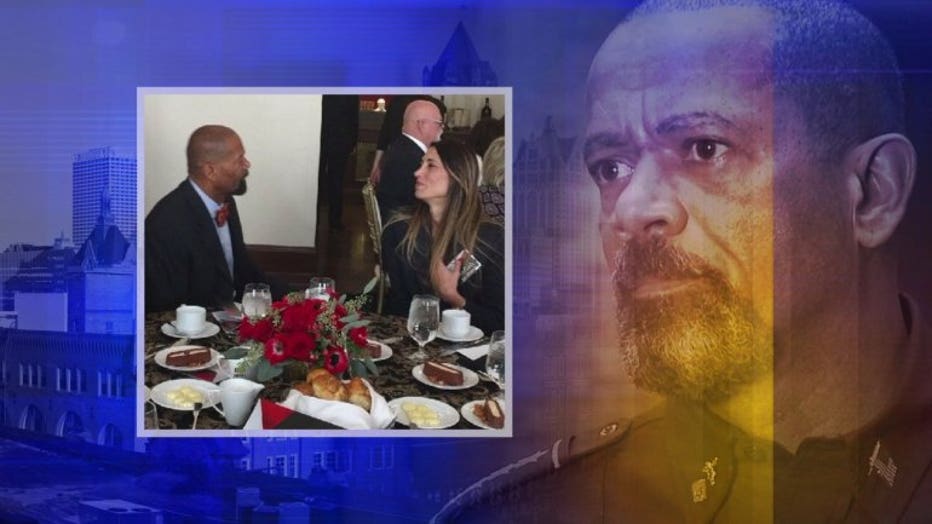 Clarke is also receiving $100,830.60 a year from city and county taxpayers.

The City of Milwaukee pays him $68,482.92 a year in pension benefits for his time in the Milwaukee Police Department. Clarke collects a $32,347.68 a year pension from Milwaukee County, county retirement administrators have said.